110 ideas for restaurants on Halloween – Decoration 2019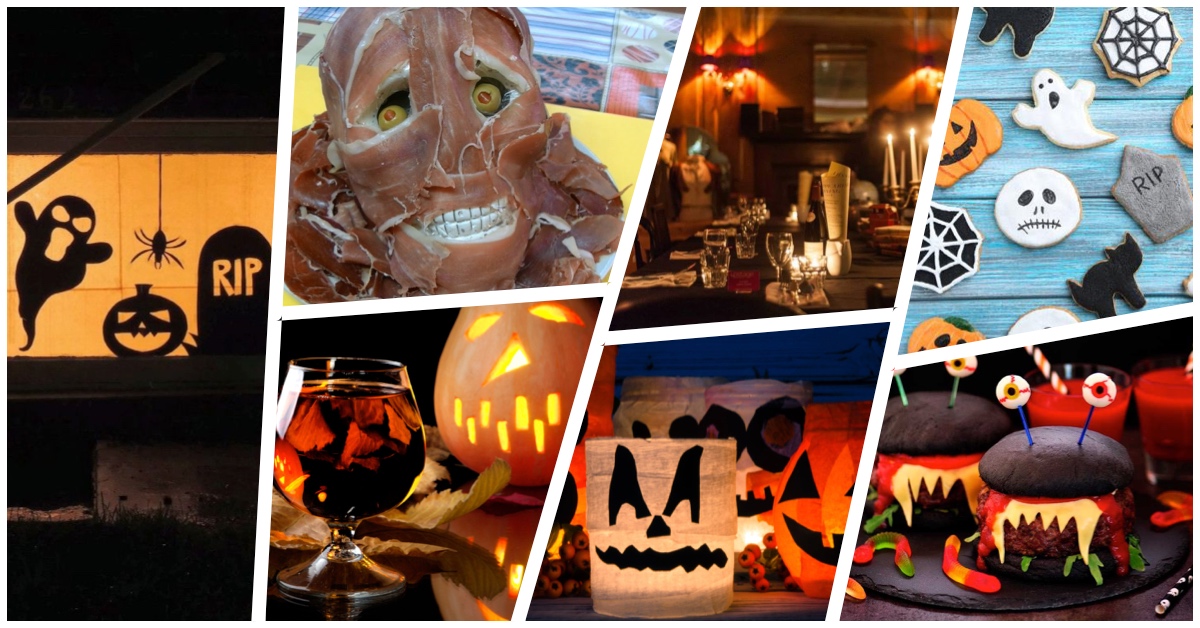 The ideas for restaurants on Halloween are wide and varied.
You can make special dishes, incredible tapas, print a scary menu, among other actions.
However, nothing like the decor.
By recreating the ideal environment, you will be able to provide an unforgettable experience for your customers.
According to current marketing trends, experience is what consumers are most looking for.
Below, you'll see 11 great groups of initiatives you can develop. In total, there are 110 Halloween restaurant ideas.
Ideas for decorating your restaurant
The first thing you should do is decorate the main room of your restaurant.
Without sacrificing capacity and keeping the balance, add the necessary elements to make your restaurant look scary, but without losing its essence and personality.
All personnel must be in disguise. This way they contribute to the atmosphere that you want to recreate.
Admit your clients in disguise. You will allow them to enjoy their favorite food the way they want during the Halloween.
Scary windows
Does your restaurant have big windows?
The reason for these Halloween restaurant ideas is to take advantage of your restaurant's infrastructure to make a decoration from another world.
You can turn the windows into a passage to the afterlife
With the perfect decoration, you can offer -to those who do not yet enter your restaurant- a clear message: Here you will find something incredible.
We assure you that out of simple curiosity, many more people will pass by your tables.
10 Halloween Restaurant Ideas with Pumpkins
A Halloween decoration without pumpkins is nonsense.
Just placing a pumpkin makes it clear where the efforts are being directed.
You can make simple pumpkins or invest a little to have special items carved for you.
Can you imagine your restaurant's logo on a Halloween pumpkin?
Achieve the ideal ambience, decorate with candles
Perfect lighting gives an unstoppable boost to any décor, no matter what the reason.
In this case, you need low lighting, but enough for your guests to be able to eat their food and move around your premises without any inconvenience.
The ideas are the candles. Place candles in various spaces, but especially in the Halloween centerpiece you selected for your restaurant.
Scarecrow covers
We've left behind the ideas for decorating your infrastructure, now let's move on to the touches you can include in your menu.
The first thing will be the tapas, those delicious sandwiches that everyone will eat at the first change.
Here we leave you with several ideas to change the presentation of your tapas, but without sacrificing taste.
Monster burgers
Some of the main dishes on your menu should be adjusted to the holiday. You can even create a special menu for the date.
For example, if your restaurant specializes in selling hamburgers, add some scary touches in the preparation and instill fear in every bite.
A total of 10 ideas for restaurants on Halloween, applicable to your burgers, will be what you see below.
Pizzas of terror
Pizzas are also an ideal canvas for making very scary and fun dishes.
Melted cheese in the oven and red sauce can help you generate a terrifying effect.
We invite you to enjoy the ideas we gather to inspire you. I'm sure you'll be able to make some Halloween pizzas to scream your head off.
Halloween Cookies and Restaurant Ideas
The cookies, besides being divine, allow you to make very funny shapes and decorations.
Whether you have Halloween cutters or do it yourself, you can achieve dreamy results.
Remember that the special cookie cover will give you a chance to make great decorations and hide any imperfections.
Ghosts, pumpkins, spiders, tombstones, are some of the scary cookies you can deliver for the upcoming Halloween.
Desserts that make you tremble
The idea, as we have been telling you since the beginning, is to offer a different experience from start to finish.
Where does every special dinner end? Right! At dessert.
Whether baked, frozen or cold, desserts can help you follow the Halloween vibe you have throughout your restaurant.
Besides, what kid wouldn't want to eat some strawberries and chocolates in the shape of ghosts?
It is an excellent marketing strategy to increase your sales.
Halloween cakes that make you run
The cakes have covers, creams and shapes that offer you, in an easy way, an almost inexhaustible amount of resources to make terrifying creations.
You can make cakes with red sauce, which look like blood, even deliver doses of sauce in syringes, something that is very fashionable now in restaurants.
Cakes decorated with meringue and chocolate ghosts You can also use traditional spider web decorations.
Here are some ideas to inspire you.
Halloween Restaurant Ideas: Drinks
To close we go to something that also has a lot of fabric: The drinks.
Here you can play a lot. Tastes, smells, even ice in the form of skulls, are elements that you can play with around your drinks
Names can also play in your favor. Don't forget the food coloring.
Another element to consider is the decoration of the glasses, cups, shots or pitchers where you serve the drinks.
Enjoy the selection of Halloween drinks we made for you.
Single Use Products
The Halloween restaurant decoration is a very serious thing.
Any savings you generate will increase your profits produced during the date.
At Monouso, you can find various products to use in your restaurant, at the best price on the Internet.
Changing the decoration of your tables should not cost a fortune, you can choose waterproof paper tablecloths, with an unbeatable quality.
We also have colored napkins or special designs, products with the right quality so that your customers continue to receive the treatment to which they are accustomed.
In our online store, you can place your order at any time and receive it in the comfort of your home or business.