3 tricks for washing kitchen cloths
When it comes to cleaning the home, there is no better companion than the kitchen cloth. This small piece of cloth is ideal for sanitizing any corner of the house, however it can be extremely difficult to wash after use.
We often subject kitchen cloths to all kinds of surfaces, so they pick up dirt from unthinkable places and become a haven for bacteria growth. In short: knowing how to wash them properly is essential to maintaining hygiene in the home.
At Monouso We prioritize cleanliness and sanitation above all else, so we bring you some tips for washing your dishtowels to perfection. Discover them below!
¿Qué encontrarás en este artículo?
Why not use the washing machine?
Seems like the logical choice, doesn't it? The truth is that the fabric is extremely damaged in this device. On the other hand, it can fade and irreparably ruin the clothes that share space with it.
The kitchen handkerchief can remain clean without the need for the washing machine, not to mention that this fabric can drain into the appliance. Instead, we have some more practical and functional recommendations.
Washing tea towels in the microwave
That's right, the microwave is capable of leaving your kitchen cloths spotless in a matter of minutes.
When you finish using your cloth, rinse it with plenty of soap and water. Make sure that the soap covers it completely so that it doesn't leave a trace of dirt. Also, concentrate on the dirtiest areas, as these stains are more difficult to remove.
Once this process is finished, squeeze it a little (just a little) and put it in an open plastic bag. It is important that you do not make knots in it, as it needs a good dose of heat or the bag could melt on it.
Set the microwave to low or medium power. The cloth should remain in the microwave for at least one minute. After this step, you must take the bag carefully, preferably with a kitchen glove or a pair of tweezers, so as not to burn yourself.
Now all you have to do is rinse your tea towel and let it dry. It'll be as good as new!
Homemade products
Products such as soap, chlorine or disinfectant are functional in the short term, however they can eventually disintegrate your tissues.
Therefore, you should try with common materials in the kitchen, such as
Bicarbonate.
Lemon.
Vinegar.
The first two can be used like conventional soaps, and even used together. However, to wash your kitchen cloths with vinegar, you should boil them for at least ten minutes.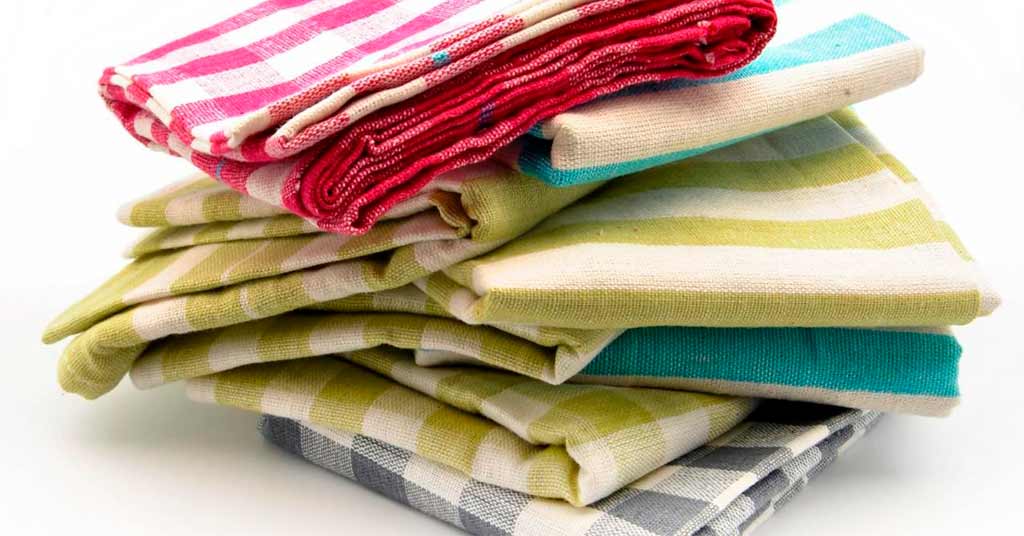 Dishwasher
The high concentration of heat in this instrument will remove all traces of dirt from your tea towel. All you have to do is insert it together with the kitchen utensils and it will come out completely impeccable.
Just make sure you don't put your cloth on the dishes and that it doesn't get tangled up in the door or the grates of the dishwasher. Otherwise, it could disintegrate during the wash cycle.
This little one is extremely crucial to the cleanliness of the kitchen and home. Follow our suggestions and all your kitchen cloths will be in perfect condition for cleaning – check it out!