Cardboard cup holders: the best ally for cafeterias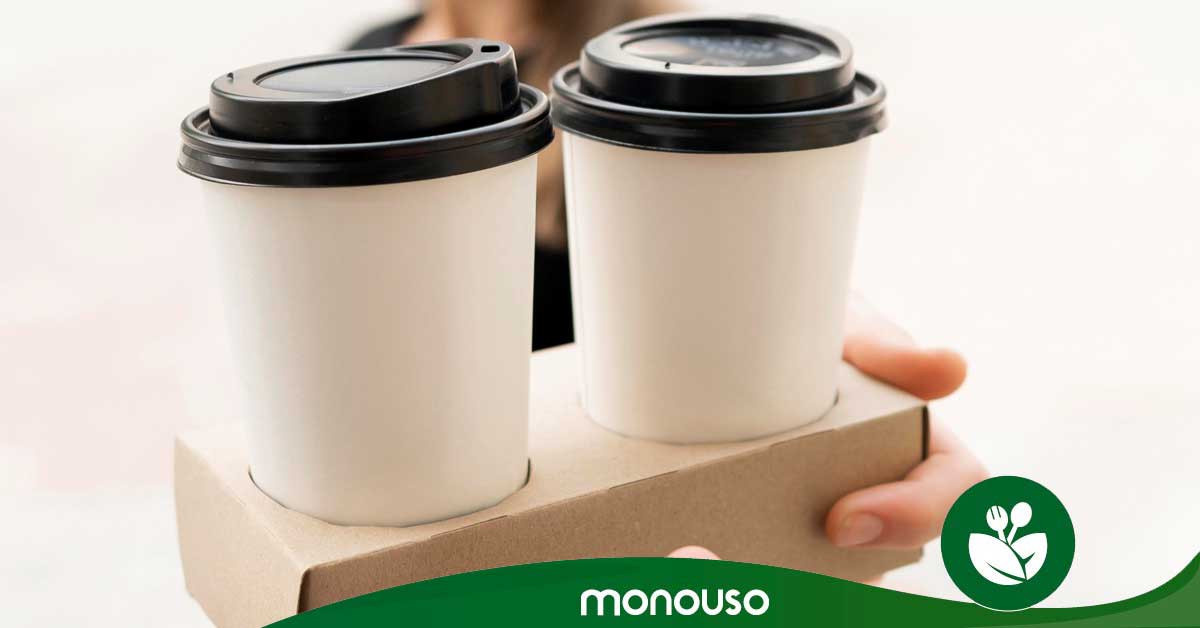 As a coffee shop owner, you want to please your customers in the best possible way. That's why you have to consider cardboard cup holders
High-temperature drinks come and go. People talking on cell phones, others sitting at tables. The slightest oversight: a knock on a glass and a burn from a fire right.
As a business owner, you have a responsibility to make your business safe . Even if your customer is not on your premises.
Cardboard cup holders are disposable products for the safety of your customers. Plus, it's a convenient way to get your coffee to where your customers want it, without having to worry about burning yourself or others.
Let's see what options you have for cardboard cup holders so you can directly choose the one that best suits your needs.
¿Qué encontrarás en este artículo?
What are disposable cardboard cup holders?
As we said at the beginning, safety is the first thing you should look for in a cardboard cup holder.
Cardboard cup holders are a disposable product. When they arrived at their destination, people threw them away. It's a good idea to select cardboard coffee cup holders made from recycled materials.
This way, your coffee would be helping the environment.
Put yourself in your customer's shoes. The cup holder should be comfortable to wear. Think about when you are walking, driving or taking public transportation to make your customers feel comfortable.
Comfort should also be of maximum interest to your business. Select products that are easy to store and deliver. Optimize your employees' time.
Finally, think about a material that can withstand the temperature of the drinks you sell in your cafeteria. If it works for both hot and cold beverages , it will be a better overall solution that works for you.
Cardboard coffee cup holders
Now let's look at some of the cardboard cup holders that can be found on the market.
The first option is the Kraft cup holders. These utensils are a cut sheet with holes to insert the cups and a couple of handles to move them around.
The assembly of this option is another point in your favor. Just take one, put each cup in a hole, fold the sheet until you add the handles and that's it. Coffee to drink in your customer's hands.
You also have the cup holders made of recycled cardboard. Available for two or four cups, this type of cardboard cup holder is ideal for carrying coffee safely.
For example, those in cars can put them on one of the seats, those in transport can put them on their lap. It will always be in an upright position and will not lose its characteristic hardness.
Before selecting this type of card cup holder, make sure you have enough space to store it in your cafeteria.
There is a variant of this type of cup holder. Known as the menu card cup holder, they have a space to comfortably move the product that your customer will eat with their coffee.
This type of cup holder is ideal for selling special take-out menus, a combination option that will shorten the length of time your business is in business.
Don't have much space in your coffee shop? Cardboard cup holders may be the option you need.
This type of cardboard cup holder comes disassembled and after a few simple steps you can have a safe and convenient product to carry your customers' drinks.
Cardboard cup holders are available for two or four cups, giving you more possibilities when serving your customers.
The best value products for the cafeteria
Do you know the most recommended cardboard cup holders for your coffee, now where can you get them? In Monouso!
Yes, in our online shop we have a category dedicated to cardboard cup holders that offer the best features at your service, at the best prices and in quantities that suit your needs.
To improve the service you offer to your customers, we offer you card cups for hot drinks, safety covers, napkins, stirrers and any other product you need for your coffee.
All you have to do is select the products in our online shop, confirm with the payment method you want and indicate the shipping address.
If your order exceeds 75 euros, shipping will be free.