Children's restaurant menu, how to create yours
In every family business, it is important to make the children feel special when they sit at the table. Especially, because if the little diner leaves your restaurant happy, their parents will be happy too and will want to come back soon.
A children's restaurant menu will help every hospitality business to gain added value. And even this attribute will directly influence the customer's choice when opting for one or another gastronomic establishment in their city.
Keep reading this post if you want to join this new trend in the hospitality sector. Here we will show you how to create a children's menu that highlights your gastronomic offer. Let's get started!
Children's restaurant menus have become a new trend in the restaurant industry. Thanks to the fact that they stimulate the appetite of the youngest diners and ensure that their decision is truly satisfying.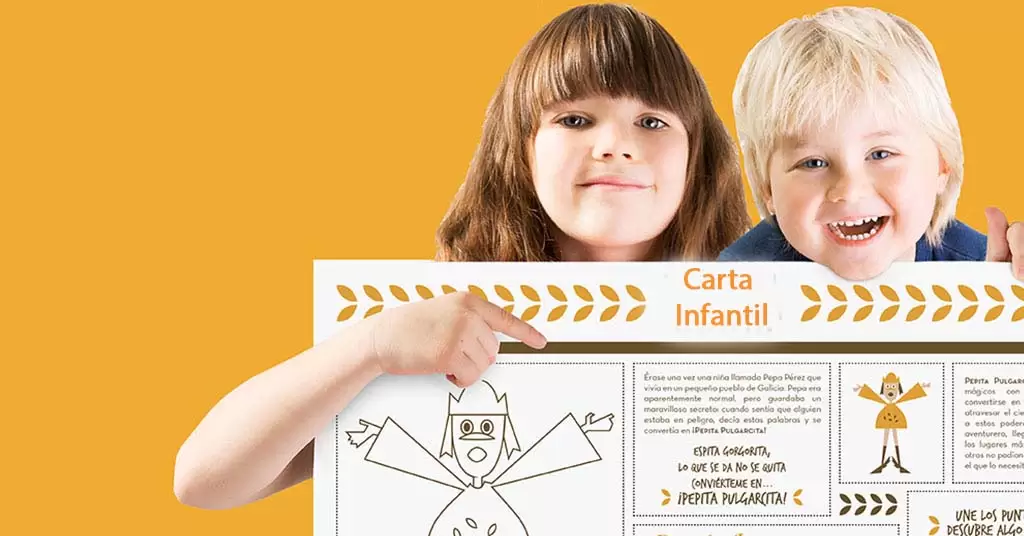 They are mainly used to inform about the food, drinks and services offered by the restaurant. In addition, as they are aimed at children, they have a more eye-catching and modern design so that they are easy for children to understand.
Creating a children's menu is a task you have to do with care. Especially because it will be aimed at children, who form part of the most difficult group of customers to convince in the hospitality industry.
Some tips to consider during the process of creating your children's menu are as follows:.
Be clear and concrete
When creating your children's restaurant menu, try to detail each dish in an attractive and concrete way. This is because if you go on explaining the dish too long, you will end up boring the child.
Organise the sections carefully
Do an internal assessment to help you determine which are the most profitable dishes in your restaurant that target children. Then, with those results, put those dishes at the top of the menu.
Opt for desserts
The dessert menu for children can be presented on a special menu, where an attractive presentation prevails to encourage the little diner to order. However, if you prefer to show them on the same menu as the main dishes, this is also valid.
Add attractive visual elements
Most children eat with their eyes first. If you want to take advantage of this fact, then add images with good visual impact so that the child's sense of sight is activated and the order is placed.
Adapt the dishes
To reduce costs, we recommend adapting some of the dishes you have available in your "adult menu" for children. This can be done using the same raw materials and the same preparation method, but adjusting quantities and presentations.
Make different presentations
You can also choose to make two children's cards, one especially for children under five and the other for children up to the age of twelve. Always playing with modern, attractive designs and with a resistant material that avoids early deterioration.
Identify your card
It is always important to highlight the logo or identification of your restaurant, as it is a good advertising strategy for any business in the hospitality sector. We also recommend that you include telephone numbers, address, e-mail and social networks.
Children's menus usually feature an illustrative and colourful graphic design. However, if it does not follow the same trend as your restaurant, you will end up creating a menu that will not deliver the visual results you expect.
Select the right typeface
Although family cards are a little more illustrative, you should still make sure to select a legible font of balanced size. For example, letters in dark, bold tones on light or white backgrounds are easier to read.
Allergen information
Informing about allergens in your children's menu is a feature that parents will be very grateful for. Remember that, nowadays, there are many children with intolerances or allergies to certain foods.
During the last few years, the number of children's menus has increased steadily. It is for this reason that many fast food restaurants in Spain also decided to offer their clientele a "Kids Menu".
Burgers and pizza still top the list as children's favourites. However, there are other options to add to your family menu:
1. Pancakes
We start this list by talking about Pancakes, which represent a delicious alternative to offer as breakfast for children. You can play with this dish, adding fruit toppings to make it more attractive and irresistible to the palate.
2. French Toast
Secondly, we have French Toast, which you can offer in your restaurant as breakfast or as a tasty sweet snack at any time of the day. This menu is suitable for children over the age of four who are already eating on their own.
3. Spaghetti
Another alternative to offer in your restaurant is spaghetti, a food that has managed to grow rapidly among popular children's meals. You can serve it with seafood sauce, meatballs, chicken, sausage; etc.
4. Chicken wings
Taking their place on this list are chicken wings, a meal the whole family can share with the little ones. Serve with celery sticks, carrots and blue cheese spread.
5. Chicken Parmesan
Another option is chicken parmesan, which has gradually been displacing Nuggets in popularity. Especially because it has a layer of tomato sauce and cheese, and is even accompanied by pasta.
6. Corn Dog
We close this list with the corn dog, which is a hot dog covered in a thick layer of cornmeal dough. Nowadays, it has become very popular in restaurants and you can offer it as breakfast, lunch or snack.
In conclusion, when you decide to create your children's restaurant menu, remember to always go for sturdy materials. So that it can be kept in good condition, no matter how muddy the food gets.