Discover all types of shipping bags
There is a great variety of bags used to send packages in the market, however not all shipping bags will guarantee that the contents are secure.
Therefore, we will show you the various shipping bag options available
Read on and discover all types of carrier bags, used for safe package transfers.
Opaque Plastic Shipping Bags
Opaque plastic shipping bags are lightweight, unbreakable and waterproof packaging, ideal for containing and protecting documents, objects and clothing during shipping.
These packages have different dimensions and are very resistant, they have an adhesive flap that guarantees a quick closing
When to use these bags?
The opaque plastic bag is usually used for shipping clothes and other textiles This is because these types of products do not provide adequate protection to contain fragile objects. In such cases, specialized packaging is available.
Although their use is limited, opaque plastic bags are an alternative for the safe shipment of lightweight items.
Advantages of using opaque plastic shipping bags
Among the advantages of using opaque plastic shipping bags we can mention
They are discreet and lightweight wrappers.

They do not allow the contents of the shipping bags to be compromised in humid environments.

They have an adhesive tape that allows the shipping bag to be sealed.

Plastic shipping bags with adhesive closure are resistant to punctures and tears.
Plastic bags with self-adhesive closure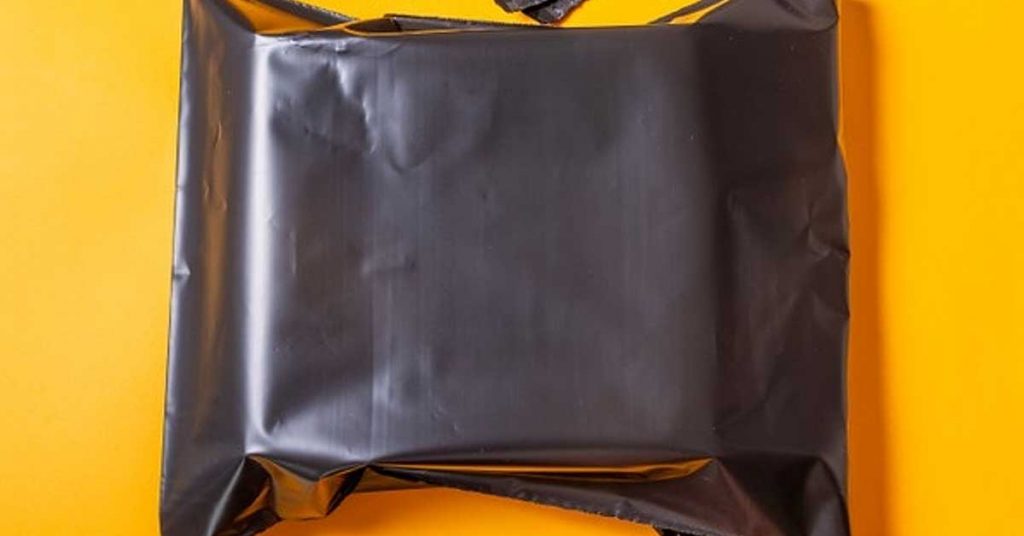 Plastic bags with self-adhesive closure are packaging containers that have a security adhesive capable of permanently sealing the shipping bag.
These self-sealing plastic shipping bags allow the contents of the package to be kept hidden, preventing access to the package.
Advantages of these shipping bags
The advantages of plastic bags for mailings are diverse, among them we can mention
They are an economical type of packaging.

They are sturdy shipping bags.

They can be used to ship clothing and footwear.
They protect the contents of the packages against liquids, dirt and theft.
Other types of shipping bags
In addition to the plastic bags mentioned above, there are other types of bags manufactured for shipping on the market.
Among those bags we have:
Gusset bags
Bellows shipping bags are tear-resistant and waterproof packaging, available with bellows of various heights.
This type of shipping bag is made with opaque plastic and adhesive closure, ideal for protecting the contents of the package.
The gusset bags have two matt spaces for the sender and receiver address, located on the front of the envelope.
Economy shipping bags
Economy shipping bags are flexible, strong, polyethylene wrappers that can be customized.
This shipping bag is ideal for protecting the goods contained in the envelope from rubbing and moisture.
Economy shipping bags are the most widely used packaging for their effectiveness and shipping costs.
Isothermal bags
Isothermal shipping bags are envelopes that contain a white polyethylene film inside.
They also have a metallized polyester film on the outside, a polyethylene padding and a thermal bar that prevents temperature changes.
This thermal bar is capable of protecting the products inside the shipping bag from heat, so the isothermal bags are considered suitable for food contact and storage.
Isothermal shipping bags have an adhesive that can be repositioned and are available in different sizes.
Bags with handles
Shipping bags with handles are wrappers with handles that allow you to transport and deliver your packages
It has a double adhesive strip that ensures that the goods ready to be sent can be reissued.
Security courier bags with handles are strong, flexible and waterproof and are able to maintain the privacy of the packages.
Bags with double tape
Double-tape shipping bags are ideal for shipping, as they allow you to view the contents by opening the first package closure and reuse the package for a return using the second adhesive.
They are made of polyethylene, they are resistant and due to their double adhesive tape they facilitate the return of the packages using the same wrapping.
Buy shipping bags
To buy shipping bags it is necessary to have a place that offers quality products, providing various alternatives to meet your needs at the best market price.
In the online store of Monouso if you want to know more about our products, you can find a wide variety of products used for packaging and shipping, ensuring the safety of the package.
Some of the shipping bags available on the Monouso website are
Adhesive Shipping Bags
The adhesive document bags are perfect for displaying shipment information without saving the recipient and sender data inside the package.
These adhesive shipping bags are transparent, resistant and easy to close thanks to the presence of an adhesive seal.
Anonymous Messenger Bags
The carrier bags are designed to send small packages or documentation without displaying the contents.
They are available in various sizes and can be customized with your business name, logo and colors.
Plastic bags with adhesive are the perfect alternative for safe shipping.
Other products for packaging
In addition to the shipping bags, in the Monouso online shop you can find other ideal products for packaging.
Generally, this type of material is used to package and protect products that are going to be moved from one place to another.
Among the packaging products available at Monouso are: cardboard boxes, stretch film, gift wrap paper, adhesive packaging tape and adhesive tape for signs.