Discover the secrets of interior design in restaurants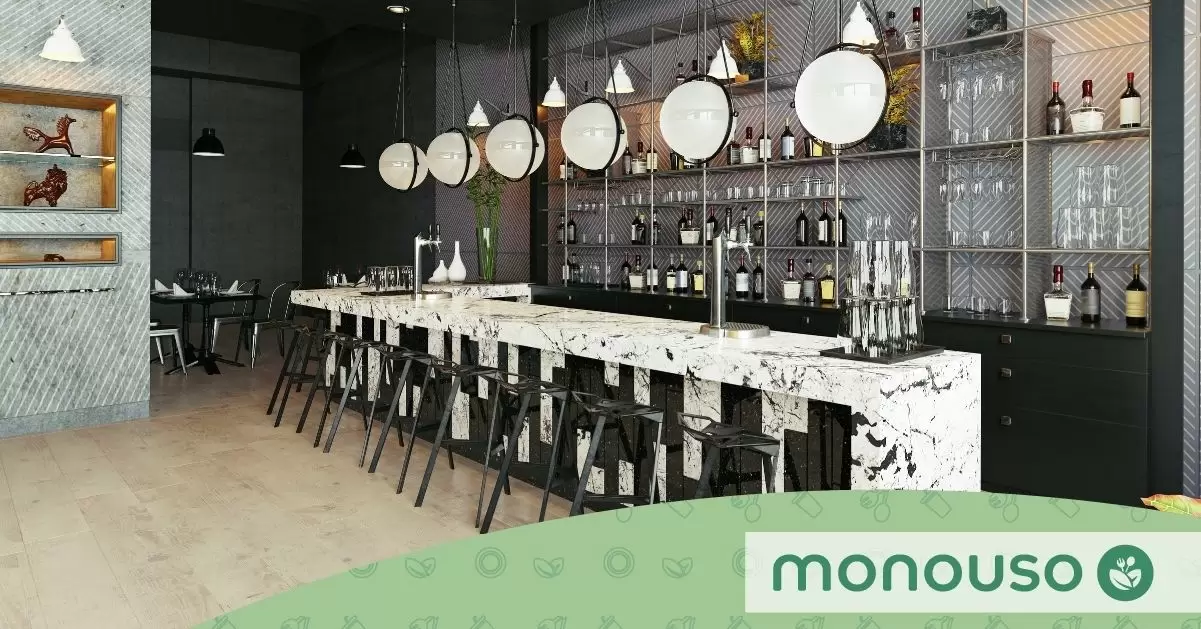 Interior design in restaurants can change the perception of a customer when entering your restaurant. If you are going to open a new restaurant or you think it is time to renovate, keep in mind that the decoration, furniture or lighting are very important as they shape the atmosphere in which your customers will spend their time.
Inspiration when designing the interior of your restaurant or improve the current concept is essential, so from Monouso we have collected some ideas by which you can start creating the personality of your establishment.
Keep up to date with the ideas for interior designs, the mistakes you should avoid and how relevant is the image for your business.
Interior design ideas for restaurants
It's always good to take a look at decorating trends. It's a good way to get an idea of what you'd like to incorporate, and what you wouldn't, into your business.
Check out restaurant interior design ideas based on the most successful current trends for restaurants:
Decorating with recycled materials
The 3Rs – reduce, reuse and recycle – are important actions in our daily lives. So why not implement them during the design of your restaurant?
Visit thrift stores and look for used decorative elements to give them a new lease on life.
Don't just limit yourself to decoration. Objects such as windows, tables, doors, handles, lamps or chairs are also useful.
Although the elements you acquire will not have the same design line, it will highlight the difference and exclusivity of each piece of decoration in your business.
Velvet furniture
looking to convey elegance and exclusivity to your customers? Velvet is your safe option. It is a material that has always been associated with the most sought-after, elegant and special places.
Upholster your chairs, furniture and stools with the color of velvet that best matches the design, et voilà! Instant glamour.
Wall art
Wall art is an excellent idea to apply in restaurants. Aerosol sprays or paints are used to capture the concept of the artwork on the wall, according to the artist's preferences.
Murals are usually designed on brick or smooth concrete walls, but you can also get a good finish on stone or tile walls.
If you opt for wall art for your restaurant, do it on the most eye-catching wall of the establishment. This way, customers will enjoy the artwork as they enter the restaurant and during service.
Surely more than one will take a selfie with the painting in the background, it will become a very popular area!
Presence of vintage furniture
They are perfect for businesses that have a design inspired by past eras.
Vintage furniture helps to create an interior design in restaurants that transports customers into the past.
Generally, this furniture causes nostalgia and creates a very cozy atmosphere, which your customers will perceive as soon as they walk through the doors of your establishment.
In addition, they will be captivated to learn a bit of the history behind the restaurant and each piece of furniture.
Thematic paintings
When it comes to decorating, paintings are items that never go out of style.
It is an excellent idea to include themed works, which complement each other within the establishment.
Another idea is to support local artists and display their works for sale on your walls, and change the decor every so often!
Main element of the decoration: the bar
You walk into a bar and the first thing you notice is the bar. Take advantage of this element to make it the absolute protagonist of your restaurant interior design.
Decorate the bar with textures. To do this, use materials such as tiles, moldings, panels or wood, among others.
For the countertop, use materials such as marble or terrazzo, which will give it an elegant appearance without losing the resistance that the hustle and bustle of a bar counter needs.
You can finish off your design with LED lighting, perfect for creating ambiance in the evening.
Use moldings
Moldings are a decorative resource that completely renews the appearance of your restaurant.
These panels cover stains, imperfections and half-finished finishes on the walls; giving a new and elegant look.
The best thing about moldings is the variety of models on the market, where you can find them in different colors, with reliefs and shapes.
Continuous benches
People'sfavorite tables are the ones with continuous benches.
Elevate the quality of these classic benches by adding padded upholstery, which gives them an elegant and comfortable look.
Consult different designs of benches with this type of upholstery, gather quotes and design your furniture with the best option, your customers will thank you for it!
Plants: a natural and cozy element
There isnothing more natural, fresh and pleasant than being greeted by plants.
Plants not only work to create a comfortable atmosphere, they are also a differentiating element of the decoration.
No matter if they are natural or artificial, the green of the plants will stand out among the color palette you chose for the design.
Tiles
Far away is the idea that tiles are only for kitchens and bathrooms. Dare to be different and go for amazing restaurant interior designs with tiles on your walls.
Plan an attractive design, buy the necessary blues and hire the necessary labor to get the project underway.
It may not be a very economical option (you can decorate just one wall), but it will give a unique style to your establishment.
Common mistakes in restaurant interior design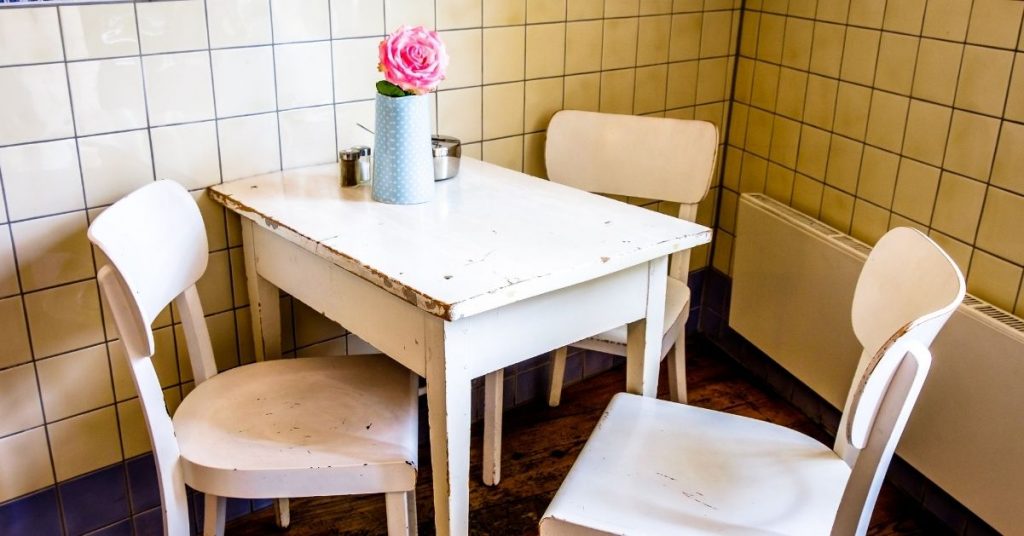 If you are new to restaurant interior design , it is common to make mistakes.
To avoid them, nothing better than knowing the most common mistakes and how to avoid them, so you can have a remodeling with the minimum number of inconveniences.
Aesthetics, aesthetics … and nothing else
It is true that the aesthetics of the restaurant is important, but it must have a balance with functionality.
The balance between both aspects allows customers to have a pleasant, comfortable and hassle-free experience.
Functionality refers to mobility in the space, adequate lighting for the space, aesthetic and functional furniture, and room optimization.
Knowing these aspects makes it easier to plan the design of your restaurant and give equal importance to beauty and functionality.
Besides, trends are fleeting . It is not profitable for your business to constantly remodel just to adapt to what is fashionable today, and will not be tomorrow. Stick to your style.
A well-defined concept and execution by a professional is worth more than any passing fad.
Little, comfortable and harmonious design
Continuing with what we mentioned before: the design must be functional. But also comfortable.
A first aspect that encompasses comfort is the lighting of the restaurant. It can't shine directly in the customers' faces and make them dizzy, but it can't be so dim that it leaves them in the dark either. It is necessary to plan the type of lighting in each area of the establishment so that the restaurant is as natural and fair as possible.
The furniture also falls into this category, look for options that combine functionality, aesthetics, ergonomics and relevance as part of the decor.
Although one of your objectives with the furniture is to be able to count the maximum number of chairs in rooms without affecting the circulation (of diners and waiters), comfort should not be overlooked.
Also, remember to keep in line with the design and color palette of the brand when purchasing furniture, to create harmony and not confuse customers.
Another way to create a pleasant atmosphere is through acoustics.
As a restaurant, you should look for ways to control the noise coming from outside and inside the establishment.
Interior design in restaurants helps you with this aspect, since it plans a strategy to reduce noise in the establishment, using materials that act by absorbing annoying sounds.
Lack of strategy
To carry out an interior design project in restaurants it is essential to have a strategy. And maintain it throughout the reform.
This plan should include the total budget for the remodeling, some decoration ideas for your business and the profile of your premises.
To start remodeling without a strategy will only cause chaos in the process, besides, the people in charge of the project will be confused when executing the work.
The solution is to hire an interior designer and meet to identify your type of business, the public you serve and what differentiates you from the competition.
These three details are key to defining the design style that best suits your restaurant and project strategy.
You can also add another element: the type of gastronomy you serve.
In this case, the design can be based on the ingredients of each dish and its place of origin, through colors, shapes, materials, furniture, among others.
Of course, always with coherence and harmony.
Importance of restaurant design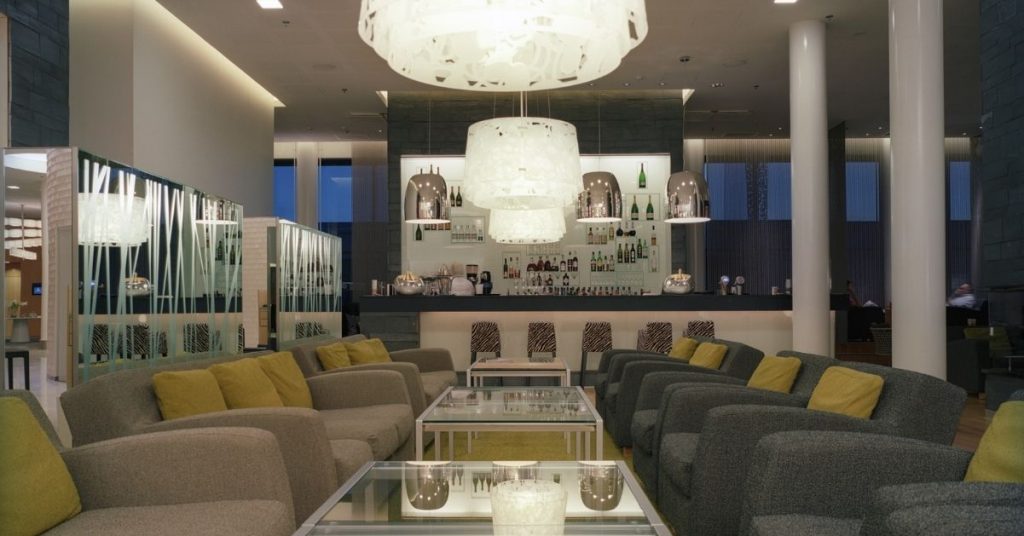 The interior design in restaurants is the element that conveys the first impression to customers.
Comfort, elegance, hospitality, harmony, tranquility and charm are some of the sensations that people describe when they enter an establishment with an excellent design. Isn't that what you want for yours?
When they perceive these details, they anticipate that the rest of the service will be of quality and that they will live a pleasant experience.
On the other hand, good restaurant design combines the aesthetic with the functional, allowing customers and staff to be mobile within the establishment.
Demonstrates quality in every part of the service
Image is only one element of the service provided by your restaurant. You must also focus on the quality of the food and products you use in your service.
In our disposable packaging store, we offer you the quality tableware that your restaurant needs at all times. Within our catalog you will find products for the service inside the establishment, as well as for the home delivery and take away, thanks to our extensive assortment of take away food containers.
Likewise, we care about ensuring your food safety by providing you with hygiene and cleaning products, as well as the catering clothing products that your staff needs.