Dress up your table with hotel terrace tablecloths
Taking care of the decoration of your hotel business allows you to offer a maximum experience of enjoyment for the guests. That's why we at Monouso recommend that you dress your table with hotel terrace tablecloths, because we know that this element influences the marketing of your business.
Take a look at all these tips and offer glamour and comfort to those who visit your restaurant. Let's go!
The colour of the terrace table cloths
Color is one of the most important elements to take into account when decorating. In the case of tablecloths for terrace tables, opting for a white or light fabric never fails. This provides greater luminosity and makes the other elements stand out, avoiding overloading the vision.
However, if you feel that you need some colour you can try bright colours. In this case, it is best to choose opaque shades for napkins, dishes and so on, thus achieving a balance.
Most suitable materials for outdoor use
As far as materials are concerned, it is always good to use linen, cotton and even sackcloth to cover restaurant terrace tables. This type of fabric gives naturalness to the decoration and creates a warmer atmosphere.
It is important that the tablecloths you choose are resistant, since they will be exposed to the weather. It is also important that they have a non-slip base, especially in case of persistent drafts. Also, choose tablecloths with waterproof layers, as they are very easy to clean.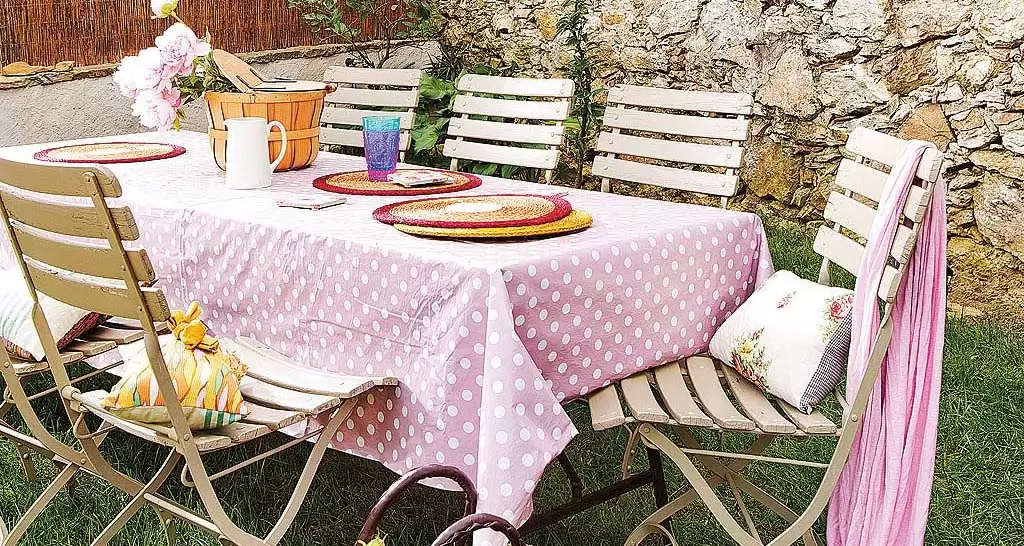 Texture on terrace table cloths
Texture is another element you can play with in the decoration of your terrace tables. Everything vintage goes very well with the design of exteriors, in this case, natural fibers should be present in the tablecloths you choose.
On the other hand, don't worry if you don't want to invest time in ironing, since wrinkling the fabric a little doesn't look bad. However, if you prefer the perfect plain, no problem, although it's also an excellent idea to combine different textures.
The prints on the restaurant terrace tablecloths
Patterns play an important role in the design of outdoor tables. Depending on the style you are after, you can opt for ethnic, floral, bird, geometric, striped or other motifs.
To create an excellent contrast you can combine single-colour and patterned fabrics. Keep this in mind, especially when placing a tablecloth or table runner on the tablecloth.
How about a table runner?
A table runner is a long, narrow tablecloth that is placed so that it crosses the table in the middle. You can place it on the tablecloth, in which case the contrast in colour and texture is fundamental. However, it also looks great if you use it alone, especially if it is a table for two.
Other elements
The other elements such as crockery, napkins, centres, among others, must be in perfect harmony with the tablecloth. It is also important that the chairs are covered or decorated according to the style implemented. In addition, floral arrangements should never be missing from outdoor tables with a height that does not obstruct the vision of the guests.
We can't finish this post without mentioning that Monouso has several tablecloths that can adapt very well to outdoor environments. These are made with materials such as TNT Novotex and Airlaid, some disposable and others reusable, including table runners.
Finally, we hope that you have been helped by the tips on how to dress your table with the right terrace tablecloths for the hotel industry. Feel free to experiment with colours, textures, prints and so on.