Drinking straws buying guide
Adding drinking straws can be a fun and functional way to enhance your customers' experience with a drink or cocktail. With the different types of straws available at Monouso, from PLA corn starch straws to paper and plastic straws, it can be confusing to choose the right ones for your establishment. Don't worry, after taking a look at each one it will be clear which one best suits your needs.
Types of drinking straws
Plastic straws
Made of polystyrene, a very light thermoplastic polymer with a wide variety of uses.
Various sizes, colours and models (with and without spoon, flexible and straight).
Suitable for all kinds of events from children's parties to formal celebrations where drinks and liquors are served.
They can be sleeved or un-sheathed.
Made of polypropylene, a thermoplastic polymer with diverse applications in food packaging, among other applications.
Ideal for a wide range of drinks such as slushies, milkshakes, smoothies..
Easy to recycle.
Functional and hygienic (they come in their individual sleeve).
Alternatives to plastic straws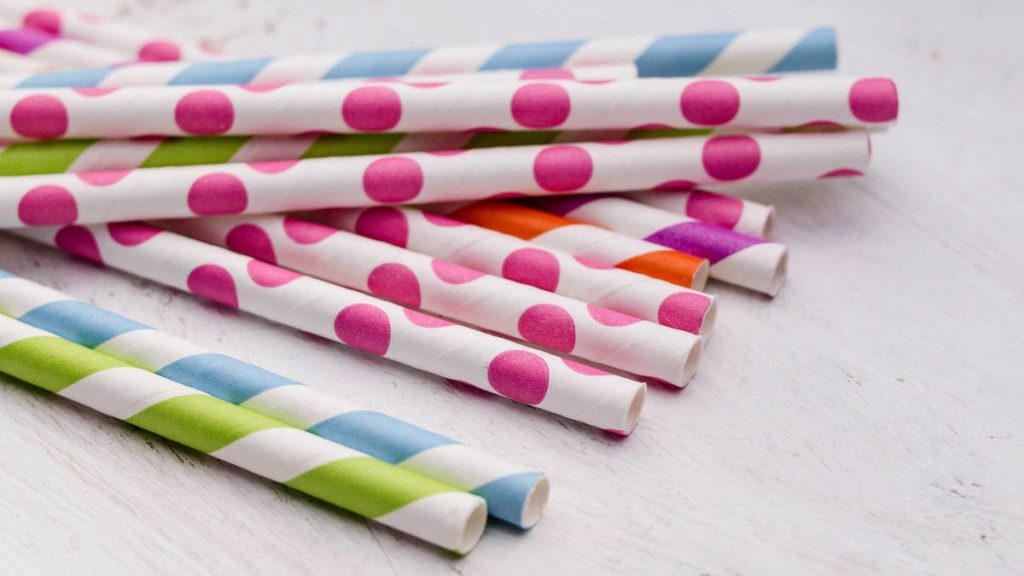 Biodegradable and 100% ecological.
Different colours and fun designs to brighten up any drink.
Made of thick paper, able to remain rigid during all kinds of celebrations
Can be wrapped or unwrapped.
Various sizes available.
Made from renewable resources such as starch, sugar cane or cassava roots.
Durable and disposable, making it a perfect solution for any company looking for simple, environmentally friendly solutions.
It resembles traditional plastic straws.
When properly composted, these straws decompose quickly.
Common straw sizes
The straws available in the catalogue come in different sizes and diameters. You can find them from 14 to 70 centimetres long and with a diameter of between 5 and 10 millimetres.
Styles of drinking straws
Whether you own a restaurant, bar, smoothie shop or café, straws are an essential part of your beverage service. There are several features and styles to look for when choosing the right straws for your establishment:
Add a splash of colour to your table or takeaway cups.
Available in a multitude of colours, as well as in assorted packs.
Various styles and sizes, including flexible straws, colossal straws and paper straws.
Offer a unique and malleable bendable design for convenient handling.
Keep kids entertained with a straw they can bend to their liking.
A variety of sizes, styles and colours are available, including fluorescent straws, palm tree straws and straws with fun paper decorations.
Great for slushies, milkshakes, smoothies and other ice creams that you can eat with a spoon or straw.
The straw has a small spoon at one end, convenient for thick drinks and fun to use.
Available in a variety of sizes and colours.
A great solution for busy cafes and fast food restaurants.
Straws stay clean and untouched until ready for use.
They provide better protection against the spread of bacteria than unwrapped straws.
Available in a wide selection of sizes and colours.
Straw organisers and storage options
The final step in choosing straws for your bar or restaurant is to select the right dispenser to safely house them. Straw dispensers ensure hygiene by keeping dust and bacteria away from the straws while they are stored.
At Monouso we have a bamboo cup, lid and straw organiser. This dispenser allows customers to easily access the extra straws, lids and cup supplies they may need, keeping your business counters tidy.
With this product we say goodbye to the straw guide, but not before asking which straw will add a stylish and colourful touch to your party. Just keep in mind that customers appreciate not only the taste of a drink, but also its presentation