Google Maps for restaurants, the definitive guide
The web map application Google Maps helps us to orient ourselves, to give us directions to get where we need to go, to explore the map of cities, to create routes and also to locate points of interest and stores. This last function is essential for all those responsible for catering and hospitality establishments.
It is no exaggeration to say that being on Google Maps puts you on the map. It is literal.
Although it seems that the service has been with us forever, Google Maps arrived in 2005. The project was the brainchild of four friends who started a mapping project in Sydney in 2003, and it didn't take long for Google to take notice.
After getting hold of their idea, Google went on to launch it as one more "free" service in its extensive portfolio, where by then its search engine and blog network already stood out.
That same year they would get Android, Google Talk(Hangouts, Meets) or Google Analytics, so there is no doubt that 2005 was a great deployment for the company based in Mountain View.
Today, Google Maps has become an indispensable service that millions of people use every day. Hence the importance of making sure that your business appears among the maps of your city. In addition, not only does it allow your customers to find you easily, it also gives them the possibility to rate the experience, post photos and leave reviews. And more and more people are guided by these opinions to choose or discard a restaurant.
It also provides its users with other important information about the registered businesses, such as opening hours, menus, promotions, prices, etc.
Aware of the importance of good management of this application for any business, we have prepared for you a practical and definitive manual of Google Maps for restaurants.
Below, we will explain everything about Google Maps for restaurants and hospitality businesses: from how to add a restaurant on Google Maps to what to do to solve the most frequent problems with the service.
How to add a restaurant on Google Maps?
Actually, the registration process on Google Maps is extremely simple. However, we have prepared a practical step-by-step guide to show you how to successfully include a bar or restaurant in Google Maps.
Here are the steps you will need to follow:
1. Sign in to Google My Business
To make your restaurant appear on Google Maps, the first thing you will do is log in to Google My Business and sign up on this page using your business email address. There, you will click on the tab: Add your business to Google and register the address of your establishment.
2. Enter your data on the listing
When you add your address, you will also see a form asking you to fill in some information about your restaurant. Data such as: country, phone numbers, zip code, email and web address of the business, photos and videos, brief description of the business and categories.
3. Confirm the data
Once you fill out the form with all the required information, check that the address of your business is correctly located on the map. At this point, you will be taken to a validation page to confirm all the information you have provided.
For validation, a code will be sent to your mailbox and once you enter this code in your form, you will have completed your registration.
4. Update your information
After all these steps you will be able to appear on Google Maps as a restaurant, and this will allow you to add photos, videos, as well as consult and change information about your restaurant. You need to update frequently the changes of menus, opening hours, etc., to avoid disappointments and bad reviews from users.
How to answer questions from Google Maps?
You must be very careful when answering reviews on Google Maps, whether they are compliments or criticisms. Keep in mind that even if you answer to a particular customer, your words will be visible to everyone.
So the smart thing to do would be to leverage that high visibility for the benefit of the business. Follow these tips on how to respond to negative and fake comments on Google Maps:
Respond to all comments
You should never leave a user's comment unanswered, as this is a great way to interact and connect with your clientele. Also, if you leave a negative review without a response, it can be interpreted as giving the dissatisfied user the reason.
Obviously, this can affect the confidence of the rest of your potential customers, those who are browsing your file looking for information to decide to book. So, answer the good and not so good comments towards your business always in a polite and constructive way. Try to put yourself in their shoes, apologize for what is necessary or ask for more information to help them.
Receiving all that free feedback is the best way to take the pulse of how you are doing in your restaurant. Use the bad reviews to improve and the good ones to congratulate your entire team.
Keep your cool when responding
It is normal for your reaction to a negative or false review to be emotional. However, it is advisable to calm down before writing a single word, because a hot response can affect the reputation and good image of your restaurant.
Reflect on what is being criticized. If you consider that it is a false review, politely comment if you can give more information about your visit because what it says does not seem to correspond to your place (the typical "my hamburger was cold" and you have a rice restaurant). If it is a negative review, analyze what happened, thank them for the warning, apologize for the inconvenience and assure them that you are already doing everything you can to prevent such a thing from happening again (and do it!).
Analyze the complaint carefully
Before responding to past reviews on Google Maps, first analyze if in some way the customer might be a bit right in their complaints. Keep in mind that a bad review can be a good opportunity to reflect on where you can improve your service.
Apologize to the customer
Whether or not the customer is right in his complaint, politely apologize for the inconvenience. And let them know that you will immediately remedy the situation that caused the problem.
Offer solutions or compensation
You can invite the dissatisfied customer to enjoy your services again to corroborate that the fault has been corrected. Also, depending on the degree of the problem that originated the criticism, you could consider the following proposals:
Solve the root of the problem.
Offer a discount to the affected customer.
Make a full refund.
Ask them to remove the negative comment
After a reasonable discussion with the customer and after making amends, ask him to reconsider his opinion publicly. That is, you can politely ask him to edit the previous comment and modify it to reflect his change of opinion.
Go to Google if necessary
If you have taken our advice into account and after responding, the customer insists on viciously damaging your reputation, you can ask Google to remove the damaging comment. To do so, you just need to follow the steps explained in the next point.
How to remove reviews of my business on Google Maps?
The first thing is to learn how to remove reviews from Google Maps, but you can only do it with those that violate Google's policies. That is, even if you mark or report a review that you do not like, Google will not remove it because it cannot know who is right, you or the customer. And in case of doubt, the review stays.
At this point, we recommend that you read Google's policy on this issue before marking a review as inappropriate. Some of the cases in which a review violates Google's policies are:
Spam and fake content.
Content out of context.
Restricted or illegal content.
Terrorism.
Sexual, offensive or dangerous content.
Impersonation.
Conflict of interest.
Here is a step-by-step guide on how to remove a review from Google Maps.
To remove a review, the first thing to do is to log in to Google My Business or Google Maps.
Search for your business listing.
Go to the "reviews" section and click there.
Now locate the review you want to mark and click on the three little dots on the right.
The option "mark as inappropriate" will appear. You must click on this option.
A box will pop up for you to indicate the reason for reporting the review: offensive content, legal issues, privacy issues, etc.
Another option to remove reviews from Google Maps is to go to the Google My Business page and fill out a contact form to report fake reviews. It will record information about the request so that Google can determine if it is truly inappropriate and if so, remove the review from Google Maps. The data required by the form are:
Name and email to contact you.
The URL of your business.
Paste the text of the review that generates the complaint.
Specify your relationship with the company, whether you are the owner, employee or customer.
How to improve the positioning of a restaurant on Google Maps?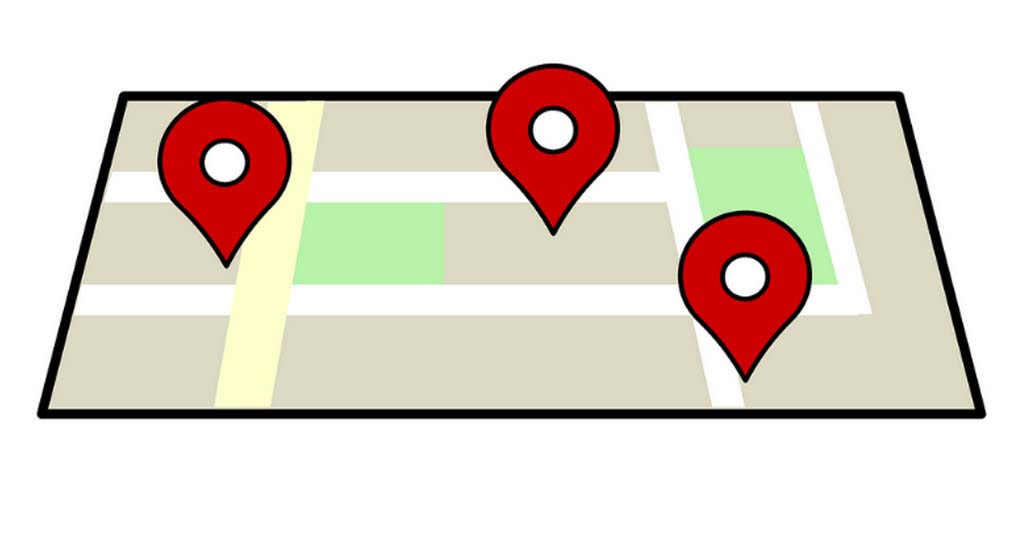 Google Maps is much more than a tool to make your restaurant appear on the map service. It is also a powerful digital marketing tool as it influences Google search results, increasing the visibility of the restaurant.
If you put into practice some of these recommendations you can improve the positioning of your restaurant on Google Maps and gain visibility in Google searches.
1. Optimize the SEO of your website
You must properly configure your website and your restaurant's website information when you go to fill out the business listing on Google My Business. Because Google relates your website data with your business parameters in Google Maps, such as keywords, business category, domain authority, etc.
2. Update your Google My Business profile
Any news in the operation of your restaurant should be updated in your profile. This way you will avoid inconveniences and bad reviews from your customers when they see that the opening hours do not match, that the menu does not match or worse: that the address has changed. Notify if there are changes in the menu, opening hours, special promotions, celebrations, offers, any other information that may be of interest to users.
3. Take advantage of photos
Photos are very important to improve the positioning of a business on Google Maps: a good photo has the ability to increase the CTR of your profile. So upload attractive and high quality photos of your business, services, dishes, work teams, etc.
4. Encourage your customers to write reviews on Google Maps
Reviews are very useful for positioning on Google Maps, as Google takes customer ratings very much into account. But, don't even think of falsifying reviews because Google detects fake profiles easily and if it discovers irregularities it will penalize you seriously.
A good way to boost your restaurant's reviews is to create a link to your profile and send it to your customers in your next newsletter by email or WhatsApp. Or even stick some stickers with the link in the form of a QR code around the restaurant.
How to remove restaurants from Google Maps?
The aim of this guide is for you to know all the aspects related to how Google Maps works. Therefore, although appearing on Google Maps is convenient for your restaurant, we will also show you how to remove restaurant information from Google Maps.
To remove your business from the map, you have to access Google My Business and cancel your account in this service. To do this, follow the steps below:
Logically, the first thing will be to log in to Google My Business with the account of the business you want to remove.
Click on the "Information" tab located in the column on the left side of the screen.
There, you will see among the options "Close or delete this listing" and you must click on "Delete listing" to start the deletion process.
The next thing you will see is a request from Google asking you to log in again to continue with the removal process (to check your credentials).
You will be prompted with information that you must read and accept.
To complete the process definitively, click on "delete account".
For the moment you have only deleted your Google My Business account, the next step is to remove your business from Google Maps. How to remove your restaurant from Google Maps search results?
Log in to Google Maps.
Locate the site you want to remove.
Once located, click on "suggest a change".
Go to the section that says "close or remove" and select the reason for removing your address from the map.
Now click on "submit" and you will have removed your business from Google Maps.
Keep in mind that despite having completed the entire removal process it may take several days to stop seeing your business on Google Maps.
Someone has my bar on Google Maps: what to do?
It is very common that business owners are surprised to see their establishments appear on Google Maps, without having registered them themselves! This happens because Google can do the registration automatically or even another user anonymously.
In order to manage the information on your listing, as well as respond to reviews, you must claim ownership of that business on Google My Business. This request is done in a simple and intuitive way through a wizard.
Just check if the "claim this business" button appears and click on this option. When you do so, a practical wizard will appear that will guide you to request access and authority for your business on Google Maps.
Make sure you fill in the information requested by the wizard and register with a Gmail account to link your account. This way, you will receive the updates and all the reviews about your business.
In case you registered your business in Google Maps, but you cannot access it for some reason, you will have to follow the next steps:
You will start a new registration process.
When you enter the business you are going to register, Google will say that this profile already exists, so you will have to claim it.
When you make the claim Google will send an email to the management account that made the first registration.
If there is no response within a week, Google will automatically transfer the property.
We hope we have accomplished our goal in undertaking this definitive guide to Google Maps for restaurants . If you still have any questions, let us know in the comments and we will be happy to help you solve them.