Buying guide for disposable tableware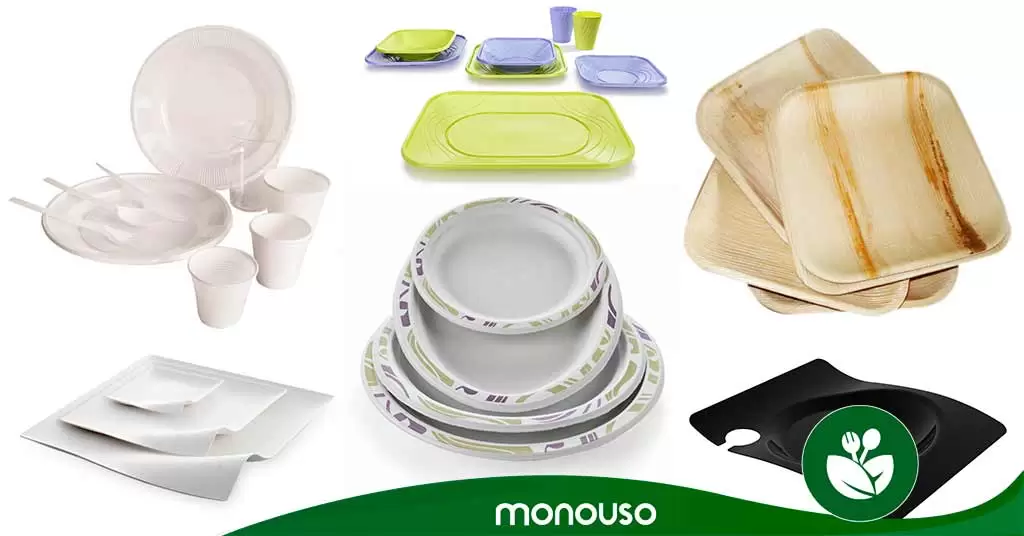 Choosing the type of disposable tableware for your business is a big decision. Simplify the selection process by knowing the options available, advantages and qualities to choose the one that best suits your needs
Pros and cons of disposable tableware types
In addition to its practicality, disposable tableware differs from conventional tableware in that it eliminates the risk of breakage. In addition, you will save cleaning time and ensure the absence of possible pathogens after ineffective washing. Therefore, disposable tableware presents a higher food safety compared to the conventional one
Consider these points when looking for the ideal tableware for your food service:
Types
Advantages
Disadvantages

Plastic tableware

✔️ Suitable for serving any kind of food.
✔️ Cut resistant.
✔️ Many colours available.
❌ Not as eco-friendly as other products.

Foam dishes

✔️ It requires less energy to create than paper alternatives.
✔️ Lightweight and cheap.
✔️ Thermal insulation.
❌ It is not biodegradable.
❌ Not suitable for microwave.

Paper tableware

✔️ Uses less storage space than other options
✔️ Most of the available items are microwaveable (water-based compostable lacquer coating).
✔️ Ecological design compared to other materials.
✔️ Oil resistant.
❌ Uncoated products can absorb grease and other food residues.
❌ Can be folded or bent when used with heavy foods.
Disposable and reusable plastic tableware
Looking for a disposable tableware that fits your event's theme or venue decoration? Then you will love this tableware. And not only for special occasions (weddings, communions, catering…), this tableware is adapted to all types of events everyday things like picnics, barbecues or meetings with friends and family Comfortable, high quality and economical, these plates are resistant to food oils and fats and are even reusable! This is one of the defining features of PP disposable tablewareThe paper material, which can withstand the temperature of the microwave, although there are other plastic materials with numerous advantages. Just take a look at the table below.
They are available in a wide variety of colors, styles and models to choose from. And remember that the glasses, cutlery and plates can be combined and mixed between them to achieve an original and attractive dinner service for any purpose. Salads, desserts and sauces will not look the same thanks to this tableware, which will achieve an impeccable presentation of the food
Material
Advantages
PP
✔️ Microwaveables.
✔️ Hard and tough.
✔️ Reusable.
PS
✔️ Great quality and economical price.
✔️ Strong, flexible and resistant.
✔️ Reusable.
EPS Foam
✔️ Keeps food warm.
✔️ Not suitable for microwaving.
✔️ Not reusable.
PET
✔️ Capable of withstanding different weights and temperatures.
✔️ Shock resistant.
✔️ Reusable.
Disposable tableware in PLA
The material that this kitchenware is made of is PLA, a polymer created from corn starch or sugar cane Among the most outstanding characteristics of the disposable tableware in PLA cornstarch can be mentioned
Ecological and compostable.

Comfortable and versatile.

Safe and hygienic.

Very similar to plastic, but of vegetable origin.
Foam tableware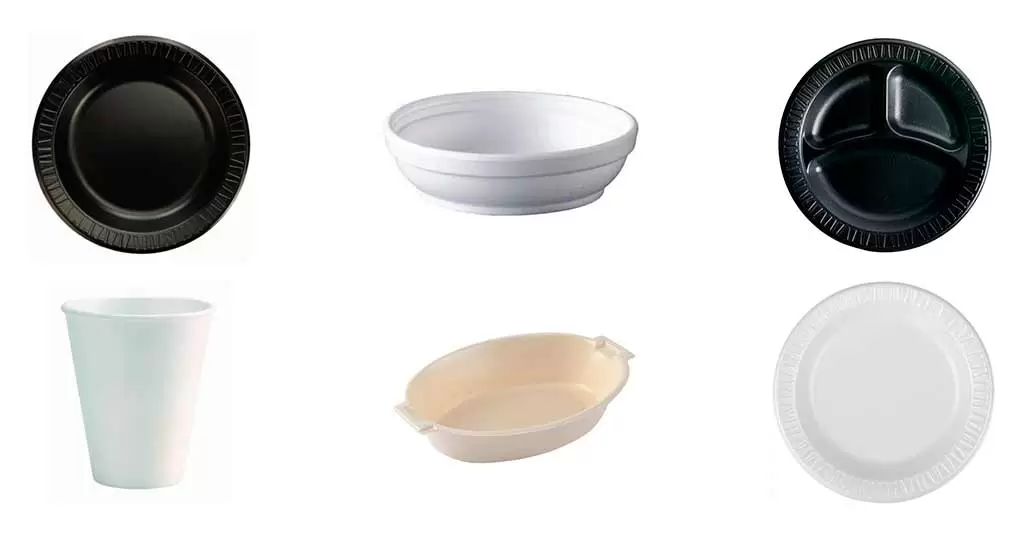 If you are looking for tableware for a casual environment, foam tableware is the perfect choice. Ideal for barbecues or picnics, our foam tableware offers excellent insulation and temperature retention, while being lightweight and strong enough to hold complete meals. In basic colours such as black, white and beige, this tableware will match your decor and accessories perfectly. Plus, with our plates, bowls and glasses it's easy to create a complete table set.
Aluminium trays
When it comes to disposable tableware, we can't let the aluminium containers and trays. Your resistance to high oven temperatures and food oils and fats make it the ideal material for cooking your favorite recipes
It can withstand a temperature of -20ºC to 380ºC.
Ecological disposable tableware
If you're looking to add a "green" touch to your event, our wide selection of biodegradable plates and compostable plates, bowls, glasses and cutlery, I'm sure they'll get your attention!
The use of these dishes is a sustainable alternative to other disposable products that is growing in popularity. And why are they so famous? Because of the characteristics and features of these products made from bamboo, wood, palm leaf or sugar cane, among other materials. To understand the full range of options and components see the Eco-Disposable Tableware Guide
Made from high quality materials, our selection of biodegradable and compostable tableware helps to reduce waste in containers
In addition to these sustainable properties, these products take into account the needs of customers, so that retain the benefits of other disposable tableware Palm leaves, wood and bamboo even offer great durability. The quality of these biodegradable and compostable products is exemplary!
Do you want to know some of their advantages? Each material has its benefits, such as the wooden tableware, able to withstand high temperatures without deformation and not pass on the taste of the food; while the palm leaf is a component very strong, suitable for hot and cold solid and liquid foods
Others such as cellulose pulp chinet can be used with liquids without going soft and the bamboo ones are characterized by their robustness and elegance when it comes to presenting the food. As you can see, there is a wide range of materials to choose from whose common point is their high quality
However, if you don't know where to start we advise you to read the specific terms with which these products are named. With the following glossary you will be able to find the article you are looking for
Eco-friendly tableware terms
Biodegradable A product is considered biodegradable if it can be naturally decomposed by microorganisms, such as bacteria or fungi, over a period of time. It is usually made from plant or animal resources.
Composting An item is compostable when it can be decomposed and disintegrated into water, carbon dioxide or nutrient-rich, reusable biomass at the same rate as paper without releasing toxins.
Degrading These products are created from petroleum and cannot decompose naturally like biodegradable items. In fact, degradable products decompose through chemical reactions in anaerobic environments. As a result, their decomposition results in water, carbon dioxide, biomass or trace elements.
Recyclable This means that the product can be reused and turned into something new after it is discarded.
Renewable A product is renewable if it comes from a tree, plant or other living organism capable of regenerating itself. Therefore, the production of renewable materials will not deplete the renewable resources from which they come
Biodegradable disposable tableware materials
PLA corn starch.

Cardboard.

Wood.

Sugar cane.

Palm leaf.

Chinet cellulose pulp.

Bamboo.
Composting disposable tableware materials:
Wood.

Bamboo.

Palm leaf.

Sugar cane.

Wheat pulp.

Cardboard.

PLA corn starch.
The great common advantage of all these materials is that the tableware is made from 100% natural and renewable sources
Paper tableware
Are storage efficiency and eco-friendly products a priority for your business? If so, paper tableware is going to be your best choice! With its more thin and flexible compared to other disposable tableware optionsthe paper plate stacks very well and can fit in the cupboards, on the shelves and in other narrow areas. In addition, as many are microwaveableIn addition, it is easy to reheat the product and serve it all on the same plate. Another great feature of our paper selection is that most items are biodegradable and compostable!
These parts of the tableware may or may not be coated. The difference between the two is that with the coating they are more resistant to liquids and grease and are ideal for supporting foods with sauces.
The most important thing to keep in mind with the disposable paper options is that you can buy a wide variety of paper materials. Each type has its benefits that you will want to consider to find the one that best suits your needs. Consider the following materials below:
Material
Advantages

Cardboard

✔️ Recyclable and compostable material


✔️ May come in contact with oil and grease.
✔️ Suitable for liquids without breaking or softening.
✔️ Highly resistant to food weight.
✔️ Suitable for microwaves.

Corrugated cardboard

✔️ Cut and leak resistant surface, ideal for saucy food products.
✔️ The 3-layer construction is robust and works well for events.

Sugar cane / Bagasse

✔ ✔ Robust, rigid, natural feel…
✔️ Resistant to cuts and fatty products.
✔️ Suitable for use in microwave and oven.
✔️ Biodegradable, compostable and recyclable.

Wheat bran

✔️ Composting design can naturally degrade into rich organic material in a composting facility.
✔️ An attractive, natural-looking presentation adds an elegant touch.
Perfect for events, these dishes are useful for salads, appetizers or starters. Some styles even provide compartments, which helps control portions and keep the product separate. Lightweight and easy for guests to carry, the paper dinnerware can also easily match your décor. With color options ranging from basic tones to vibrant colors, paper disposables are a timeless solution.
As you can see, disposable tableware, whether plastic or ecological, has many advantages: en versatile, practical, hard to break (in some cases it is considered unbreakable) and can be used at numerous events and celebrations. For individuals or businesses in the hospitality industry, there is no doubt that this tableware provides a high quality in the catering industry at an affordable price.
What are you waiting for to get yours?
Author