How are Kraft paper bags made?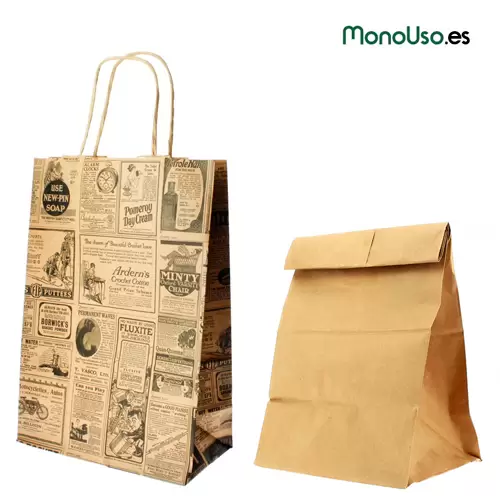 Today we will talk about kraft paper and its manufacturing process. It's really interesting! All this process that we will see below results in kraft paper bags that manage to hold more weight than plastic bags and, in addition, are biodegradable.
¿Qué encontrarás en este artículo?
Recyclable and ecological
The kraft paper bags that you can buy on our website are the result of a very interesting manufacturing process that gives rise to this ecological material. Currently we see many objects and kraft items such as cards, menus, brochures, bags, etc. The commitment to the environment makes many companies and individuals bet on this type of material, providing an added value for them.
Manufacturing process
The manufacturing process of kraft paper is very interesting and is known as 'fibreboarding' of wood pulp which involves chemically converting wood into wood pulp.
The wood of the trees is composed of the following structural components: lignin and cellulose. During the process both components are separated, for which the wood chips are boiled to form a kind of white paste made of sodium sulphide and sodium hydroxide.
In this way both components are broken and the solid wood pulp and also a kind of dark paste is left. A process of filtering and washing is followed to then produce a clean paper with no major impurities, although as is well known it has a rough surface. It does not receive any treatment to be bleached, hence its characteristic wood colour.
Finally, it should be noted that the term 'kraft' comes from German and means 'resistance', so it is not surprising that this is its main characteristic. Nowadays, its aesthetics are also highly valued and it is used quite a lot in design materials, as we mentioned before. If you are looking for cheap paper bags on our website Monouso you will find a wide variety: different sizes, with handles, without handles, etc.
In addition to the bags, we also have many other kraft food items on our website – come in and discover all we have to offer!
What are Kraft paper bags?
These are dark, heavy-duty paper bags. It is known mainly because it is an environmentally friendly material.