How to attract customers for your catering business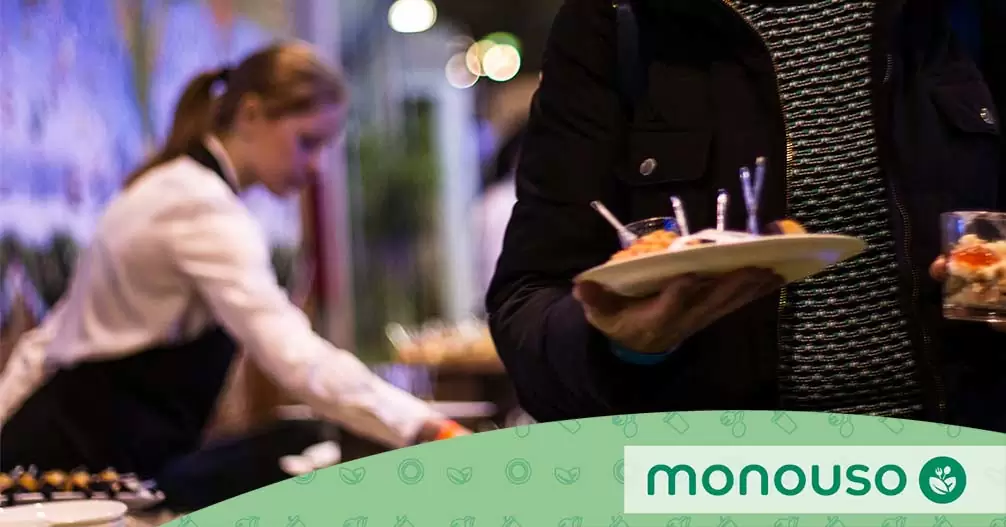 Looking for strategies to help you attract customers to your catering business? Here are some great ideas to promote your business, attract customers and boost your profits.
It's true that the catering industry is highly competitive, but whether you're a start-up or an old hand who knows it's time to expand, you can stand out from the crowd. Become a great caterer by following our tips to attract catering clients and make your business very successful.
The success or failure of a social, business or institutional event depends largely on having a good catering service. Therefore, your company needs to have an excellent reputation that allows potential clients to contact you and trust your services.
But how can I get clients for my business?
Knowing your customers, defining your company's style and relying on online marketing will allow you to achieve all your goals.
10 key tips to attract customers for your catering business
There is a lot of demand in catering, but there is also too much supply. That's why you need to take actions that will help you stand out from the voracious competition in this sector. Here are some key actions to attract customers to your catering business:
Study your potential customers
Before embarking on any strategy to attract customers for your catering company, you have to be clear about your target audience. That is to say, there are catering companies that work only with corporate or institutional events where they cater for large numbers of people. Others cater for smaller events, such as weddings, graduations, birthdays, family reunions, etc.
Volume is not the only difference, other factors such as the type of food also come into play. The style of your cuisine can also define the type of customer who might be looking for your services: your buyer persona.
Spend some time defining the kind of customer who might be interested in your catering based on: the volume you offer, the formality of your menu, types of dishes (type of cuisine, dietary restrictions, etc.), the prices, the distance you travel for delivery, whether you offer extras such as set-up and clean-up, etc.
Find good suppliers
Part of the success of your business lies in having good relationships with suppliers of raw materials and non-food supplies. Look for good agreements with companies that allow you to have the highest quality products at the best prices. It is also important that they offer you payment facilities and discounts.
Keep up to date with trends
Maintaining the essence of your catering is essential to present a coherent image to the public, however, you must not neglect the latest gastronomic trends. This is the only way to keep your customers' attention over time and not be left behind.
To do this, it is a good idea to constantly research what new services the competition is offering, what products and preparations are in fashion each season, the trendiest dishes or the colours in fashion.
In a catering business, customers expect to find enough variety to allow them to customise their events and meetings. Make sure you have an extensive and varied menu, attentive to seasonal foods, capable of satisfying their demands. Of course, always within the range of the type of food you do.
It wouldn't make much sense if you specialise in American food to include, just to extend your menu, tripe or rib stew. I'm sure it has happened to you: you arrive at a restaurant and the fact of seeing several types of cuisine makes you suspect that they are not specialists in anything.
How do you get customers? Go for a varied specialisation and prepare possible changes within your dishes. If you have these proposals prepared in such a way that they continue to comply with the original price list, it will not upset the budget and your customers will perceive that you have everything under control.
Take advantage of digital marketing
Open your own website, register in catering service aggregators, keep your social networks up to date… digital marketing can be your great ally today to make yourself known to many more customers. Word of mouth is good, but don't waste the power of the web.
If you take into account that the majority of hospitality transactions (and not) are nowadays done online, not giving the importance it deserves to your online presence can be a big mistake.
Some actions that will go a long way to help you get noticed and improve your reputation are:
Facebook and Instagram ads: catering and event advertising. They are a very effective advertising alternative, as they allow you to reach the audience that really interests you thanks to the audience segmentation of these networks.
Attractive website with quality information. Update your website regularly with valuable content. Publish information and photos of the events you cover, so you can show the type of service you can offer. Don't forget to add information about your dishes, your prices, etc.
SEO on your website. In addition to attractiveness, work on semantics to ensure that you appear in the first positions of search engines when someone is looking for a service like yours in your area. For this it is interesting to have an active blog (once a month would be good).
Network of links (linkbuilding): exchange links with parallel and complementary services that you do not offer such as venue rental companies, wedding planners, etc. (Perhaps from this contact may arise some future collaboration …).
Register in Google My Business so that your business profile appears when someone searches for information about you. Make sure you keep your contact information up to date, your opening hours and reply to all the client reviews you receive.
Promote your services on your social networks: share with your community your menus, your preparations, your offers, photos, videos… all kinds of information that can attract their attention.
Send newsletters to your customers. Take advantage of your customer base to send them regular newsletters with your offers. Add a form on the web and promote your newsletter to get new contacts.
Share videos of your company, both on your website and on YouTube, and on all social networks. These should be professional videos, with an eye-catching message to capture the customer's attention.
Don't neglect offline marketing
Everything you generate on your website can be used to create advertising brochures that you can then hand out by letterboxing or dropping them off at local businesses.
Depending on your target audience, it may also be worthwhile to book a radio spot on the local radio station or sponsor the festival book. The objective is to make yourself known in the spaces that your potential client frequents. If you did a good study as mentioned in point 1, you already know where they are hiding.
Look at the competition
As mentioned above, there is a lot of competition in the catering world, so it is a good idea to do some research on what rival companies have to offer. The aim of your research should be to compare yourself with them and try to match or beat them.
By studying the competition (their websites, their networks, their newsletters) you will discover what you have that makes you unique and you will be able to leverage this in your communication.
Create strategic alliances
Establish contact with other professionals whose services are complementary in social celebrations, such as photographers, musicians, entertainers, among others. Make sure you get a handful of their cards or brochures, and leave them yours.
This allows you to offer good references to the client who needs them and also creates a two-way alliance of recommendations between you and the rest of the associated companies.
Evaluate all actions
All the actions you implement to make yourself known should be analysed once they have been running for some time. Evaluate how they work and consider how to improve them if necessary.
This is especially important when it comes to paid advertisements, because if they are not working, you will have to change your texts, images or even widen the segmentation you had established.
Stay ahead of the curve
To attract more customers for your catering company, it is also very convenient to know all the festive events that take place in your town every year. This way, you can present your proposal in advance, without waiting for them to request your services.
For example, advertise your Christmas menus from the beginning of December or announce that you will have a special menu available for catering company meals. Make a basic calendar and mark important dates so that your business is able to create needs for your customers.
Another important point to attract customers with your catering company is to maintain an excellent online reputation.
If you deploy all your potential in point 5 (digital marketing), it is normal that you will start to receive favourable and not so favourable opinions in the form of comments on your networks or reviews on Google or other aggregators of catering services.
Although nobody likes to receive a bad review after all the effort and effort put into an event, you must manage this kind of negative comments in the best way.
Respond to all feedback: good and bad. To negative comments you should answer politely and respectfully and try to learn what went wrong so as not to repeat the mistake.
Having said all this, we believe you are ready to start attracting clients for your catering business and succeed. Put all our tips into action and you will see how, with a quality service, your company starts to gain visibility and you start to get clients.