How to avoid allergy to vinyl gloves
The use of disposable gloves as a protective measure in different fields of work is becoming more and more frequent. Vinyl gloves are the best option against allergies.
There is a wide variety of disposable gloves on the market, in terms of models, sizes and materials. A large majority of them cause allergic reactions to the people who wear them. It is not really a serious problem because there is a solution, avoiding allergy vinyl gloves is the ideal option.
Allergy vinyl gloves and their characteristics
There are two main groups of materials from which disposable gloves are made Natural rubber, represented in the latex gloves and the disposable synthetic or PVC gloves. The latter are presented with a variety of models on the market, being the best known:
Nitrile.
Neoprene gloves.
Polyurethane gloves.
Polyethylene.
Vinyl gloves.
Each of them plays an excellent role in preventing the spread of infectious diseases. But most of these gloves cause allergies on the hands or skin. Only disposable vinyl gloves do not cause this problem in people, thanks to their manufacturing characteristics.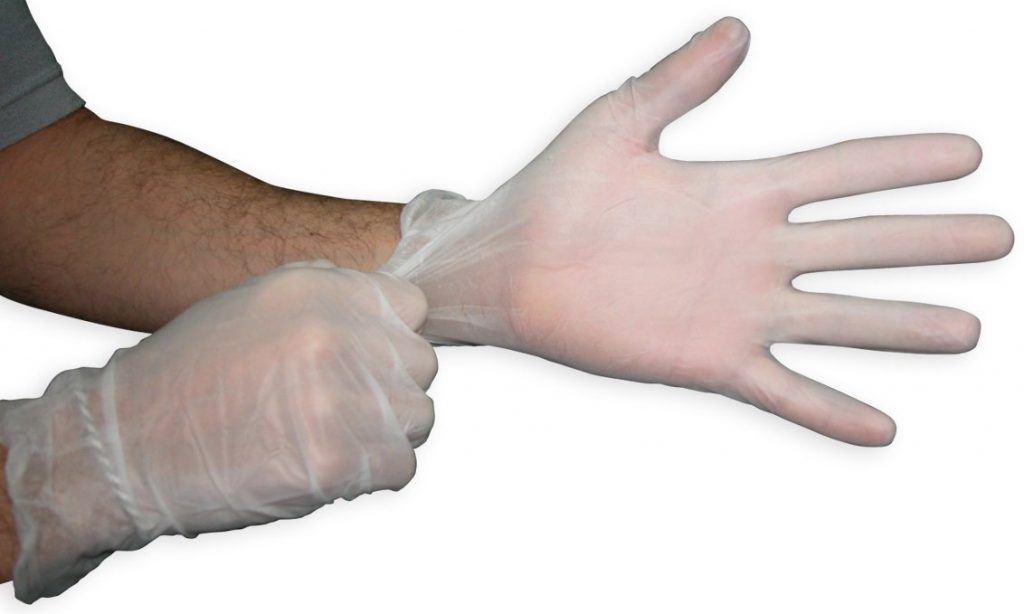 Vinyl gloves and work areas
Disposable vinyl gloves can be used in many work areas, especially in the food industry. Of course, they are also widely used in the healthcare sector and even in hairdressing salons. One sector that widely recommends using these gloves is the cleaning sector.
Because vinyl gloves adapt very well to the shape of the hands. Even though they do not have as much elasticity as latex or nitrile gloves. That fit allows good movement and maintains sensitivity to touch, allowing for better performance in any work area
They are not the most resistant but effective
We have to be honest. Vinyl gloves are not known to be the toughest on the market, but they have been proven to be very effective. They perform their function as a protective barrier against bacteria and infectious agents to perfection. They just can't be exposed to high temperatures and harsh chemicals.
Cleaning agencies recommend vinyl gloves for allergies, as they are latex-free. Also because they protect the hands from the irritating effects of detergents and moisture. In the food industry, vinyl gloves are highly appreciated for the way they fit the hands without impeding free movement.
You can use them all day without risk of allergies!
This is the biggest advantage of using vinyl gloves. It has been proven that after spending the whole working day with the gloves on, there is no presence of any kind of allergies. Not even skin irritation from constant use of the gloves on the hands.
The evidence speaks for itself, which is why more and more people are using these kinds of gloves. Counteracting allergies with vinyl gloves has become the best way to protect your hands at work. Not only from possible bacterial contamination, but also from allergies of any kind.
Properties of vinyl gloves
Combating allergy vinyl gloves, is something that characterizes these disposable gloves. But that is not the only reason why many people prefer them as a protective measure. Take a close look at the properties of vinyl gloves:
The material from which the vinyl glove is made is completely free of latex.
The fit that is achieved in the hands with the vinyl gloves, is the indicated for a better performance in the work.
It is perfect for jobs that represent a low risk of infectious contamination.
When it comes to doing short term work vinyl gloves are the most recommended.
They are gloves that have antistatic properties.
There is a version with talcum powder, to make it easier to put on the hands.
They are the most commonly used gloves for non-hazardous materials.
One more! They are the cheapest on the market.
An unbeatable advantage, the best price on the market
As you have seen, vinyl gloves can be worn for a full day without causing skin irritation. Apart from that, they perfectly fulfil their role as a protective wall against microorganisms. And best of all, they do not cause allergies. However, there is one more reason to promote these gloves.
It is the price, they are the cheapest option you will find in the market. We, as distributors of disposable gloves, offer them at the lowest price in Spain. That does not mean they are of poor quality, quite the contrary. The quality of disposable vinyl gloves is more than proven.
Sizes and colors to choose from
At the moment we have a very complete stock within the inventory of a great variety of colors and sizes. We could say that there is to choose vinyl gloves allergy according to the area of work that is required. As for the sizes, we have from the smallest to the largest.
We will attend to your request immediately!
We will be waiting for you to visit us either in our offices in Spain, or in our website on the internet. No matter what means you use to contact us, what is certain is that we will attend you immediately. For us the main thing is to serve our distinguished clientele and offer them the best of our products such as vinyl gloves allergy.
FAQ
What are the main types of allergy gloves?
We can distinguish different types of gloves for allergy sufferers: nitrile, neoprene, polyurethane, polyethylene, vinyl…
Why are vinyl gloves the best choice for allergy sufferers?
Vinyl gloves adapt very well to the shape of the hands. Although they do not have as much elasticity as latex or nitrile gloves. This fit allows good movement and maintains sensitivity to touch, which allows for better performance in any work area.