How to choose the ideal disposable plastic cups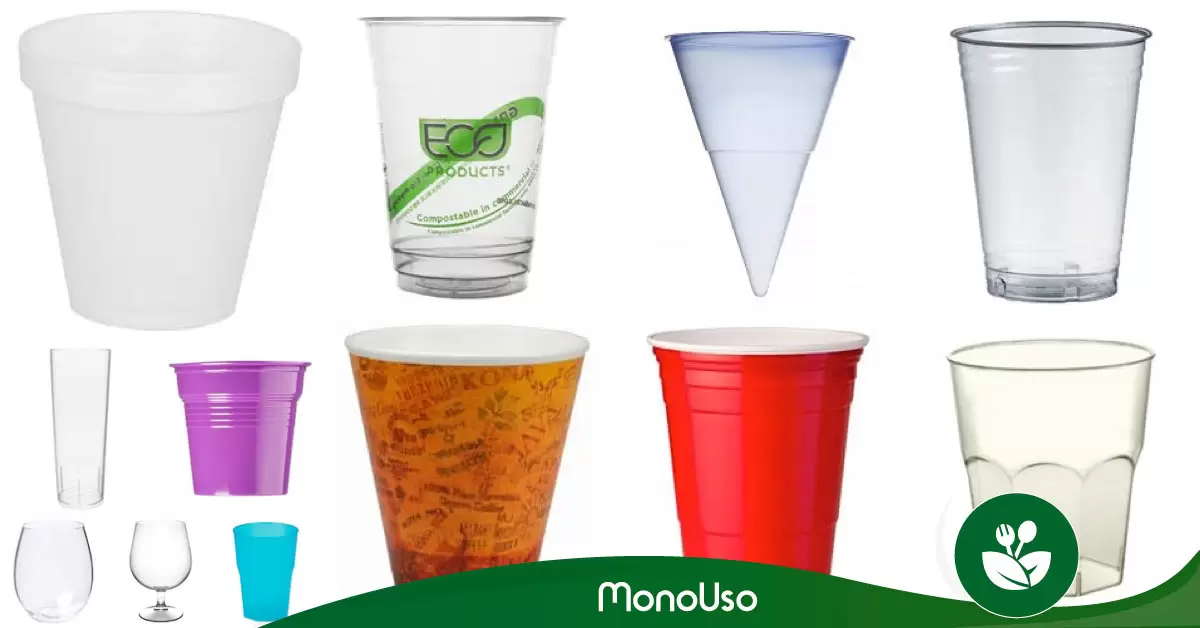 The plastic cups are the economical and functional alternative to traditional glass and porcelain cups.
The advantage of disposable cups is their variety. Each product range offers different properties, making it ideal for a specific application. In other words, the characteristics of a plastic cup allow us to choose the most suitable one for our needs. However, the diversity of materials can be confusing if you are not familiar with them. Therefore, it is necessary to review each range and its qualities.
Types of disposable plastic cups
Plastic cups can be divided into three types of disposable cups:
Plastic cups: Manufactured from polymers derived from fossil fuels, such as petroleum, they are the most popular cups on the market.
Biodegradable plastic cups: This type of beverage container has the capacity to degrade naturally, after being used and disposed of correctly.
Plastic Composting Cups: Composting cups can be turned into organic fertilizer after going through an industrial transformation process.
All the glasses you find at Monouso, belong to these three categories.
Biodegradable Plastic Cups PLA
These plastic cups are amazing. They look and feel just like plastic, but are made from 100% vegetable ingredients.
The bioplastic or PLA plastic offers the possibility of containing cold and hot liquids safely and without modifying their composition or shape.
The main component of this type of cup is corn starch, giving it characteristics that make it the perfect element for your coffee, fruit juice, smoothie or slushie.
At Monouso, we have cup models with a load capacity between 50 and 550 milliliters.
Moreover, recognizing that we all have different tastes, we offer a wide variety of shapes and decorations, so you can choose the Biodegradable Plastic Cups PLA that most resemble your business.
Economical PP Plastic Cups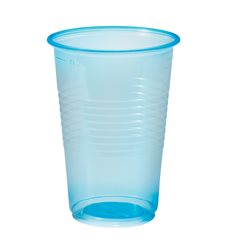 With polypropylene as the main ingredient, the Economy Plastic Cups PP stand out from the rest because of their low price.
But it's not just a question of money, these glasses are very functional and versatile, with the capacity to store hot or cold drinks.
Its great adaptation to different uses makes it the king of parties and one of the favourites in the world of event organisation.
In terms of capacity, the PP Economy Plastic Cups offer the possibility of holding between 115 and 650 millilitres.
They are available in white, blue and transparent; with different shapes, smooth or textured.
In addition to all these characteristics, it is worth mentioning that the melting point of these glasses is located at 160˚ centigrade and they do not emit odors or flavors that affect the food they carry.
Unbreakable Plastic Cups PP
If you are involved in the organisation of mass events, such as concerts, parties or fairs, you will know that there is legislation in force requiring the use of safe disposable cups.
These types of cups should not constitute any risk of breakage and damage – accidental or premeditated – can be inflicted on any person during a mass event.
For these events, we have designed the Unbreakable Plastic Cups PP. Hot and cold beverage containers that offer amazing resistance to use and abuse.
Their constitution, with polypropylene as the main ingredient, allows them to be used in the microwave, be dishwasher safe and withstand direct blows and falls.
As for their safety as food containers, they are 100% non-toxic and do not change the composition of the liquids they contain.
The PP Unbreakable Plastic Cups we have at Monouso are available in a variety of colors, including: white, black, red, green, blue, orange, fuchsia, among others.
In terms of capacity, the smallest option we have is the graduated glass of only 35 ml, while the largest capacity is an injected glass of 600 milliliters.
Reusable cups
The reusable plastic cups are designed to be resistant to use and can be used on more than one occasion.
Thanks to their manufacture with polypropylene, the reusable cups are functional, economical and very resistant, to the point of being almost unbreakable.
They can be used to serve hot or cold drinks, in both cases, you will not see their characteristics lost because of the plastic used in this cup.
They are used at family parties or events where you want to generate a smaller amount of waste, as they are not disposed of after use.
The reusable glasses we have at Monouso come in various colors, orange, white, black, silver, gold, purple, blue, among others; and the traditional transparent.
Capacities range from 330 milliliters to beer mugs with a capacity of 1000 milliliters.
The variety of glass types is also impressive. The tube glasses, with ring, for cider, glasses, shots, are among the most sought after.
Disposable Foam Cups
Businesses that sell hot drinks are concerned about the quality of their ingredients and maintaining the temperature of their preparations.
For them, the Disposable Foam Cups they are the ideal product.
From the union of polyethylenes with other chemical additives, FOAM is obtained, a safe material to house food with the capacity to preserve its temperature much longer than conventional cups.
Disposable Foam Cups are non-toxic, colorless, non-corrosive, non-abrasive and 100% recyclable.
To pamper the coffee and tea lovers who visit your place, we offer glasses with capacities between 120 ml and 1300 ml.
Are you worried about the design? Visit our store and discover the white or design options of FOAM Disposable Thermal Cups.
Fusion tumblers
Looking for a superior glass for your hospitality business, restaurant, cafe or tea shop?
We invite you to get to know our Thermal Fusion Cup, a food container that combines different types of covers to help maintain the temperature of your drinks for much longer.
The outer cover of the cup is made of paper, which allows it to be printed or personalized without any inconvenience.
A feature that stands out from the Thermal Fusion Cups is that all, regardless of their capacity, have the same width, so they all use the same lid size.
As they are all the same in diameter, service is much faster, easier and restaurant costs are optimised.
Available capacities start at 266 ml and go up to 710 ml.
PS Plastic Coffee Cups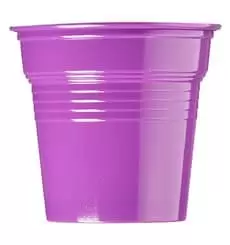 These are the traditional glasses used in cafeterias and bakeries.
Functional, practical and disposable, the PS Coffee Plastic Cups offer freedom to your customers, as they can purchase their favorite drink and enjoy it while walking around town or on their way to the office.
We have capacities between 80 and 230 millilitres, so they work for many types of drinks.
They are even used for the preparation of some desserts, such as jellies for the little ones in the house.
The larger capacity PS Plastic Coffee Cups are recurrent guests at parties and children's events, where an effective beverage container is needed for planned use.
Plastic Cups PS Crystal
Many of us are very scrupulous when it comes to eating. Therefore, we like to observe -without intermediaries or impediments- what is served at the table to eat or drink it with tranquility.
The PS Crystal Plastic Cups are beautiful beverage containers that offer superior transparency to your customer, even if the glass is of some color.
With outstanding designs and very trendy, the PS Cristal plastic cups are available in colors: red, fuchsia, turquoise, pistachio, blue, yellow, orange, among the most prominent.
The capacity of each cup is not as varied as the types of plastic cups we have previously reviewed.
With glasses commonly used in events, parties, festivals, tapas restaurants, cafes, among others.
Hard Crystal PS Glasses
When you see these disposable cups for the first time, you will be convinced that they are the ones you need.
The Hard Glass PS Cups are manufactured with various materials, giving it an extraordinary hardness with a finish very similar to glass.
The capacities of the glasses range from 20 ml to 500 ml, a wide range of options ideal for you.
In our online store, you will find shots, cider glasses, large, small, with special designs, smooth, with geometric shapes, and a wide range of options.
The colors are also crazy. We have the traditional transparent glass and spectacular models in blue, turquoise, lilac, pink, orange, red, green, fuchsia, yellow, among the most demanded possibilities.
Economical PET Plastic Cups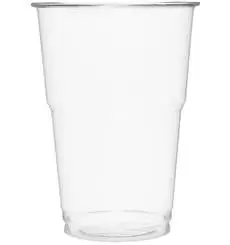 Don't be fooled by this glass. When you hold it in your hands, you will see that they are very light and soft to the touch, but that does not make them less resistant.
With an appearance that emulates glass, the Economical PET Plastic Cups are the containers you need to offer your cold drinks safely and confidently.
Its surface resists silk-screen printing, an ideal feature if you are looking for a customisable glass with the image of your business or event.
Their capacities, between 200ml and 490ml, are a clear indication of the versatility offered by these cups, widely used for serving soft drinks, smoothies, fruit juices, slush drinks and even smoothies.
PET cups with lids
In addition to the disposable plastic cup, in this section you will find an endless number of types of lids that will support you in serving different products in your business.
If you serve smoothies, slushies, juices, desserts, salads, soft drinks, juices, among others, you must go through this category and know what are the options we present to raise your services.
But the versatility does not stop there. The capacities of the glass start at 200 milliliters and go beyond 900 milliliters.
Do you want to personalize your PET cups with a lid? We have good news for you, as the surface of these cups is compatible with the screen printing techniques used to personalize products.
SOLO® Glasses for UltraClear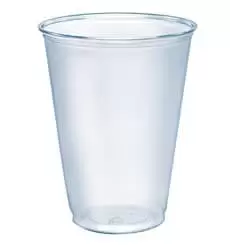 These types of cups have superior transparency, allowing you to see the entire contents without making any effort.
Among the outstanding characteristics of this cup is the capacity to be personalized and its rounded edge, which in addition to providing optimal resistance allows the lid to close more securely.
The covers of the SOLO® Glasses for UltraClear are very varied, but all serve any glass, making the service faster and easier to perform.
As for capacities, we offer you glasses from 148 ml to 946 ml, that is, almost a litre of any of your drinks.
American party glasses
If you have a party set in the American culture, you should have these typical American party glasses, by tradition, red on the outside and white on the inside. Although we also have blue ones.
These glasses, which reflect the "made in the USA" lifestyle, are made of polystyrene, a material that offers great resistance.
Furthermore, this type of plastic will not change the properties of your drinks, nor will it provide any type of toxic element.
Cold liquids are ideal for this type of glass, especially soft drinks and beers with a lot of ice.
The capacities of these American party glasses range from 300 ml to 550 ml.
Coloured glasses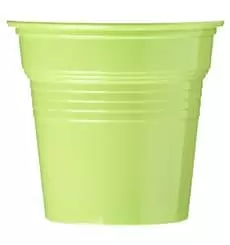 At any special moment in our lives, color adds a special element that could transform an ordinary event into an unforgettable memory.
That's why we decided to organize, in one section, all the types of disposable plastic cups that have a different color than the traditional ones: white and transparent.
No matter what material the disposable colored cups are made of, in this space you will find all the shades you need to accentuate the personality of your party.
These cups are suitable for serving hot and cold drinks, so you can use them on almost any occasion.
Shot glasses? They also have their glasses
With the same vision of the previous category and imbued with the spirit of making it easy to find the cup you need, here you will find all the choices of disposable shot glasses.
Moreover, not only will the cups be white or transparent, we include all models regardless of the color of the product.
Made of different types of polymers, these disposable cups are ideal for serving and enjoying your shots.
If you need to give a special touch to your party or event, without a doubt, here you will find several options to help you in that sense.
Regular cups with lids
Looking for common glasses with lids? Here are all the models we offer at Monouso.
White, transparent and of the most varied colours, all these glasses have the possibility of being completed with a lid.
Ideal for selling hot and cold drinks, take-away meals or desserts, where the security of not spilling the liquid is necessary.
Common glasses with lids, simple, almost unbreakable, resistant, of diverse colors, are some of the characteristics of the containers that you will find in this section of Monouso.
Tube glasses
If you are looking for economy and outstanding product, the option you need could be in this category.
All the disposable plastic tube cups, with their peculiar tube shape, you will find them here.
Iconic cups that will accentuate the style of your event, giving you the opportunity to serve your drinks with superior style and without the possibility of accidents.
Enter this category and find out about the types, sizes and colours of tube cups that we offer at Monouso.
Comparison table
[table caption="Disposable Cups Characteristics" colwidth="75|75|75|75|75″ colalign="left|center|center|center|center"] Types of Cups$Shock Resistance$Cold Drinks$Hot Drinks$Suitable for microwave$Transparent PET Tumblers$✓$✓$$✓ Crystal PS Tumblers$✓$✓$$✓ Injected PS Tumblers$✓$$✓$$✓ Foam Tumblers$✓$✓$✓$ PP Tumblers$✓$✓$✓$Injected PP Tumblers$✓$✓$ [/table]
Accessories for disposable plastic cups
There are a large number of accessories for the efficient management of your plastic cups, whether for storage, transport or additional features.
In three categories, we have grouped all the accessories available at Monouso so that you can get the most out of your relationship with plastic cups.
Lids for disposable plastic cups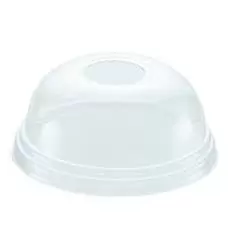 The lids can be the difference between a drink spilled on a customer's shirt or on the seat of your vehicle and the safe transfer.
Offer security to your clients by acquiring the caps that will allow them to consume their drinks anywhere, minimizing the usual risk factors.
The caps that make up this management have the necessary focus to ensure that your product is moved and consumed without inconvenience.
Cup and tray holders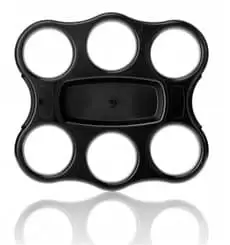 When you have a business like a coffee shop, drink orders can be higher in number than the average for a restaurant of another kind.
In the midst of all your customers, passing by with a service tray with a set of steaming drinks, more than a feat, is a danger.
To avoid unpleasant accidents and support the service of your staff, we present a line of special cup holders and trays.
Discover these beautiful and functional accessories to increase the service of your business.
Cup dispenser
The order of your restaurant is fundamental to project an adequate image to your clients and to avoid the loss of money.
Glass dispensers are perfect for contributing to that goal.
Visit this section of Monouso and discover the cup dispensers, manufactured in different materials and with capacities that adjust to the dynamics of your business.
In all cases, you are guaranteed to receive a high quality and functional product, which is the hallmark of the products sold by Monouso.

Shipments to your home or business
Paragraph
Thanks to the strategic alliance between Monouso and renowned shipping companies in Spain, we have the capacity to send your products – to the address you indicate – once your order has been verified and processed.
The commitment is that the package will arrive at your address within a maximum period of 48 hours.
But speed is not everything in our delivery service.
All purchases, whose invoice exceeds 59 euros, will receive the shipping service completely free, as a thank you from Monouso for your preference and selection.
At Monouso.es, we consider it important that our customers know the materials and qualities of the products we sell. A customer who knows what he is buying, is a satisfied customer.
Author