How to decorate a buffet table
Organising a party is not an easy task, especially if you have a large number of guests. For these cases you should know how to decorate a buffet table.
Because the practical, decorative and functional nature of this type of table has made them a trend at graduations, weddings, baby showers, anniversaries or any other celebration. That's why today we'll show you a series of tips on how to set up a successful buffet table, stay with us until the end of the post and find out all the details!
Advantages of decorating a buffet table for the festive season
We have made a list of the many benefits of setting a buffet table at your upcoming celebrations.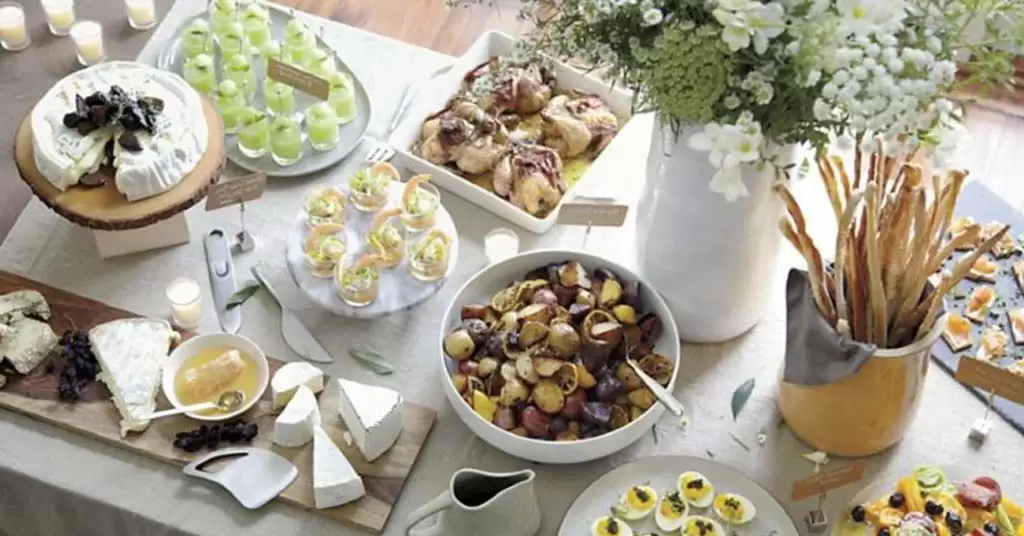 A very convenient aspect of a buffet is that each attendee will serve themselves the desired portions without you intervening. This gives you more free time to relax, chat and enjoy your celebration.
Buffet parties will save you the hassle of figuring out how to arrange or place your guests at each table so that they feel comfortable with their companions.
A buffet table can be organised for events held indoors or on terraces, patios or gardens.
Guests will be more comfortable as they will be served only what they really want to eat
Parties with gastronomic stations or buffets encourage the attendees to move around the room and facilitate their interaction with all the other guests at the celebration.
Buffet tables can be used as part of the party setting, combining colours and food to achieve a stunning decoration.
Tips on how to organise a buffet table correctly
As you may have noticed, it is very convenient to know how to set up a buffet table to stand out as a good host. So, take a look and take into account these useful buffet table decoration tips.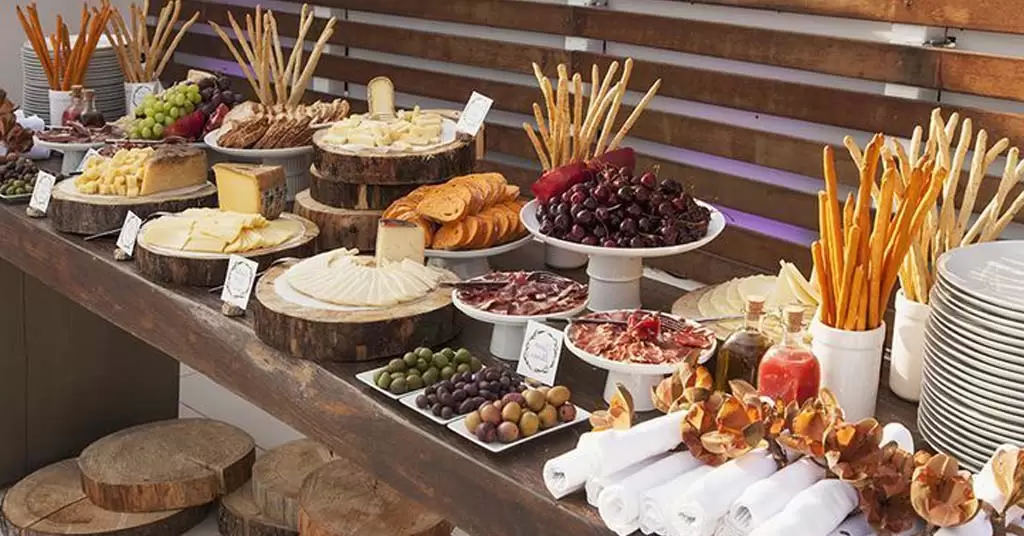 Consider the breadth of the site
You should have a venue that is large enough for the number of guests, as there will probably be lines forming around the table to serve the food. Therefore, you should leave ample space between the buffet table and the chairs that you spread throughout the room.
If you are going to have many guests, it is advisable to organise your buffet in party rooms, patios or gardens to make it easier for them to move around the venue. The minimum space required for a buffet for a few people is approximately 6 square metres.
Location of the buffet table
The best way to position a buffet table is to place it according to the size of the space. If space is limited, place it next to the wall, leaving enough space on the three sides free for easy access to the food.
But if you have ample space, it would be best to place the buffet table in the centre of the room. This will allow you to reach the food at both ends, making it more convenient to serve yourself and avoiding excessive crowds and traffic jams around it.
Individual table for drinks and desserts
Another tip to keep in mind in order to avoid jamming problems, is to place the drinks and desserts on individual tables for each of them. Ideally, place the drinks table at a considerable distance from the buffet to balance the movement of guests around the room.
In addition, the glassware, platters and thermoses needed to serve drinks and desserts would take up significant space on the buffet table, making it look cluttered. Therefore, the most aesthetic and convenient thing to do would be to organise each of the tables separately for these services.
Placement of plates and cutlery
A common question is how to arrange a buffet table successfully. A good idea is to place stacked plates at one end of the table, where the buffet starts, and cutlery at the other end, where the buffet ends.
This way, diners will take the plate and have the other hand free to serve what they want as they go around the table. When they reach the far end of the table, they take the cutlery they need, thus avoiding complications when serving.
Distribute the food strategically
It makes the most sense to order the cold dishes first and leave the hot dishes for the end of the buffet table. So that when the guest finishes serving themselves and is ready to eat, they will still be hot.
It is also a good idea to arrange the food on the buffet table in groups, following the order in which it will be eaten, i.e. starters, creams, salads, main courses, etc. It is also a good idea to play with the height of the platters to achieve different levels and make it easier to reach the food.
Serve easy-to-eat food
Cheese, sandwiches, snacks with sauces, canapés and other starters are ideal recipes for buffets as they are easy to serve. As for meats and fish, it is best to present them sliced in individual portions, to save the time it would take for each guest to cut their portion
Generally speaking, you should do your best to present all food in convenient serving portions.
Make signs to identify the food
Your guests will appreciate it if you place labels to identify each dish. This way, they will know in advance what the options are before they start to fill their plate.
The identification labels should be written legibly and in an appropriate size, in order to serve their purpose successfully.
Place condiments and sauces next to the dishes they accompany
Another important tip on how to set up a buffet table successfully is to place the garnishes for a specific dish next to it. If you put all the sauces and dressings together at one end, guests may get confused when seasoning their dish.
Other important tips to set up an irresistible buffet table
We have already covered how to set up a buffet table correctly in the previous lines, however, you should not leave out the following details.
Make sure you have the necessary crockery, glassware, cutlery and utensils to cater for your guests. If you have a large number of guests, you can hire a catering service to provide everything you need.
Place small tables in strategic places to serve as a support for the guests, in case they need to put down their plate or glass for a moment.
Although at buffet parties guests usually move around and stand, at some point they will need to sit down. So make sure you have enough seating for the number of guests.
You could place toothpicks next to each container of food. This way guests can taste small portions and see if it is to their liking or not before serving it on their plate.
Prepare cutlery sets by wrapping them in napkins or tying them with decorative ribbons. This will help the flow of guests and reduce the risk of them falling on the floor.
Let your imagination run wild and add decorations to the buffet table with fruit or flower arrangements. You can take advantage of the theme or colours of the room setting to make combinations on the buffet table that correspond to these.
What did you think of our tips on how to decorate a buffet table? If you know of any other tips we'd love to hear from you in the comments.
For what kind of events is it a good choice?
Mainly for simple events, but with a touch of elegance.
Tips to organize a perfect buffet table
Consider the size of the place and the space where the buffet table will be.
Individual tables for drinks and desserts.
Placement of plates and cutlery at the end of the room.
Distribute the food strategically.
Serve things that are easy to consume.