How to decorate glass with paper napkins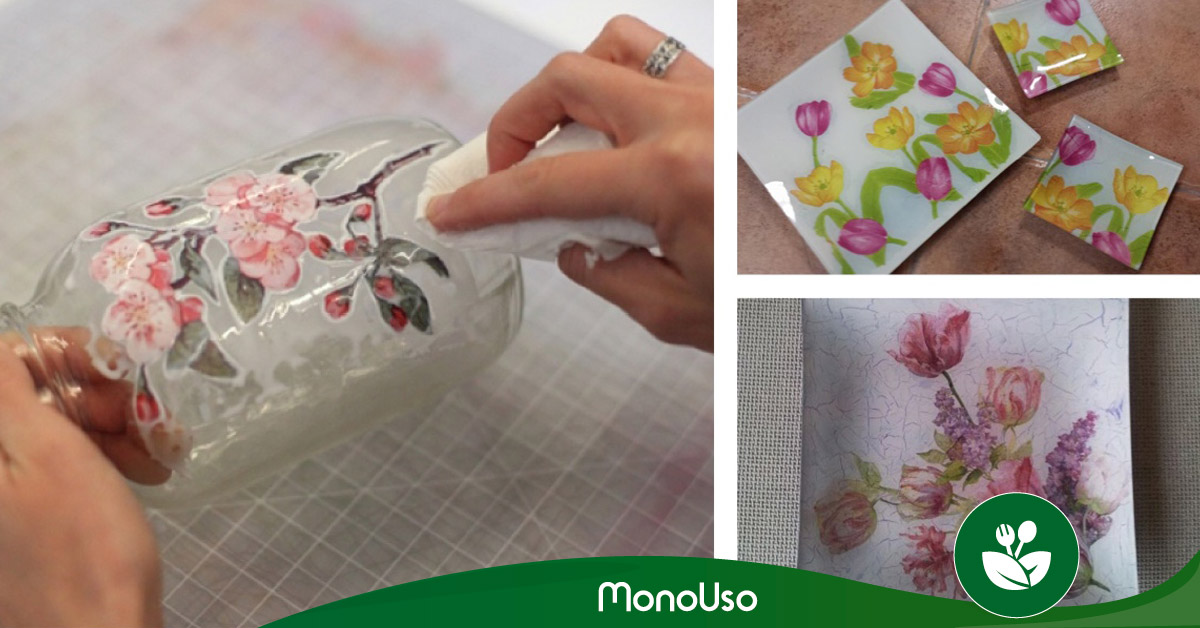 It is normal that in our houses, during years of life, we begin to accumulate bottles, jars or glass containers that we use for anything.
It is also true that we are constantly looking for ways and ideas to reuse all those containers, plates, trays, glasses or items we have at home.
By doing so, you will get a double benefit. On the one hand, we give a second chance to any object that was otherwise destined to end up in the waste container.
On the other hand, we carry out an activity that will allow us to get rid of stress. It can be done with the family and even with the participation of the youngest members of the house.
Today we will see how to decorate glass with paper napkins, a simple craft that you will perform in a few steps.
We will use the magic of the video to make it easier for you to understand the explanations we give to each of the crafts.
Let's understand the technique
The first video will serve to understand the potential of the technique and its correct application on smooth surfaces.
With a material spread by miraxfolkart, a YouTube channel, you will learn step by step how to decorate any glass surface with the napkins that best suit your style.
As for the materials you need, don't worry, they are products that are easy to get in any craft shop, also in Monouso you can find the ideal decorated paper napkins to do this job.
Decoupage in bottles
Since we know the technique and its application at the most basic level, let's add a little difficulty to it.
The fascinating thing about this form of decoration is that you can use it in a great diversity of materials, with patience and a lot of care you will obtain wonderful details for the decoration of your home.
Bottles are especially challenging because they have curves that are not found in other types of objects.
With the help of the JaneLK Ideas channel on YouTube, we will learn how to decorate glass with paper napkins, but in bottles.
Decorate glass jars with napkins
How many glass jars we have in our houses. Tasteless containers that we use daily to store any other object or element of frequent use.
With the video for decorating glass jars with napkins, made by the space With a Piece of Paper on YouTube, you will learn how to give a new style to the glass jars you have in your home.
In this way, you can turn a simple glass jar into a functional decoration element that adds to the elegant and unique style of your home.
Personalize your glasses with paper napkins
We are adding more and more levels of difficulty to our crafts.
Now we are going to see how to decorate crystal glasses with paper napkins, a very useful do-it-yourself way to personalize the glasses you have at home and adapt them to the celebration of the moment.
For example, you can make glasses with a Valentine's Day motif, a wedding, birthday, Christmas or Three Kings Day, the limit is yours.
Decoupage candleholders
Let's go with a new decoration that will give a beautiful detail to your home, especially on those unique dates of our celebration calendar.
Whether it's for Valentine's Day, Halloween, Christmas or decorating on the eve of Three Kings Day, including a candleholder in the decoration can mean the detail you were looking for.
In a simple way, with the decoupage technique, we will learn how to make glass candleholders decorated with paper napkins.
The video below is an original production of the YouTube channel Innspiro. A short and didactic material that will show you the ABC's of the technique.
Joining two techniques
Next we will show you two crafts where two decoration techniques converge.
The first one is a bottle treated with a technique called cracking and then decorated with paper napkins.
The second craft is the decoration of a wine bottle with paper napkins and stencil.
Decoupage and glass cracking
The first technique, as we indicated, will be the steps to decorate glass with paper napkins. We will use a cracked bottle.
Crackle is a technique that simulates the normal deterioration that occurs in very old paintings. It consists of the appearance of cracks on the surface, which breaks the uniformity of any piece.
In the most serious cases, the paint not only cracks, it also comes off.
The truth is that it is an effect that is simulated, above all, to paint objects that you want to give them an old appearance. To obtain the effect, a special paint is used that reacts -in a more visible way- when heat is applied to it.
The video comes from the YouTube channel Diana Helen Breña and shows, in a didactic and detailed way, the step by step to achieve an unparalleled result with these do-it-yourself techniques.
Dare to make it either to decorate your spaces or to give it to a friend or family member.
Decorating glass with paper napkins and stencils
To close, we leave you with a very nice technique where two ways of decorating glass bottles also converge.
First, the bottle is treated with a background paint. Then, the decoration is applied with decoupage and, to close it, some distinctive details are given with a stencil.
It is a simple and colourful way to give a new life to your wine bottles.
Single use, search and find
As you are making crafts with elements of common use, we invite you to visit our online store and learn about the options we have to complete the materials you need to make your creations.
For example, we have a wide variety of Decorated Paper Napkins for you to make your decoupage creations with beautiful motifs.
If you are looking for something more sober or materials to create impressive collages, we offer you our Colored Paper Napkins, available in various sizes and with vibrant shades in trend.
However, if you want to personalize glasses with the techniques seen before, but you don't want to use the ones you have at home or invest large amounts of money, Monouso also has a solution.
Within the section of Monouso Plastic Cups, we offer you a variety of plastic cups that you can use -without any inconvenience- to make any of the crafts we saw in this post.
Among the glasses in this section, there are reusable glasses for wine, champagne or cocktails, made of a special material that resembles glass in a surprising way, but they are made of plastic.
As if that were not enough, the material has a superior resistance so they are glasses that are considered unbreakable.
All the products you purchase in our online store can be sent to the address of your choice, to offer you greater comfort during your purchase. In a maximum time of 48 hours you will have them in your hands.