How to fold cutlery napkins, step by step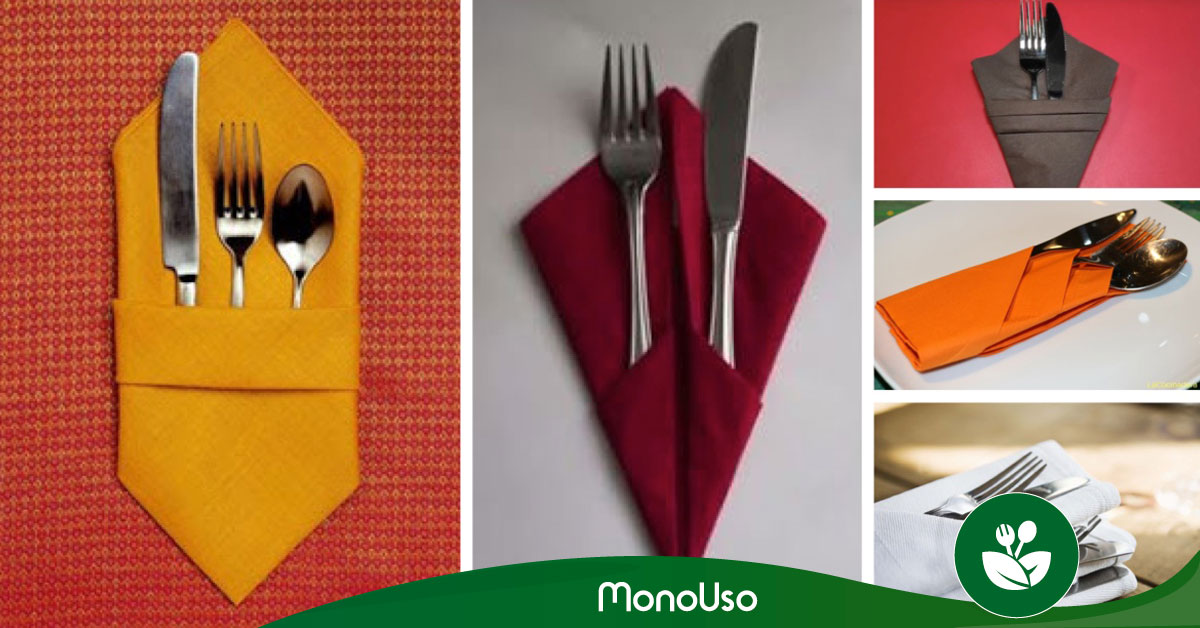 When we decorate our table for a special dinner, no matter what the season, the same question always arises: What do I do with the cutlery?
Tradition dictates that they should be on either side of the plates, in strict order and in relation to the food to be eaten.
However, there are other ways to present your cutlery, without losing protocol points and with much elegance.
Let's see how to fold napkins to put cutlery in. These are crafts that -in a few steps- allow us to obtain amazing results.
With few materials, almost all of them with only napkins, you will get a napkin "kangaroo" to keep the cutlery, a decorative element that will contribute to your table.
To make it more understandable, we will make use of videos mounted on YouTube through various channels.
The kitchenette and its napkins
One of the YouTube channels that offers us various ideas for making napkin crafts is LaCocinadera.
All are related by the simplicity of the craft, the speed in its realization and the elegance of the final result.
How to fold napkins to put in diamond cutlery
The first way to fold LaCocinadera cutlery is a napkin diamond.
The diamond will serve as a container to place the set of cutlery that your guests will use during the special dinner.
Just over 4 minutes, that's how long you'll need to change the way you present your cutlery and start surprising everyone.
Straight napkin holder
The next manual of the LaCocinadera channel, will be a straight cutlery holder.
In just 3 and a half minutes, we will learn the simple steps that will allow us to go from having a napkin to a cutlery holder ideal for our table.
At the end, the napkin will offer us three spaces, where we will place the knife, fork and spoon.
You can then place it on the plate that will be used in the service or on the right side of it.
To give it a more personal touch, you can place a small card with the name of the person who will occupy that place at the table.
Make it easy and in no time
Just because things are easy doesn't mean they're fast.
In this case, they are easy and very fast to do.
In keeping with the premise of its name, the Hazlo Easy YouTube channel presents us with two options for making ideal cutlery holders for any special dinner.
Napkin holder
The first Hazlo Easy craft is a napkin nest, named by us because of its resemblance to this candy.
With just a few steps, in just 2 minutes, you will learn how to fold napkins to put in silverware.
Elegant napkin holder
The following cutlery guard looks a little bit like the manual we presented in previous steps.
However, the final result is somewhat different. By having more folds, the napkin becomes firmer in this craft.
The simplest of all
This cutlery tray option is surprisingly fast to achieve.
Just a few steps and you're done. Everything is finished.
Finally, they place a ribbon to give it more presence on the table.
The craft, in this opportunity, comes from the DIY Time channel, a space on YouTube that specializes in this type of simple, fast and functional tasks.
Cutlery dressed with napkins
For the next manual, we will go to the content released through the DeTodo Amy Leyra channel.
This youtuber, in a few steps and materials that you find anywhere, makes crafts that will support the decoration of your table for that special dinner.
The duration of the video is less than a minute, so you can get an idea of the simplicity of this work.
Napkins with cutlery pockets
The cutlery can be placed, as we said at the beginning of this article, next to the plates.
However, having a functional decoration -like cutlery napkins- the table takes on a higher dimension.
You will show that you are not leaving anything out of your control and you are determined to make the evening a special and unforgettable moment.
Here's a new way to fold napkins to hold cutlery.
Bows with cutlery
This craft is one of the most original, a different detail that will not leave anyone indifferent during the dinner.
Cutlery bows are a simple craft with a lot of personality, ideal for the most elegant celebrations, such as Christmas or New Year's Eve dinner.
Use cutlery and napkins that match the colours of your decoration and everything will be on the way to success with this beautiful decoration.
Monouso offers you other options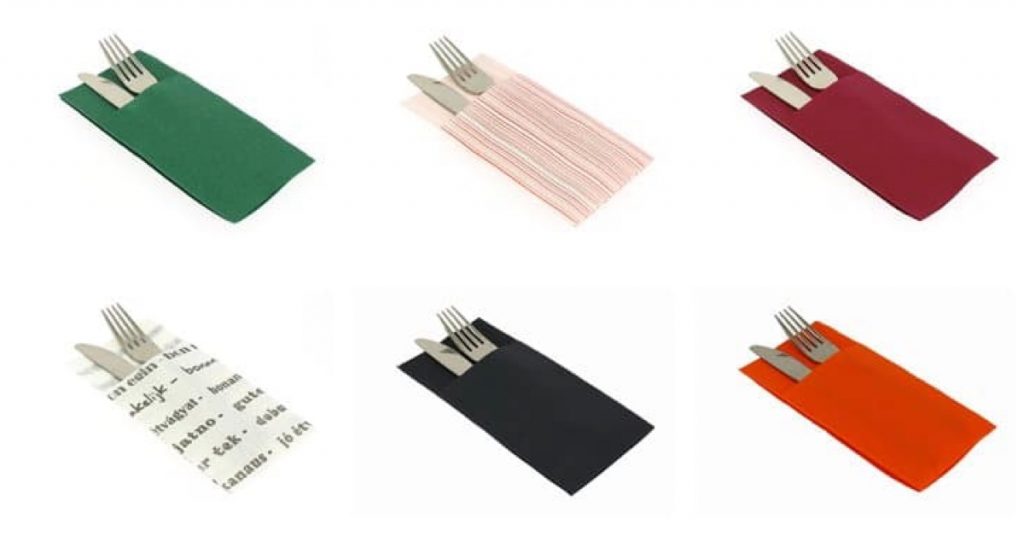 Although all these crafts are simple, we know that many people do not have the possibility of doing this type of work, either because of lack of time or because they do not have that aptitude.
For those people, Monouso has several options.
The first of these will be the category of kangaroo napkins for cutlery. Here you will find an endless number of options and colours of cutlery holders, which will match any decoration trend.
You also have the option to buy Kanguro Airlaid 33×40 Napkins or Kanguro Airlaid 40×40 Napkins.
Both options, premium representations to present your cutlery during those special dinners or meals you will give in your restaurant, home or office.
In all cases, we have the possibility of sending you -whatever your order- all the products up to the address you indicate during your purchase.
After verifying and confirming your purchase, in a maximum of 48 hours, you will have all your products in hand.
Don't think twice, give the table the necessary personality during special dates and ensure a touch of exclusivity and elegance to the celebration.