How to make a delicious custard in a plastic cup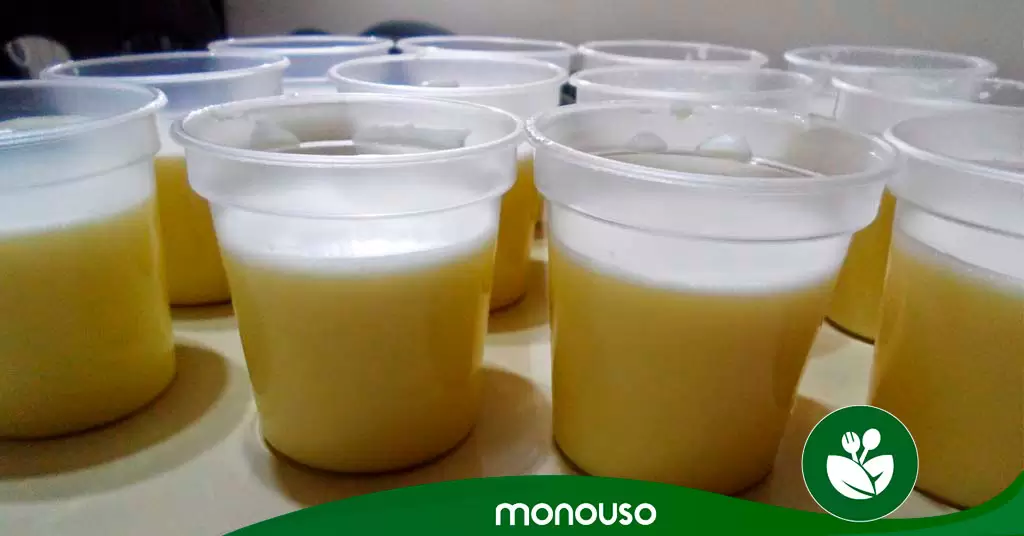 Flan is a very delicious dessert made from milk, eggs and sugar, whose origin dates back to ancient Rome. Besides, it is perfect to enjoy it at home, offer it at social events or sell it.
If you have decided to sell it or offer it to your guests at an event or party, it is important that you are clear about the container in which it will be served. Fortunately, you are in the right place to know how to prepare flan in plastic cups. Let's get started!
Step-by-step recipe for preparing flan in plastic cups
According to the traditional preparation of the custard, it is necessary to take the mixture to the oven in a bain-marie at 160°C for about 45 minutes. Although this is not the best procedure if you want the dessert cooked directly in plastic cups, as the latter could melt, spoil or release harmful toxins if subjected to high temperatures.
However, there is a way to prepare this plastic-packed dessert without any problem. You only have to buy custard from the box or envelope and the candy from your nearest store so that you don't run the risk of spoiling your containers.
Ingredients and preparation
Achieving a delicious custard with an excellent presentation in transparent plastic dessert cups is very easy. The ingredients you should have on hand are:
1 liter of milk.
1 envelope of custard in a box.
Vanilla.
Caramel for flan.
When you have everything, follow these steps:
Pour the milk over a pot and heat it up.
Add the boxed custard and a touch of vanilla in the hot milk and stir well.
When it reaches a boil, turn off the flame and put the mixture to rest to cool down.
Cover the bottom of the custard glasses with the caramel.
When the mixture reaches room temperature, pour it over each glass.
Keep it in the fridge for 2-3 hours.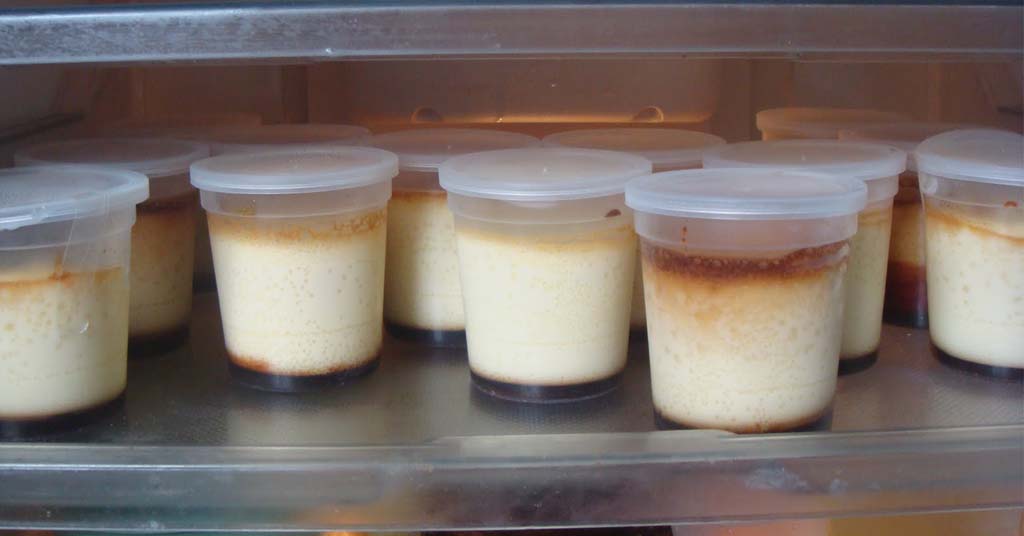 Flan candy in a plastic cup, make it yourself!
Sometimes, the candy in custard boxes is not enough or you just have to buy it separately. Luckily, you can prepare the caramel yourself so that it does not harden at room temperature. This is perfect, since it is not advisable to add it hot in the plastic.
You will need the following ingredients to prepare it:
½ cup (100g) of sugar.
¼ cup (50 ml) of water
1 tablespoon of lemon juice.
Then, you must follow this step by step:
Place a pan on the fire at a medium temperature.
Pour the sugar and lemon juice over the pan and spread it well.
Occasionally you will have to turn and shake the pan so that the mixture cooks evenly and prevents the sugar from crystallizing on the walls of the container. Do not stir with a spoon or other utensil.
Meanwhile, heat the water in a separate pot until it comes to a boil.
When the mixture turns a golden brown colour, lower the temperature a little and add the water carefully.
Stir with a wooden spoon for about 3 minutes and turn off the flame.
Let it rest until it cools down and it's ready.
As a result you will get a candy with a viscous consistency at room temperature.
Can I add vanilla cornstarch to the custard?
If you are one of those who doesn't like to settle and want to give your dessert a different touch, you can add cornstarch or vanilla-flavored cornstarch. This way, you will give a creamier or softer consistency to your preparation.
Reserve a ¼ cup of milk before heating it to dissolve 2 tablespoons of cornstarch. This is necessary to avoid creating lumps. Then, add the solution to the rest of the milk while it is heating.
Where to buy plastic dessert cups
If you want to get into the business of selling custard or plan to make this dessert at your next social event you should know what container you will be using.
First of all, the design and shape is fundamental to make your preparation attractive to the eye. Opting for plastic dessert cups with lids is ideal for preserving the product's good condition.
The size of the container is another factor to consider. You can choose mini plastic cups for desserts or larger ones according to the occasion. However, intermediate dimensions are always the rule, not too big or small.
At Monouso we have plastic cups of all sizes and designs at an excellent price. Enter our store and find out about all the options available to you.
At this point you should know how to make a delicious custard in a plastic cup for your business or event. Follow the instructions to the letter and start enjoying all the goodness this dessert has to offer.