How to make original homemade carnival costumes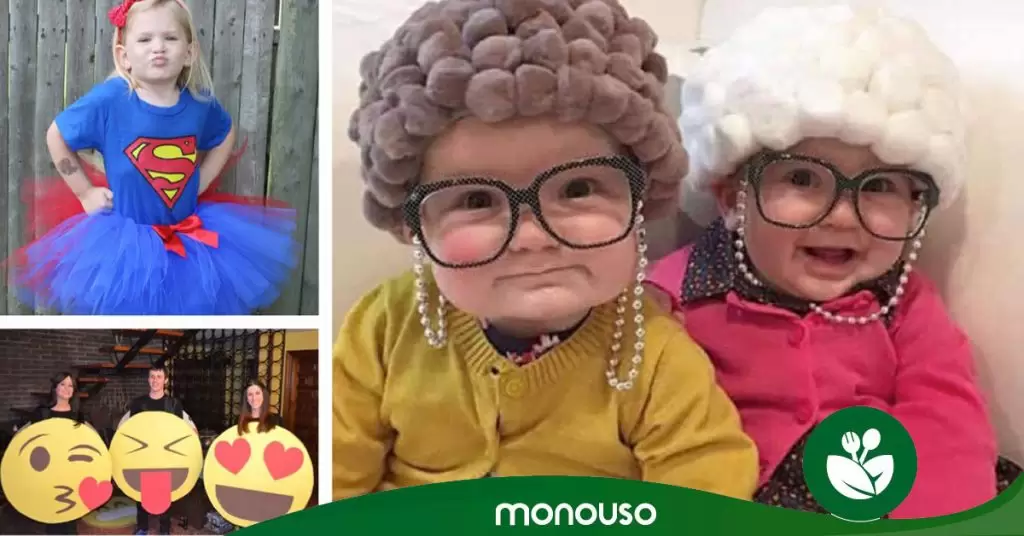 We were just talking about Christmas and how long January was. Now look, we're here to learn how to make original homemade costumes.
Carnival is a party of great joy. It is celebrated almost all over the world, with outstanding parties, like the ones in Brazil.
The custom is to dress up, and that's why we want to show you ideas to get your imagination going and make incredible costumes to celebrate carnival 2020.
To help you understand each of the ideas much better, here are the best videos of easy carnival costumes published on YouTube.
Batman Costume
Without a doubt, classics never go out of style and superhero costumes are a classic at any party that includes them.
Our first costume is the Batman. We will use materials that you certainly have at home or are very cheap.
You will also have two options: a grey one, in a more vintage style, and the all-black Batman costume that has become popular in recent times.
Bee costume with chart paper
Now we bring you an idea, to make original homemade costumes, so easy to make that you won't believe it.
In just a few minutes, with the advice of this video, you will make a simple and functional bee costume.
Ideal for making carnival costumes for groups of children.
Six costumes in one video
With the help of the Children's Guide channel on YouTube, we bring you six ideas for making costumes to celebrate this carnival.
Original homemade costumes that you can make with materials you have in some corner of your apartment.
First it will be a pirate costume. Ideal for your child's group of friends at school.
The second option will be a wig. A wig? Yes, it is an ideal accessory to finish the costume you are making for your child.
The third option moves to the Disney world, specifically to Frozen. Olaf is one of the characters in that movie and here you will learn how to make a costume of this lovely snowman.
Now, if your little one is a Star Wars fan and dreams of being Darth Vader, here you will discover step by step how to make a costume of the most feared evil in the world of Skywalker.
The fifth craft in this video is the step-by-step approach to making a cardboard witch's hat. Witches are not exclusive to Halloween, they can also go out in carnival.
To finish, we invite you to take colored tulle and rubber bands to make a tutu for your little princess or dancer. Undoubtedly, a complement that will give a twist to your carnival 2020.
Princess costume with plastic bags
During the first years of life, girls dream of being princesses and during carnival, at least once, the idea of dressing up as one jumps out.
In this video you will learn how to make a princess costume with plastic bags.
The video shows the steps to make a pink costume, but you can do it with different colors and create the whole group of Disney Princesses.
Your imagination is the limit.
A costume based on makeup
If your kid has a carnival party and you don't know what to wear, run and check his clothes. If you have a red sweatshirt, with a hood, you have everything you need to make him an amazing costume.
Remember the movie Coco? Miguel, the boy who crosses over into the world of the dead, dresses up as a dead man so they don't discover he's a living boy.
The costume is based on make-up and here you will see the step by step to make a make-up of Miguel that will leave your child and his friends flabbergasted.
Star Costumes
A great option for this carnival are the star costumes.
Surely you think, that's not very Christmassy? It all depends on the foam you use for the costume.
For example, if you use yellow foam, you'll make a star of the Super Mario Bros video game, but if you use black foam, you could make a star of a rock band.
Don't get caught up in the basics, with original homemade costumes you can make incredible creations for your little ones.
Grandpa's here!
What better news than Grandpa's arrival home? They always spoil us and give us treats.
Do them honor. Dress up your children as grandparents and you'll see how they'll steal smiles and sighs anywhere.
This costume is very simple to make and is also based on good make-up. With a little patience, you will get incredible results.
Original costumes for family groups
Now let's go with a group costume that you can make to include the whole family, even the dog!
It's a costume of burgers, hot dogs and cooks, a simple idea to make that will leave speechless to those who see it.
Dress up as an emoji at Carnival 2020
The emojis came to stay in our lives. A single symbol is enough – and more than enough – to communicate on many occasions.
Discover step by step how to make an emoji costume that is in total harmony with the times we live in and will make your little one the center of attention of the celebration.
Costumes for groups: M&M's
We're going to learn how to make a group M&M costume.
As you know, those chocolates come in various colors. The idea is that each one wears a different color and they make the whole set of chocolates. Easy and original.
Remember the performance in a group costume
When we have a group costume we tell a story, usually known to everyone. There's the fun of dressing up all the same. That's why we recommend you to make a performance that integrates all of them.
For example, here is a video with an excellent performance of a synchronized swimming group costume. Very original and disruptive.
Materials for making original costumes
To make costumes at home you have the option to use some things you have stored somewhere, but you don't always have everything you need.
Therefore, we recommend you to visit our online store, Monouso, where you will find disposable products at the best price, both wholesale and retail.
You have cardboard plates to make the bee antennae we show you in one of the videos, or plasstic bags in different colours ideal for making several of the outfits we present in this post.
When we work with bags, the adhesive tape for packing is the best way to join the parts. You can also get this material in Monouso.
If you want to make a cook's or a worker's suit for a radioactive area, in our hospitality uniforms and disposable clothing sections you will find disposable uniforms at an incredible price that will allow you to make a high quality costume.
In case you want cardboard boxes, we also have the best prices and in different sizes.
If you have all your costumes ready and are looking for products to make your costume party at home, visit our disposable carnival tableware section and discover all that Monouso has for you.