How to organize a costume party for children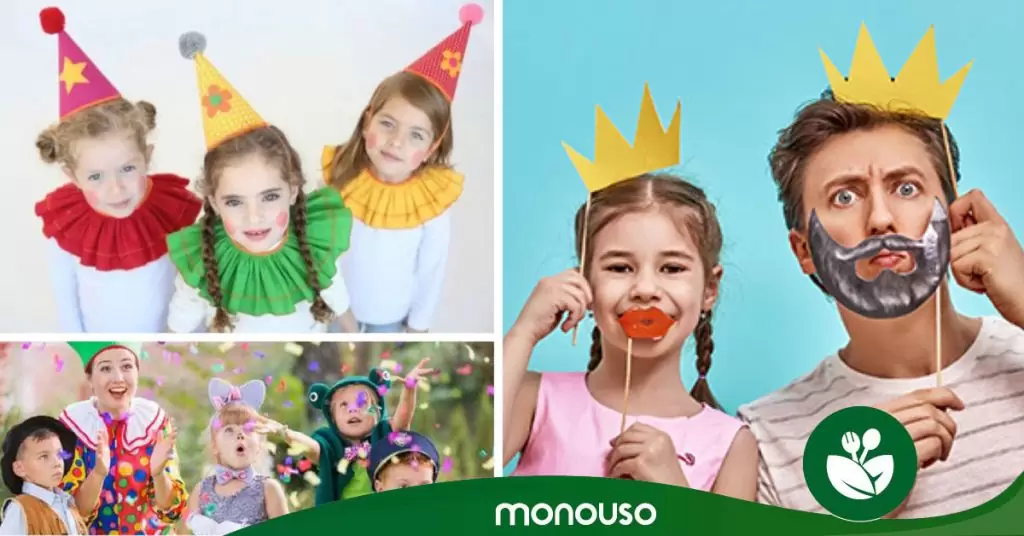 To celebrate carnival, there's nothing better than organizing a children's costume party. Children love it, as they can dress up as their favourite characters while having fun.
Masks and costumes are always associated with joy, fun and celebration. That's why it's one of the best options to celebrate with friends and family.
Below, we leave you with the best recommendations and tricks to make your party unforgettable.
Keys to organizing a children's costume party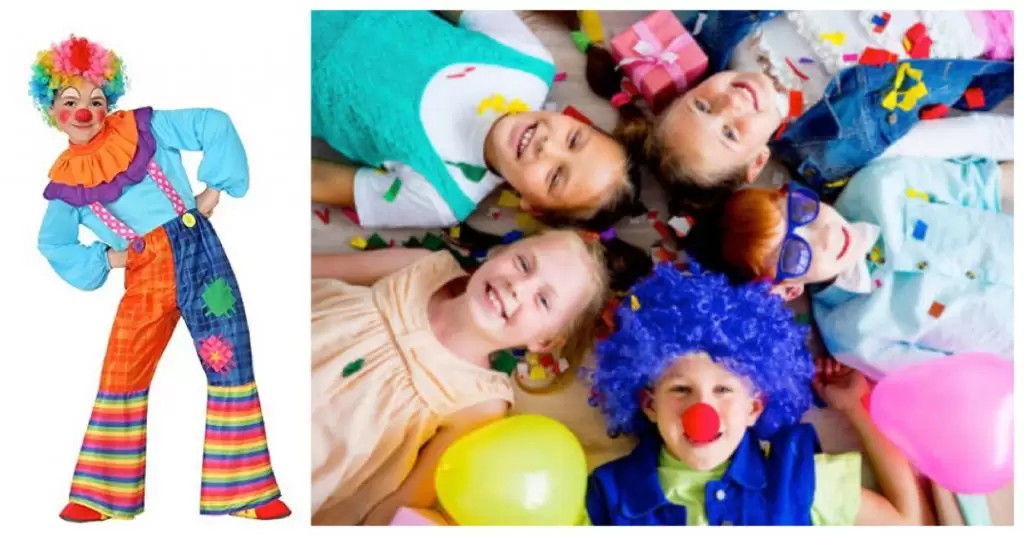 I'm sure you have a lot of questions and ideas for a party, but you don't know where to start. Every party needs good planning and a lot of time. That way you can make sure that all the guests enjoy it and there are no last-minute inconveniences.
Discover our ideas to organize, in a quick and easy way, a costume party without dying in the attempt or investing large sums of money.
Options: theme party or free costume
The first point to plan is whether the party will have a theme or the guests can come in their preferred costume.
If the party has a central theme, such as the characters in a cartoon, series or movie, all guests must be notified so that they can follow the instructions. Otherwise, they can dress up as they wish.
As a tip, organize the party with popular themes and we assure you that no guest will be missing.
Do you buy your costume or do you make it yourself? 
When organizing a costume party, it is necessary to establish whether costumes should be designed for the guests or whether the children should already be dressed.
If your party is themed, the best idea is to use common and simple arguments: paper house, superheroes, animals, movies, so you make sure everyone can attend.
Another option is to make the costumes at the beginning of the party.
It is not necessary to recreate all the costumes. You could give some brushstrokes and you will have an unforgettable activity for each guest.
For example, to make ballerina or princess skirts, you can use tulle. In the case of a pirate party, you make the traditional pirate patch with a piece of felt. If you want magic, make magician's hats with cardboard.
With few materials, and a lot of imagination, you can make the costumes that will make your party incredible.
Carnival games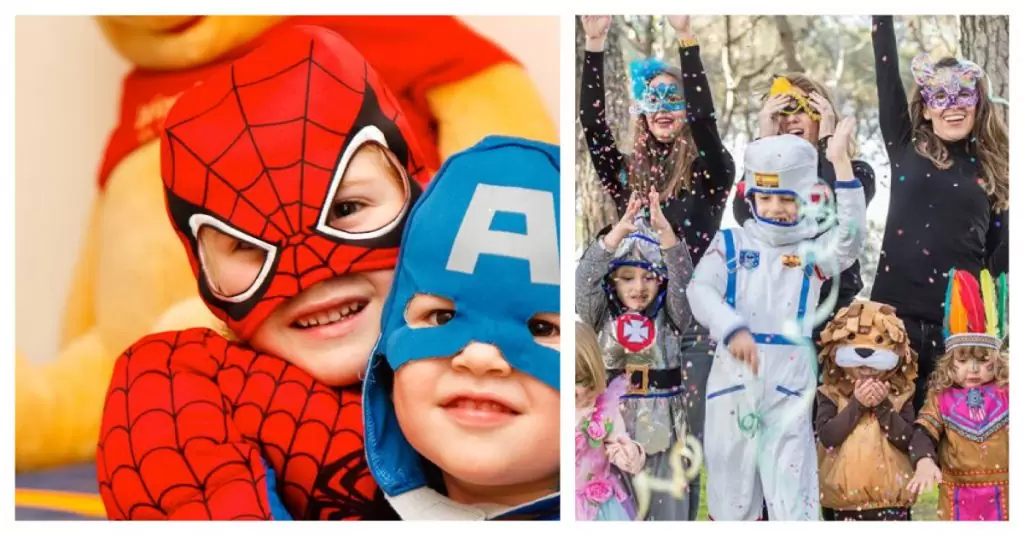 A party is no fun if you don't organize games for the children to participate. Some classic games that never fail and should not be missed are:
The game of the chair
It's a game I'm sure everyone has played at least once.
It consists of the children turning around a circle of chairs while the music plays. When the music stops, each child must run to sit in the chair. The child who is left standing will be eliminated.
Remember that you must always have one less chair, in relation to the number of participants in the game.
Costume Contest
The children of the party who want to participate, get on stage to compete in the most beautiful or original costume.
The winner is awarded with a medal made of eva rubber and a bag full of sweets. You can also give away some toys.
The idea is to let everyone know that there will be a prize for the best costume. Everyone will want to go in costume.
Improvised costume
If children are not in costume, place a trunk in the entrance for them to choose what they want to wear.
Inside the trunk you should have accessories, capes, shoes and some wigs. This is a good way to encourage imagination among children while having fun creating an incredible and unique wardrobe.
Play while learning -Workshops for children
These workshops are very easy to carry out and you will need few materials to make them. We assure you that the children will have a great time.
Craft workshop: it is ideal for children to let their imagination fly by creating masks, crowns, masks, hats and fairy wings.
Carnival make-up workshop: with paints, shadow palettes, eyeliners and some brushes your guests will learn how to make the most original make-up for their costumes.
Cooking workshop: so that they can try out these recipes at home with the help of their parents, choose simple, eye-catching dishes such as biscuits or cakes.
Music workshop: children love music, so a karaoke session with their favourite songs is a great option. You should have a good music catalogue, so they don't lose interest.
Ideal food for children's fancy dress parties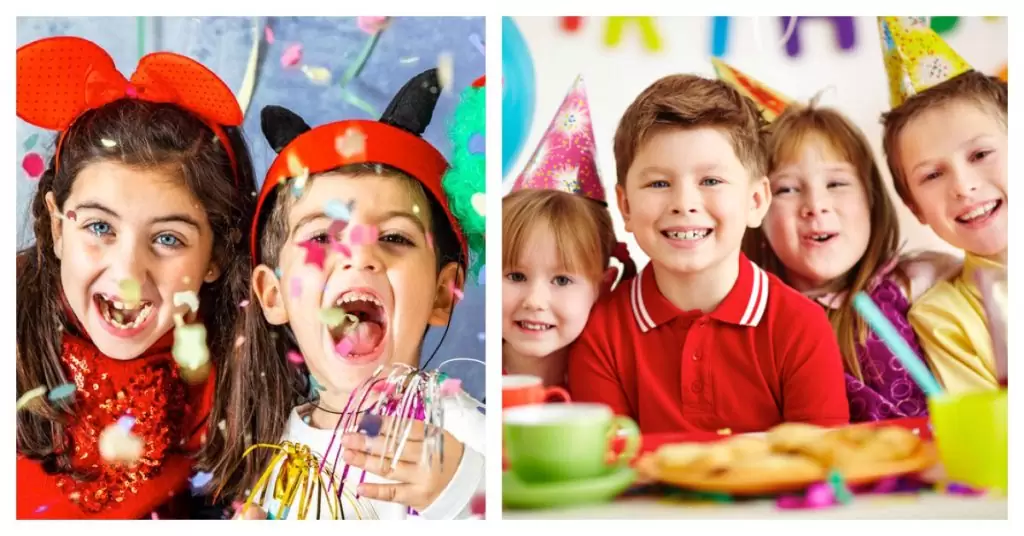 Food and drinks are a very important part of the holidays.
Don't spend too much time making complicated preparations and focus on what they like: mini pizzas, sandwiches, snacks, cookies, juices, sodas and a cake to match the occasion.
Vendors rent cotton candy, popcorn and other treats to pamper your little guests.
Children's Carnival Party Decoration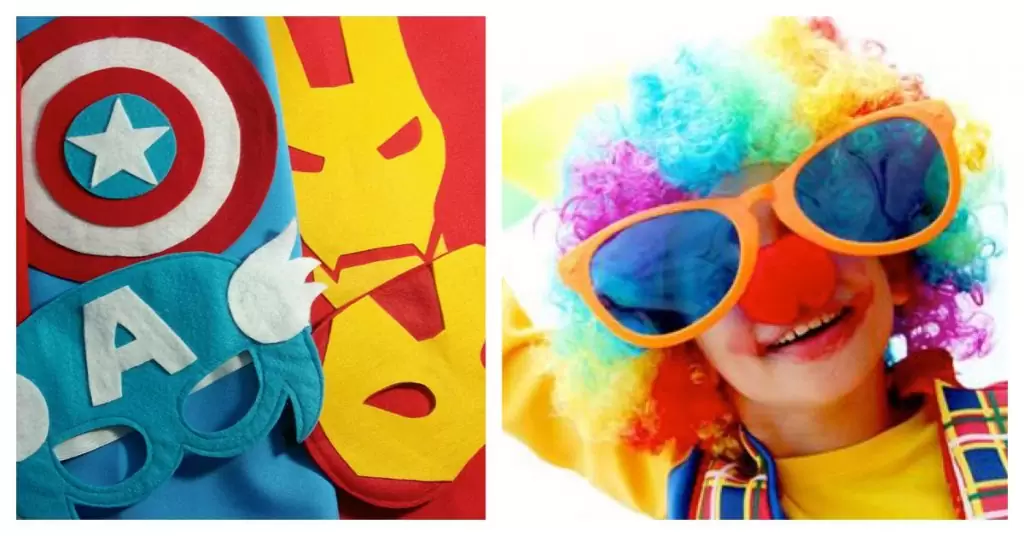 Decoration at costume parties is indispensable. With it, you ensure that the celebration is very real, fun and joyful.
Lights, carnival masks, streamers and lots of balloons are part of the must-have items when planning your children's costume party.
Remember to use brightly colored plates, cups and utensils for the children when serving the food.
Special aspects of organizing a children's costume party
Other important details to make your costume party the most fun and unique are
Music for children in Carnival
The best thing is to hire a DJ to play the best songs. He will know what to do so that the kids have fun, singing and dancing to their favorite songs.
Bouncy Castles: jump into the sky
Children love to jump into bouncy castles and can spend hours having fun jumping into them.
Make sure you hire a provider who, in addition to installing the inflatable, assigns a staff member to watch over the correct use of the attraction, avoid having too many children playing at the same time, and avoid having large children with small ones.
Magic for children
In children's celebrations it is very common to have a surprising act of magic.
There are magicians who perform magic tricks, storytellers, origami, jokes and balloon workshops, so it's up to you to choose the one that best suits the celebration you're planning.
The magicians will put on a show that the children will never forget and they will even be left wanting to learn some tricks and surprise their families.
Indispensable at a children's carnival party
The carnival is one of the most desired festivities for children to be able to disguise themselves as their favorite characters. And to show off their costumes there is no better way than to organize a costume party.
It's usually tedious to have to wash all the dishes and utensils used by the guests at the end of the party, but we assure you that this will not be a problem again.
In the Monouso virtual shop, you will find a wide variety of glasses, plates, straws, utensils and jugs. Available in different sizes and colours, always with the best price and the quality you need for your parties.

For your convenience, we have created the disposable tableware section for carnival, where you will find everything you need to make your party happy and unforgettable.
Do you already have yours?