How to reheat pizza so it looks like it's freshly made
Have you ever wondered how to reheat pizza? Although reheating a pizza seems like a simple task, many people end up with their food toasted, dry, burnt, cold and, in general, with an unappetising presentation. Reheating a pizza has its tricks, in this post we have compiled the most interesting ones so that when you reheat it it looks like it has just come out of the oven.
There are several ways to reheat pizza, here we will show you how to reheat pizza in the microwave, reheat pizza in an electric oven and how to reheat pizza in a frying pan. You'll also learn how to reheat pizza on a grill, in an air fryer and even in a sandwich maker.
Stick with us, learn how to reheat pizza the right way, master the technique and you 'll always have pizza at home that looks like it just came out of the oven.
divine!
How to reheat pizza in the microwave
Using the microwave oven to reheat pizza is one of the most popular methods, as you only need to touch a button, wait a few seconds and you're ready to go. However, this technique doesn't always work, as the dough loses its crispiness and the toppings dry out. What happens if you let it cool? You'll have a pizza that's impossible to eat.
The trick to prevent pizza toppings from drying out. To avoid this the trick is to place a glass of water inside the microwave, this will reduce the power in the cooking and generate a humid environment that will heat the food without drying it out. You can also choose to use an absorbent paper napkin, completely covering the pizza portions before reheating in the microwave.
Reheating pizza on a grill or griddle
Reheating pizza on the grill is very simple and will take a few minutes, just place the pizza on the grill and wait until it has that melted consistency that we love so much.
But remember that although this technique is very simple, you must be very careful. At the slightest carelessness, the pizza will burn and you won't be able to eat it.The best thing about this technique is that the dough will be crispy and delicious, as if it had just come out of the pizza oven.
How to reheat pizza in the pan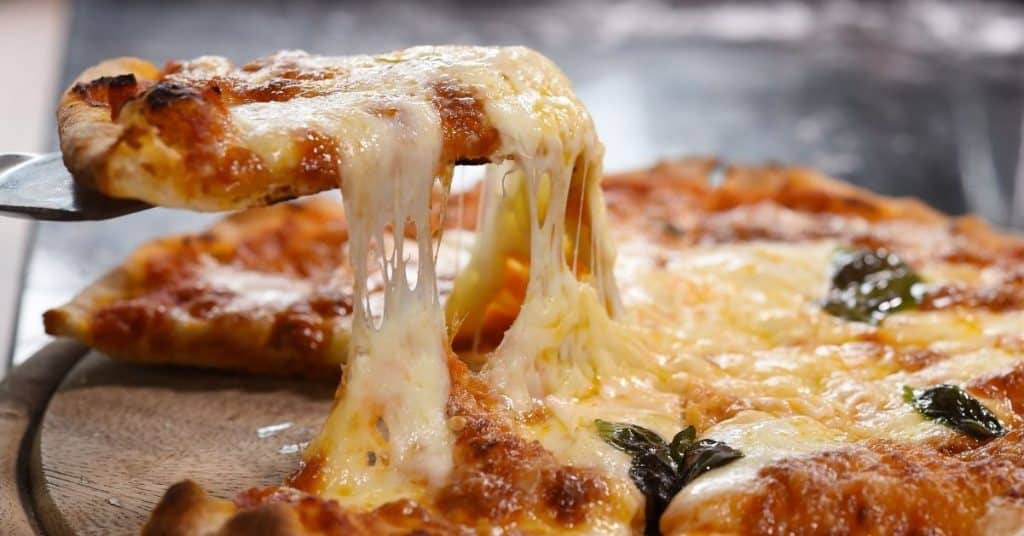 Another practical way to reheat pizza and keep the base crispy is to use a frying pan, preferably non-stick. Heat the frying pan over medium-low heat and when it comes to temperature, place the piece of pizza in it and wait two to three minutes. You do not need to flip it over.
Want to improve the result? You can put a lid on the pan when you reheat the pizza, this way, the cheese will melt due to the action of the steam generated inside the pan.
Reheating pizza in an air fryer
If you have an air fryer at home, this pizza reheating option is perfect for you. As well as being simple, this pizza reheating technique is also very quick.
Just place the pizza slice into the basket and check – in 30-second intervals – until the pizza is evenly heated, which will take 3-4 minutes. The heat generated inside the fryer is very intense, do not leave the pizza unattended or you will certainly lose it.
Use a sandwich maker to reheat your pizza
To reheat pizza you don't always have to use the more conventional methods, especially if you're a fan of crusty doughs that crunch when you bite into them. If you want to enjoy your pizza to perfection, try reheating it in a sandwich maker.
To start, place a piece of baking paper on top of the sandwich maker and place the pizza slices on it – without closing the lid, you'll know your pizza slice is ready when the cheese starts to melt.
Tip for reheating pizza in an electric oven
The trick to reheating pizza in an electric oven is to cook at a low temperature on a tray with aluminium foil.This will prevent the pizza slice from drying out and it will heat up from the bottom up due to the gradual increase in oven temperature.
This is not as quick a pizza reheating technique as the previous ones, as it takes about 20 minutes, but in the end you will be able to enjoy a crispy and delicious pizza.
See what you need to reheat pizza and eat it
You've got your pizza hot and you need some special dishes to eat it as if you were in a pizzeria. Enter Monouso, our online shop, and discover everything we have to recreate a perfect pizza evening at home.
Within the Pizza containers section, you will find the plates, wedges, boxes or greaseproof bags that will allow you to eat your snack without any inconvenience. In addition, we have the most varied inventory of paper napkins that will help you keep your hands hygienic while you enjoy your delicious pizza slide.