How to serve ice cream properly
Ice cream is the favourite dessert of the summer, so now is the perfect time to learn how to serve ice cream correctly and surprise your customers in your ice cream parlour or your guests at home.
Whatever your style, in this post you will discover the best ways to serve both the classic nougat ice cream and the most special variants that can serve as inspiration.
Ideas, tips, utensils that meet the specific needs of your business… To get all this information, we are going to be inspired by Monouso's disposable ice cream containers.
But let's start with the basics:
Temperature for storing and serving ice cream
Surely you have never thought about it, but the first thing to bear in mind (because it is the first thing that influences us when serving our ice cream) is the temperature at which it should be kept. Ideally, this should be around 15 degrees below zero or even lower.
Once we have stored the product, it is important not to get lost: this dessert does not withstand freezing as well as other foods, so we have to make sure that our ice cream does not spend more than three months in the freezer (once we have started it).
But at what temperature should ice cream be served? Experts say that ideally they should be served at a temperature between -10 and -12 degrees. It may seem a bit cold, but remember that we also have to play with the time that passes from the moment you serve it until your customer takes the first spoonful: in this short period of time, your portion has changed from hardness to creaminess.
Now we can get into the best ways to serve ice cream, and we are going to do it through the products you are going to need:
Ice cream serving utensils
It's not just about a glass and spoon, it's about having the perfect glass and spoon for your ice cream and other key items you're about to discover:
View more
Let's start from the beginning, with the utensil you are going to use to serve the portion of ice cream you want to serve.
This professional ice cream scoop, also called an ice cream scooper, is the basic tool for making scoops of ice cream that every ice cream parlour has. However, it is not always used correctly.
Before serving the ice cream, we have to place this tool in a glass with warm water and put it in the freezer for a couple of minutes. This process is carried out so that the portion does not stick to the spoon and so that the spoon can slide perfectly and help us to achieve detailed presentations.
In addition to this trick, it is basic to load the ice cream with circular movements (you can imagine that you are drawing an infinite S). This way, your customers will find themselves with circular and uniform ice cream.
"Yes, yes, I know how it works, but why do I have to choose these ice cream scoops?" Very simple, because they have all the features that will make your work easier: They have a good grip, the narrow edges allow for a completely clean loading and their capacity is practically tailor-made: 44ml, 55ml, 60ml, 74ml.
You also have at your disposal tools for making ice cream scoops made of both stainless steel and aluminium: two materials that are characterised by their resistance.
View more
Now we've reached the most iconic utensil. Yes, you're probably thinking about a cone, but to avoid the risk of getting even hungrier, we're going to focus on ice cream tubs.
The photo will surely remind you of summer and the ice cream you'd like to have on a terrace. But as well as utensils to suit this memory, the different types of Monouso tubs offer a wide range of possibilities:
Cardboard Ice Cream Trays: We start with the most emblematic option and the one that most ice cream parlours and catering companies in general opt for, as they are also a great alternative for presenting fruit. Why are they so famous? Because they are cheap, convenient for both the caterer and the customer, they are the simplest option and they also stand out for their resistance. Is that not enough? Take a look at their versatility of sizes and colours?
Transparent ice cream tubs: If going classic is not an option for you and your aim is to differentiate yourself, pay attention to this paragraph, because this is your option. Manufactured in both PET and PS, quality is the common denominator of these options. The former are characterised by their strength and lightness, while the latter stand out for their rigidity and insulation. Are you very confident about the appearance of your ice cream? Then serve it in a transparent container.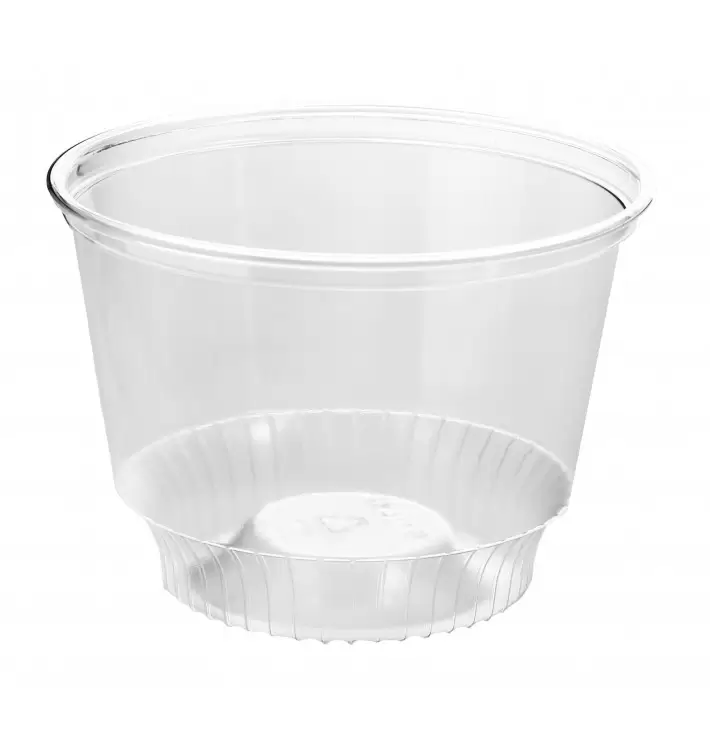 FOAM ice cream tubs: You may have already found a tub whose design matches your business. This part is the easiest part, but how long will the ice cream last in the tub you serve to your customers? If after answering this question you are not so happy, don't worry, these FOAM tubs will take away this headache. As it is made of expanded plastic, this material is able to withstand the cold temperature during long journeys. Do you serve ice cream to take away? Well, that's all clear!
We know, we haven't talked about ice cream lids yet. It's not that we're waiting to introduce you to a specific model that includes a lid, it's just that in the Monouso shop you can find lids that are compatible with any option you choose.
View more
You know better than anyone: It's one thing to ask for a tub of ice cream, and another to ask for a cup of ice cream. You can tell the difference, but do you think your customers distinguish between these two concepts in your business? Even if you answered yes, read on, this might interest you.
As you can see in the photo, we are no longer talking about a handy container that will get you out of a hurry, we are talking about containers with a design and material powerful enough to present the most sophisticated restaurant dessert or ice cream. But this does not mean that these glasses are not compatible with take-away service.
The typical covered glass, ideal for ice cream or milkshakes that can be eaten anywhere, sounds familiar to you? We refresh your memory with a picture, and if you click on it, you will discover much more about one of Monouso's Best Seller products.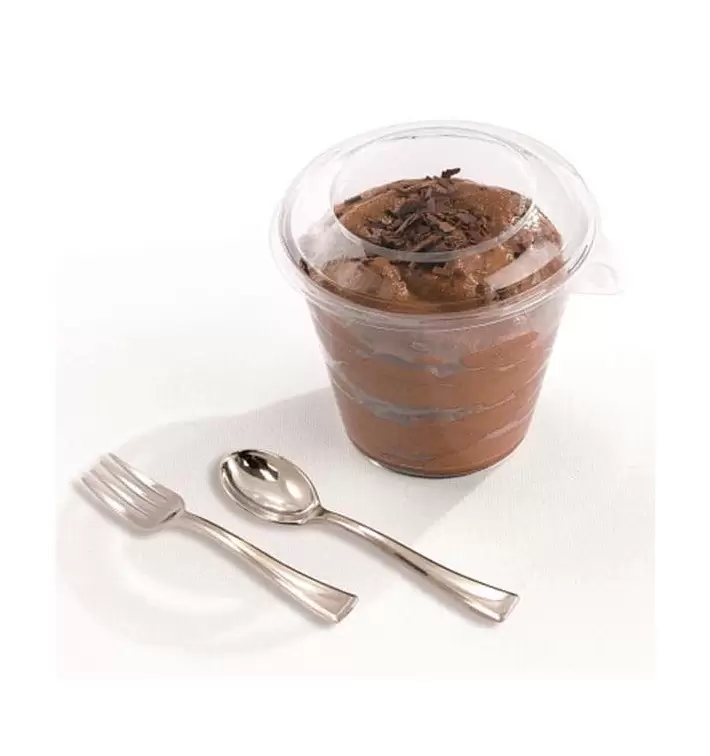 If you have taken a look at these options, you will see that their design has nothing to envy to other materials such as glass. The only drawback is that they can't be used in more than one? Stop! you have reusable options at your disposal.
What to accompany your desserts and ice creams with
You may think that we have already seen it all, but we are missing the part that will make your business take a leap in quality. If we're talking about food that appeals to the eye, why not use everything we have at our disposal to make it more eye-catching?
View more
We are at a point where an important decision has to be made: make a virtue out of necessity, or waste the opportunity. Yes, we are still talking about ice cream, but with the right choice of ice cream scoops, you have the opportunity to be part of the first group.
Do you go for artisan ice cream? Go straight for the wooden ice cream scoops from Monouso. Looking for an accessory that will catch the eye of your customers? Take a look at these colourful plastic ice cream scoops.
Moreover, some of these models, like the one you see in the photo, allow you to give these utensils to your customers in a case. This means conveying an image of total hygienic guarantee, which is essential nowadays.
View more
Surely you have ever wondered how to decorate desserts for Christmas, for a birthday or for any special situation.
If you have always wanted to give the final touch to your ice cream, we offer you the easiest method. Your ice cream will convey creativity, but you don't need to be creative, crafty or persevering. Have a look at our decorations?