How to use, clean and care for your bamboo steamer in 3 steps
When a bamboo steamer comes into our kitchen, it opens up a world of possibilities and fears.
The first is curiosity: What can I cook? What benefits will I get? How far can I go?
Then, at least in our case, a lot of questions were raised. How do you use it? Can it be burned? What should I do to clean it?
To help you in that discovery, we decided to make this entry with three steps to keep your steamer as fresh out of the package.
It is true that there are different ways of steaming, also many appliances that allow you to do so, but none compare to cooking in a bamboo steamer.
What is a bamboo steamer?
Although the name says it all, it is better to get off on the right foot and clear up any doubts.
A bamboo steamer is a cooking implement, of Chinese origin, made of bamboo, which allows you to cook food with steam.
Its operation is very elementary. You put the food to be cooked inside, place it in a wok over boiling water and it's ready. You only have to wait to eat.
How do you clean and care for a bamboo steamer?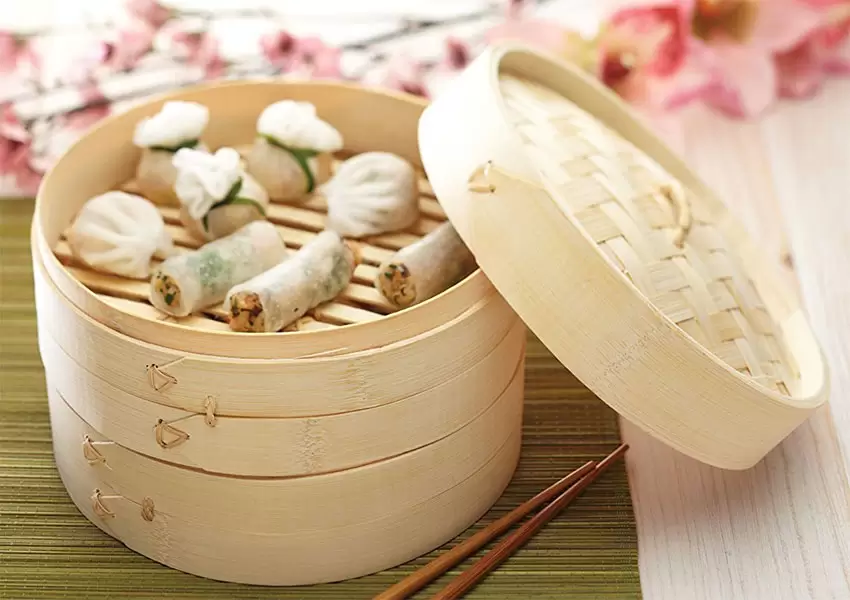 As promised, there are three steps that will help you take care of a bamboo steamer.
Step 1 – Prepare the bamboo steamer
The steamer is used on a wok or frying pan with very hot water. It will be exposed to high temperatures.
It is therefore necessary to hydrate the steamer before use.
To hydrate it, you can:
Place it under the water tap and wet it for a while.
Put it in a pot with water, preferably hot or warm, for a few hours.
The second measure is the most recommended because it involves a reduced use of water.
However, it all depends on the recommendations of the steamer manufacturer. In case there is no recommendation for use in the purchase kit, ask the seller if you can hydrate it before using it.
A good practice when using a bamboo steamer is not to place food directly on the bamboo.
Cut a round of butter or vegetable paper and open small holes for the steam to pass through.
Place the round at the base of the steamer and place the food on it.
In order not to impede the flow of steam, it is recommended that the round is smaller than the inside of the steamer.
Step 2 – Bamboo steamer cleaning
After each use, the steamer should be properly cleaned.
You can carefully rub the steamer with a nylon sponge. Do not use any strong material, as this will damage it.
You can also use a little soap and very diluted. Bamboo is very porous and can absorb soap or its aroma. Then, when you use it again, it will impregnate the food.
A more reliable cleaning method is to rub it with half a lemon. The lemon will clean, disinfect and eliminate odorous hands.
It can also be rubbed with a used black tea bag. Black tea contains tannic acid. It will help you clean up and make the steamer like new.
Step 3 – Correct storage
Storing the steamer is a very important step to keep it looking like new.
After each wash, while it is still wet, take an absorbent paper towel or a piece of cloth, impress it with edible oil and pass it around the steamer.
The oil will prevent the bamboo steamer from drying out after use.
You should only store it when it is completely dry. Do not put it in the sun to dry. It risks breaking.
The ideal place to store our bamboo steamer is a dry place where it is kept away from any source of moisture and direct sunlight.
Benefits of Steaming
Now that you've come this far, we want to tell you about the great benefits of consuming steamed food.
Steaming, previously, was considered a type of cooking only for people with digestive problems or dieting.
However, many renowned chefs have included this technique in their cooking methods, demonstrating the great benefits it generates.
Some of the benefits are:
By not being subjected to high temperatures, foods retain all their nutrients, minerals and vitamins.
The external fats are removed from the food, but the juices are retained. As a result, you get juicier and tastier dishes.
The smell, texture and taste of the food is not lost. On the contrary, it is intensified.
Forget about burnt, over-roasted or dry food.
As oil consumption is reduced, you will not only be healthier, but you will also save money.
Steaming food, contrary to what is thought, takes little time.
Using a bamboo steamer, as we have seen, is an intelligent decision that will bring taste and health to your life.
Do you want to know how a bamboo steamer is made? Find out in the following video.
Keep an eye on the next publications of Monouso.es, where we will be expanding the knowledge about this great cooking utensil and offering the best recipes for you to delight your family and friends.
You can get your quality bamboo steamer through our online shop.
FAQ
What is the advantage of steam cooking?
Since food is not subjected to high temperatures, it retains all its nutrients, minerals and vitamins. The external fats are removed from the food, but the juices are retained. As a result, juicier and tastier dishes are obtained.
The smell, texture and flavor of the food are not lost. On the contrary, it is intensified. Forget about burnt, over-toasted or dry food. As oil consumption is reduced, in addition to health, you will save money. Cooking steamed food, contrary to popular belief, takes very little time.
How should you store the steamer?
You should do it in an open and dry environment, so that the wood does not soften.
Should I clean the steamer after each use?
It is indeed necessary to clean the steamer after each use, to prevent it from getting damaged.