Know the materials for an ice-cream shop that cannot be missing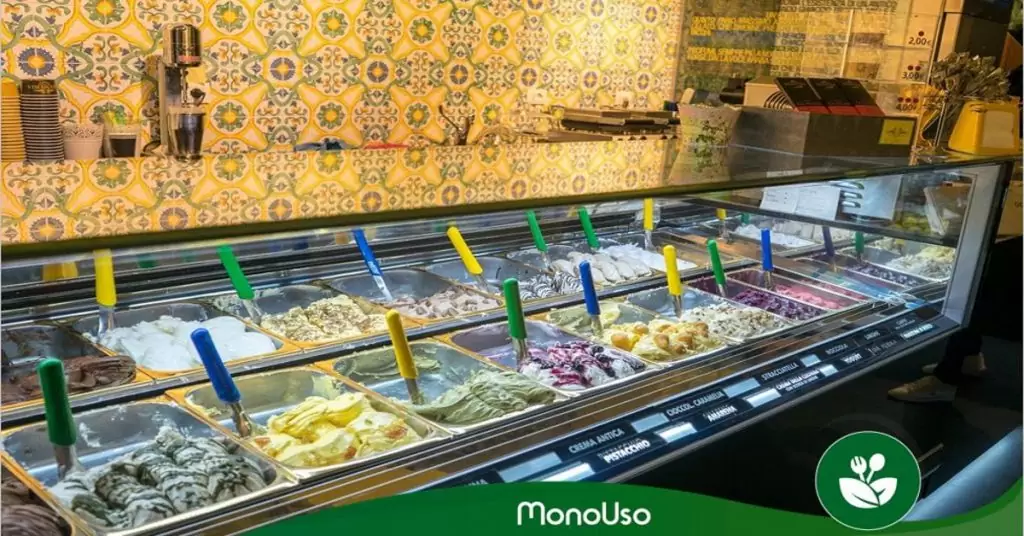 If you are an ice-cream lover and you are preparing to set up an ice-cream shop, you are in the right place. At Monouso you will find all the materials you need for your ice-cream shop, from packaging to spoons and decorations.
Opening an ice-cream shop is now easier, you just have to know what the business is about, and have the necessary quality materials.
Do you want to go into the delicious world of ice cream? So go ahead, let's find out together what you need to know about the materials to get into this business.
Ice cream: a dessert for all ages
Ice cream is more than just a dessert, it is a delicious treat that plays an important role in our diet. From a nutritional point of view, its ingredients have many healthy components.
Ice cream is an ideal complement to any diet. Its special heat content is adapted to both summer and winter feeding. In addition, they contribute to hydration and combat dryness of the airways. All these characteristics make ice cream a product that is suitable for all ages.
Essential materials for ice-cream shops
If you are in the process of opening an ice-cream shop, it is important that you know which materials you cannot miss. Know all the basic and indispensable elements that you must have.
Ice-cream maker
You can make homemade ice cream without using a special utensil, but if you have one it is a great help. If you have a fridge it will make your job even easier and the results will be great.
Currently, you will find a wide range of models and brands on the market. Choosing which one to buy requires a personal and professional assessment of what you need for your goals.
Ice-cream spoon
One of the best tools to serve ice cream in a comfortable and neat way is an ice-cream spoon. They are very useful, practical and easy to use. Today, there are several models, but the most used are made of stainless steel.
Ice-cream cups
Serving a nice ice cream well presented in a glass can become a fabulous dessert. It's a material that looks very elegant indeed.
At Monouso we offer you a wide variety of models that will make you succeed in the presentation of your ice cream and desserts. They are ideal for sorbets, ice cream, mousse, among others. They are certainly a nice way for you to present your tasty desserts and ice cream.
They are made of plastic or polystyrene glass, perfect for ice-cream shops. You can get these in different sizes, but choosing one of them will depend on the use you are going to give it.
Ice-cream containers
Another of the materials needed to serve our ice creams are the ice-cream containers. You will find them in small and large sizes. Each of them is made of various materials, such as cardboard and plastic, which are very practical and ecological.
At Monouso we have the coolest ice-cream containers you'll ever see on the market. These will help you maintain an excellent ice cream temperature for a long time.
If you want your ice cream not to melt so quickly, then you should try these containers. You won't regret it!
Our cardboard ice-cream containers are the most used and preferred by ice-cream shops. They are very versatile, and comfortable, you can use them to serve ice cream or fruit.
The transparent plastic containers are another of our models that stand out for their originality. These are restaurant favorites, and some of our sizes include their cover.
Ornaments
Another material widely used in ice-cream shops is decorations. These will give a creative and final touch to your presentation.
They are a beautiful way to attract your customers and differentiate you from the competition. It's a detail that is very economical and will bring joy to your ice cream.
In Monouso you will get a range of decorations in vibrant colours. You can choose decorations in the form of a Chinese fan, palms, fruits, umbrellas, etc. We want you to have a variety of decorations to surprise your customers.
Spoons
The ice cream spoons are very useful for your customers to enjoy a delicious ice cream. They will also help you to give a different touch to your presentation. At Monouso we offer you a great variety of models and colours, as well as the traditional wooden spoons.
What are the advantages of choosing quality ice-cream materials?
Among the advantages of choosing materials for quality ice cream, we highlight:
Price: it's cheaper to buy good materials than five bad ones, as the saying goes, cheap is expensive.
Durable: when you buy quality material, be assured that its life will be longer than those of lesser quality. That is, you buy it once and you will use it for many years.
Work at ease: when working with ice cream you will want to work with good materials. This way you can forget about the bad experiences you may have with low quality materials.
Convenience: the best thing about Monouso is that we offer you the convenience of an online store. You will be able to order your products from the comfort of your home without having to go anywhere.
Ice-cream materials at the best price
With the rise in temperature, enjoying an ice cream can become a tasty pleasure that no one can resist. Through our online store we offer you a wide range of elements for your ice-cream shop. This in order to provide your customers with delicious ice cream with an excellent presentation.
At Monouso you can find everything you need to serve delicious ice cream. We have different models, formats and sizes to suit the needs of your business. Among them, you will find our packaging for ice cream, ideal for displaying in your showcases, serving your customers or transporting them.
Don't hesitate! And start serving your ice cream with a special touch, thanks to our ice-cream supplies. Without a doubt, our products will make your ice cream different and fun. Visit us!