Muesli, granola and cereal, are they the same?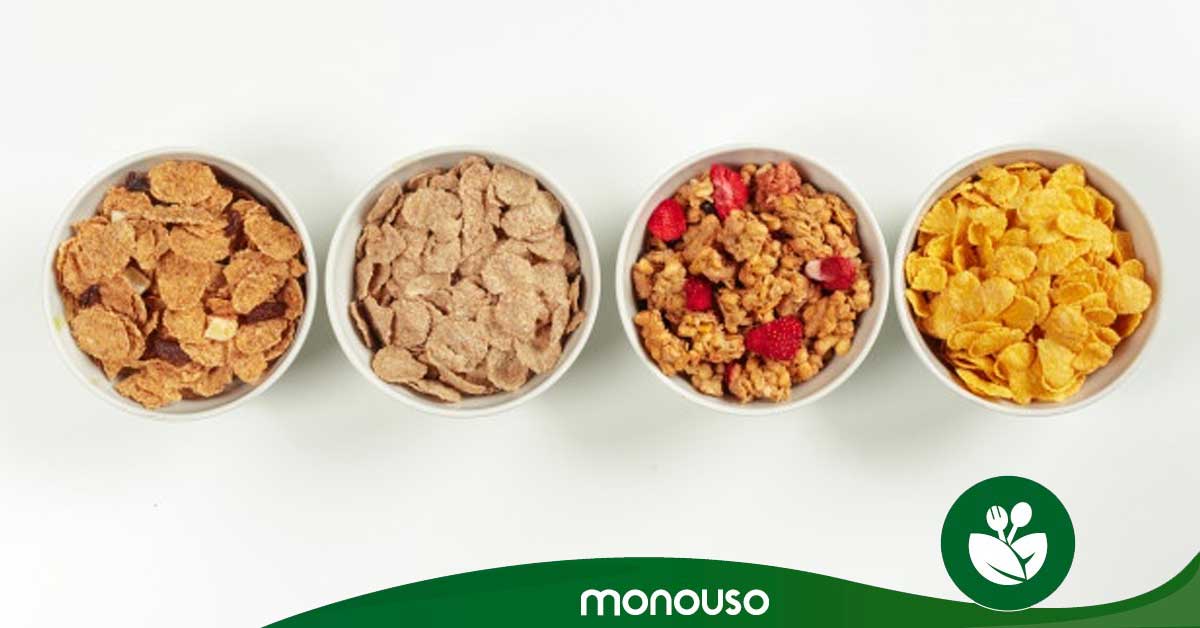 Muesli, granola and cereal are similar foods that can be confused, but they are not the same product or have the same components.
All three are made from a base of ingredients that are part of the cereal group and are accompanied by different foods.
In addition, the consumption of each of them provides different levels of vitamins and nutritional properties.
Learn the differences between each one of them, some simple recipes to prepare them at home and their basic characteristics so you don't confuse them again.
What is muesli?
Muesli is a mixture of whole grains such as oatmeal. It also includes some nuts and can be eaten with milk, yogurt or alone.
The cereals and nuts with which the muesli is prepared are not roasted.
The nutritional content of muesli is low in sugar and fat, perfect for gaining energy without adding too many calories to your body.
This food can be accompanied by apple chunks, raisins or banana slices. It can also be sweetened with a little honey.
Original muesli recipe
Unlike the recipe that many people consume today, the original muesli recipe did not have the same method of preparation and was consumed at any time of day.
The creator of the muesli was a Swiss doctor called Maximilian Bircher-Benner, who worked towards a diet based on the consumption of uncooked food and vegetables.
During the development of his research, Bircher-Benner created a recipe that required six ingredients: oats, almonds, water, apple, lemon juice and condensed milk.
That recipe required soaking one tablespoon of oatmeal flakes in a bowl of three tablespoons of cold water, and then letting it sit for 12 hours
To that oat mixture you would also add a spoonful of almonds, a spoonful of condensed milk, a grated apple and a spoonful of lemon juice.
All the ingredients were shaken and served in bowls.
What is granola?
The second superfood on our list is granola.
Granola is made from a mixture of oat flakes, dried fruits, seeds and nuts.
All the ingredients are subjected to a roasting process that gives it its characteristic texture. To have a perfect toasting, a little oil and sweetener is added.
It tends to be preferred by people for its sweet taste and crunchy texture, but it has more calories than muesli.
As it can be a little hard when eaten alone, it is ideal to eat it with milk or yogurt.
What is cereal?
The third and last food to compare is cereal.
Cereals are a variety of plants that are grown and their grains extracted for use in making food for people and animals.
Cereals consumed at home are often made from cereals such as rice or wheat
The use of cereals provides a multitude of nutritional properties as vitamins to anyone who consumes them during any meal of the day.
A variety of cereals are available in the markets, offering different flavours to attract the attention of buyers. In addition, each cereal can be eaten with milk, yogurt or just as a snack.
How to make muesli, granola and cereal at home
The homemade process of making granola, muesli and cereal takes no more than half an hour. No complicated steps are required either
In addition, they guarantee you healthy food with a variety of vitamins and nutrients.
You can make all the recipes using the ingredients we leave in each of the foods or you can add and remove to taste.
Muesli
The muesli recipe requires cereals, fruits, seeds, sweeteners, spices and even dried fruits.
Although the muesli recipe below has specific measurements and products, you can try other ingredients and create a culinary masterpiece.
For the muesli you will need 250 grams of five cereals of your preference, 75 grams of raisins, two handfuls of puffed rice, chopped nuts, two egg yolks, 30 grams of sliced almonds and a cup of agave syrup.
The first step is to preheat the oven to 200°C and let the heat disperse throughout the oven before cooking the muesli.
Take a container and place the solid ingredients to mix them. Once all the solid ingredients are together, it is time to add the agave syrup and the egg yolks. Mix with a spatula until you have a homogeneous mixture.
Find a deep baking tray and cover it with greaseproof paper. When all the spaces on the tray are covered, serve the muesli mixture and spread it on the tray.
Put the tray with the muesli mixture in the oven for about 20 minutes. While it is in the oven, you should stir the mixture every five minutes so that it has the desired consistency.
After 20 minutes, remove the muesli from the deep tray and place it on a new tray to cool.
To keep your muesli as fresh as the day you made it, store it in an airtight container to preserve its properties.
Granola
Another recipe that you will love to prepare is granola, which pleases many people's palates with its sweet taste and crunchy texture.
The ingredients you must have to prepare your granola are 300 grams of oat flakes, 30 grams of chopped hazelnuts and 20 grams of raisins.
To season and give a different taste you should add half a teaspoon of cinnamon, 45 grams of brown sugar, 75 grams of honey, 45 grams of sunflower oil and a teaspoon of vanilla essence.
Place the hazelnuts, cinnamon, oat flakes, brown sugar and raisins in a bowl. While stirring, add the oil and vanilla essence until the ingredients are completely integrated.
Cover a tray with vegetable paper and spread the granola mixture until it covers the whole tray. Place the tray in the oven at 150°C for 20 minutes.
It is necessary to stir the mixture every five minutes to prevent the granola from burning or sticking.
When the cooking time is over, remove the tray from the oven and let the granola cool down. Stir it while it cools down and store it in an airtight container.
Cereals
The cereal you buy in supermarkets or shops is usually high in calories, fat and sugars.
If you want a healthy alternative there is no better choice than making your own cereal at home. Cooking your cereal will be an enjoyable experience that will reward you with a lot of nutrients.
The ingredients are 30 grams of chopped almonds, 30 grams of shelled sunflower seeds, 30 grams of chopped nuts, 50 grams of raisins, 30 grams of chopped hazelnuts, and 400 grams of flakes from five cereals of your choice.
You will also need three liquid ingredients: 50 grams of honey, one egg white and 100 millilitres of milk.
Take two containers. In the first one mix all the solid ingredients and in the second one prepare a mixture of milk with the egg white.
When the liquid mixture is ready, take the bowl with the dry ingredients and add the milk mixture while you whisk to prevent lumps from forming.
Let the mixture stand for about 10 to 15 minutes to add the honey and stir again.
Grease a tray and spread the cereal mixture on all sides. Bake at 250°C for 25 minutes.
At the end of the cooking time, remove the tray from the oven and let it cool down to break up and form small cereal flakes.
Bags to eat your muesli, granola and cereal
To eat your muesli, cereal or granola you need to have a basic material: a bowl.
In the Monouso online shop you get two types of bags that have a comfortable capacity to serve food and a long durability.
Plastic bags
In the catalogue of the plastic bags you find a variety of sizes, models, raw materials and colors.
When deciding, you can choose between disposable plastic bags or reusable plastic bags depending on the use you want to give them.
Other products that you will find are plastic bags with lids or microwaveable plastic bags, so you can heat your food easily.
Biodegradable bags
If you're an environmentally conscious person, there are bags designed especially for you.
These biodegradable bowls they are made from ecological materials such as bamboo, recycled cardboard, palm leaves or sugar cane bagasse.
After use, these bowls have the ability to be used as compost because they degrade easily.
Other advantages of this type of bowl are that it looks great, is resistant, can be heated in the microwave and does not transmit flavors to the food served in it.