Need a calorie counter? Check out these apps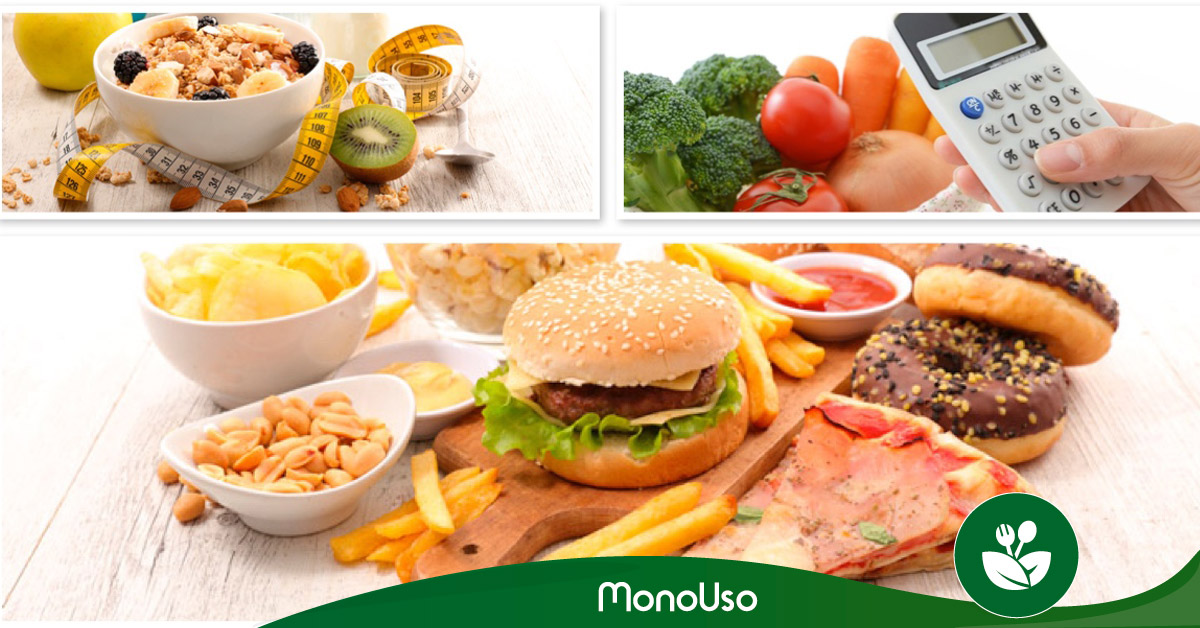 Calories are the energy with which our body performs all its vital functions. Without them, we would always be exhausted.
But because everything in excess is bad, if we consume too many calories and don't do any physical activity, we gain weight.
With the calorie counters you can design food and exercise plans, which when fulfilled on a daily basis, will achieve the goals you set
So here's a detailed list of calorie-counting apps to help you choose the one that best suits your needs
HiKi Calorie Calculator
Do you want to lose weight or have a higher muscle mass index? With HiKi's calorie counter, detailing the calories from foods to lose weight is easy.
The application calculates the rate of calories to be consumed depending on the physical activities you perform.
If you use the free version, you get benefits like:
Daily meal planner with notes.
Meter the amount of water consumed per day.
Caloric foods and prepared meals, a large product database.
Calculation of body mass index, fat percentages and calorie types
Easy adjustment of calorie, fat, carbohydrate and protein limits
Shows the food glycemic index.
Upload the measurements and portions of your dishes.
Tables of weight loss and nutrition according to age and height.
See diets you've already fulfilled.
Configure portions according to the weight of the products.
Benefits of the paid version, in addition to those already mentioned:
Unlimited products are added to the application.
Synchronize data on various devices.
Open multiple user profiles on one device.
Complete the records of the food you will eat in the following days.
In the statistics section, your records will be available whenever you need them.
Lose It! – Calorie Counter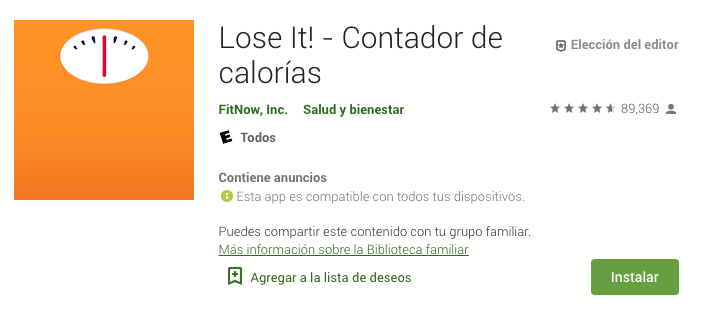 Lose It! is an app that will help you reach your ideal weight. All you have to do is set your goals and take control of your food and exercise to meet them.
Calorie tracking is used to achieve these goals.
Just by filling in your profile data with your weight and the weight you want to achieve, the daily number of calories that best fits your lifestyle will be calculated.
The benefits of using this application are as follows:
Barcode scanner of the food or searches for those registered in the database. This allows you to keep track of the food you have eaten.
Nutrient record: More than just keeping track of calories, it also measures macronutrients, water, sugars, proteins, carbohydrates, body measurements and sleep cycles.
Sports application synchronization: connect devices that help maintain physical activity
The application has more than 27 million foods included in its records.
Patterns: find out which of the habits you practice are slowing down or helping your progress with app data control.
Recipes: design breakfast, lunch and dinner to best suit your weight loss goals.
Training guides: training library that can be used while following the food plan to achieve better results in the shortest time possible.
FatSecret Calorie Counter
The calorie counter is important for finding protein and nutritional information from the foods you eat and keeping track of your meals, exercise and weight.
This calorie counter is one of the easiest to use and provides you with tools such as
Index to observe the caloric and nutritional value of some food dishes, brands and restaurants.
Scan and manually enter barcodes to enter the products you use in your diet.
Connection of devices that measure the physical activity you do.
Food diary to plan the dishes you will prepare to meet your goal.
Exercise diary to record your routines and the calories you burn.
Diet calendar to keep track of the calories you've eaten and the calories you've burned
Possibility to use the camera to document your meals and food with images
Reports on your progress.
People who use the premium service can:
Plan the week's menu and see how many calories are in each preparation.
In addition to planning your diet, it reminds you to drink the right amount of water every day.
EasyFit
Easy Fit is a counter that keeps track of your meals, exercise routines, weight and water consumption.
All calorie calculations for meals are carefully done and tested to achieve remarkable results.
Create your own food dishes or prepare several of the more than 1500 recipes that are in the application, allowing the calories to be calculated.
As there is no need to register, no permissions are required to obtain information such as your contacts or location.
You can set the percentages you want to meet daily, monthly or annually.
Fitmacro

The Fitmacro Calorie Counter is an app made to measure for the user who is concerned about fully complying with his or her daily diet.
What does the Fitmacro Calorie Counter offer you?
Register the foods you use in your preparations so that the application makes an estimate of the calories of each product.
Search for foods high in fiber, fat, protein and carbohydrates.
Display of comparative graphs of your weight and caloric intake at the beginning and after.
Report the amount of calories burned and ingested during the day.
Recommendations of foods that combine to create new dishes of food.
Recipes with tutorials to learn how to make them step by step and be part of your diet.
Calorie meter
This application has plans to meet a variety of goals: weight loss, weight maintenance, weight gain, and gaining muscle mass.
Among the tools it offers, we have:
Food database with nutritional values certified by nutritionists.
Add the foods you use when cooking to the application library.
Save recipes and add instantly to your weekly planning.
Track nutrition for different goals.
It details the amount of protein and fat consumed and burned.
Other applications do not have the same level of knowledge about calorie tracking.
This application is created following the instructions of nutritionists, so it is the most convenient on the market.
MyFitnessPal
It is the app with the largest food database in the Android market.
It boasts more than 6,000,000 foods stored in its database.
It also has an easy food entry system, so you can add any product to your favorites, save and add meals.
To use the application you must register from a computer or phone, and a backup is always created so you don't lose any data on your progress.
It offers the option to connect with friends who use the application, so you can share information and your progress.
This application gives you the opportunity to create your diet and exercise routines, based on your lifestyle, control the amount you want to consume of nutrients and fill in the personalized goals according to your profile.
The training section has more than 350 exercises and you also have the option to add other exercises, series and reps.
You will also receive daily nutritional reports where you will see graphs about your progress.
MyPlate: Calorie Counter
It's an app that has a database containing over two million foods and can be expanded by you at any time.
It has a scanner to facilitate the search of some foods.
When you register, set your goals and the time you want to accomplish them. Every day you can observe your progress and the information about the nutritional values of the food you eat.
You also have the option of setting reminders to help you drink the right amount of water each day and the times of all your meals.
As for exercise, you have the option of adding workout routines and entering the amount of calories you burned after physical activity.
Why choose MyPlate: Calorie Counter?
Generates a daily report of the percentages of nutrients you consume, so managing the desired proportion of macronutrients is easy.
The application has message boards from the community of people who use it. These forums offer support by sharing recipes and tips.
If you pay for the gold membership, part of your benefits are much more complete statistics, a recipe guide to prepare during your diet and personalized assistance when you want.
Download it here.
Macros: Calories and Diet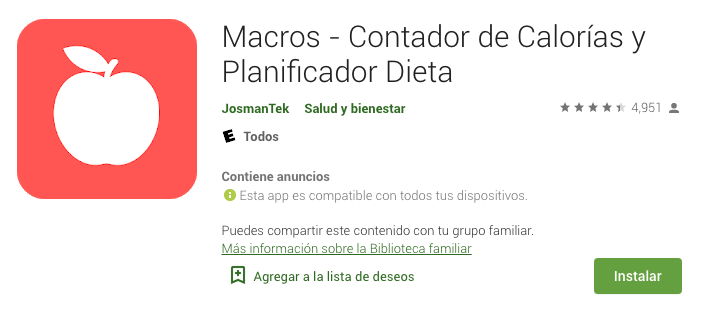 Macros is an application used as a calorie counter and meal planner.
Complete your personal information and, depending on your goal, calculate the values of the calories and macronutrients you need to consume.
You also have the option of creating your library of the foods you use to prepare the meals included in your diet plan.
It includes a barcode reader to look for the calories in some products and when creating the recipes, it also calculates the amount of calories they have.
If you purchase the paid version, you have no advertising in the application. In turn, you get more details on the foods that are in the platform library and you can set your caloric requirement in grams or percentages.
Yazio
Create your personal plan with unique objectives, keeping the most detailed records of nutritional and caloric consumption. Add your favorite and unrecorded foods to the database.
Write down the physical workouts you do and update your weight record every day. With the diagrams generated by the application, you will see the changes achieved during the time you have used Yazio.
If you use the pro version, the application makes more extensive analysis by adding factors such as diet and body data. It also records, within the reports, values such as sugar and helps you to achieve your goals in less time.
Health Companion
More than just a calorie counter, it's a comprehensive health meter that helps you achieve your health goals and make better food choices.
This application has built-in features such as:
More than five million foods registered in your database with their respective calorie counts. It also offers detailed information on all foods.
In your profile, add the goals you want to achieve and set a date to reach them. To see your progress, check out the Application Tracker.
The app also measures your heart rate and sleep
Health and Diet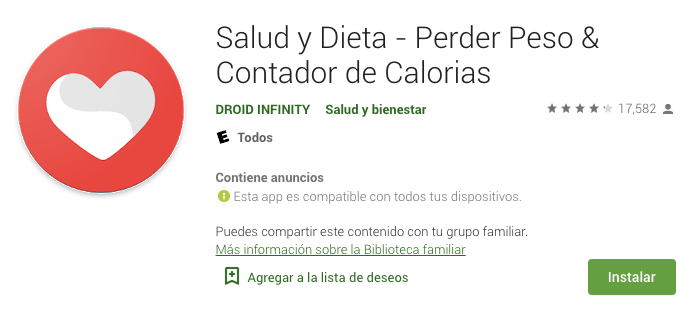 The application has features such as weight logging, sleep logging, step counter, water intake, medicine reminder, calorie count, activity and exercise log, and heart rate monitor.
Characteristics of the application:
Set goals for any function offered by the application.
Reminders to drink the proper amount of water each day.
GPS tracking of activities that need accurate statistics.
Integrated BMI calculator with table to check your category.
Google Fit connection.
Use tags to add information to your progress
Food Diary
This is another ideal application if you want to keep track of the foods you are eating and the amount of calories they contribute to your daily diet.
Features and benefits of the application:
The design allows you to add information simply and quickly.
The application has a suggestions section where you can select the most common foods when creating a dish for your diet.
There is no need to register, so the application does not require personal data.
The products that are registered in the application's database specify all the information about calories, nutritional values and portions.
There is no need to use the Internet to update daily data in the application.
The application has a diary where the consumption and exercise data of the day are displayed.
You have the option of setting personalized reminders that help you meet your goal, making sure you eat all the meals in your diet and drink the right amount of water each day.
Discover everything about calories and impress your partner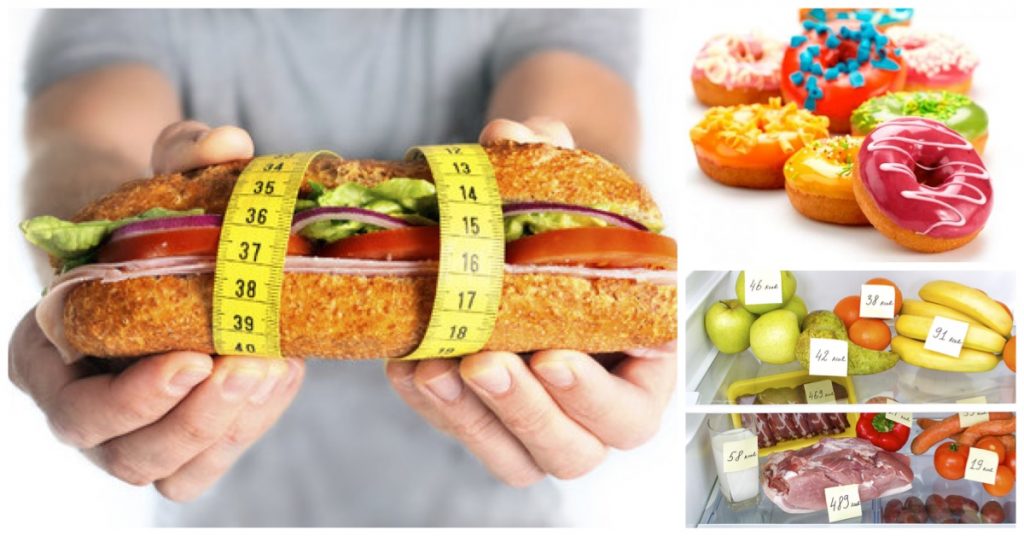 There are times when we stand on a scale and notice a few extra pounds.
Although you may think that losing those pounds is a complicated task, with the right knowledge about calories and a good diet you will achieve it.
Below, we will explain in detail what calories are and which activities burn the most calories and the importance of healthy eating.
What are calories?
A calorie is a unit that measures the amount of heat needed, under normal pressure, to raise a degree of temperature to one gram of water.
It is a bit complicated to understand the theoretical concept, so it is easier to say that it is the amount of energy that each food contributes to our system.
The body needs energy to fulfill basic functions and this comes from all the foods we consume daily.
The amount of calories we need to consume per day varies, depending on our age, size, ideal weight, and current weight.
The downside of all this is that when we put more energy into our story, it is stored in the form of fat, which is why we gain weight.
This is the amount of daily calories you should take in
Every day we must consume a certain amount of food that provides us with the necessary calories to carry out our activities.
This energy comes from the nutrients that make up the food, that is, lipids, proteins and carbohydrates.
Carbohydrates and proteins provide four kilocalories per gram and fats provide nine kilocalories per gram.
Vitamins and minerals do not provide calories, but are very important for all biological processes to take place.
A balanced diet is one that has all the nutrients, but in measured amounts. This would be 55% carbohydrates, 30% fat and 15% protein.
Each person needs different amounts of calories to fulfill each of their vital functions. That number of calories varies with age, height, daily activity and weight.
Amount of calories according to your physical activity
Your lifestyle, whether sedentary or very active, at your basal metabolic rate you have to add or subtract calories.
Basal metabolism is a calculation that defines the amount of calories your body needs, at rest, to perform basic functions, i.e. breathing, pumping blood throughout the body, thinking, activating the digestive process, etc.
To calculate your BMR, you should use one of these two formulas:
Calculating BMR for men
TMB= (10 x weight of Kg) + (6.25 x height in cm) – (5 x age in years) + 5
TMB in women
TMB= (10 x weight in kg) + (6,25 x height in cm) – (5 x age in years) – 161
After knowing your TMB, you can calculate the amount of calories you need daily, according to this simple formula.
If you don't exercise and work from a sitting position: TMB x 1.2
If you exercise two days a week: TMB x 1,375
If you exercise four days a week: TMB x 1.55
If you play sports six days a week: TMB x 1,725
If you are an athlete or have a strong workout: TMB x 1.9
Not all sports or daily activities require or consume the same amount of calories.
To give you an idea, here is a small table with the amount of calories you burn doing various activities, sports or daily, for 30 minutes:
Basketball: 258 calories.
Aerobics: 178 calories.
Skating: 300 calories.
Running: 350 calories.
Martial arts: 360 calories.
Climbing stairs: 350 calories
Driving: 50 calories.
Ironing: 200 calories.
Cleaning windows: 250 calories.
Do you want to lose weight? Then this is for you
If your goal is to lose weight, you should reduce the amount of calories you eat or be physically active. It's best to do a combination of both for best results.
Thus, to lose weight, you must subtract 15% to 20% from your basal metabolic rate. This way you will know the maximum calories your diet should have.
Your menu must remain balanced, so it is advisable to reduce calories by not eating junk food and by including healthy foods in your diet.
In any case, we recommend that you see a nutrition specialist for advice and to show you the best diets to reach your ideal weight.
Final recommendations
Dieting can be as easy or as difficult as each of us wants it to be.
That's why we encourage basic steps to reduce the number of options for breaking the diet, especially when we're away from home.
When we are at home, we tend to be stricter about our diets, but when we walk through the door, history changes.
We pass by the bakery we like, we see the candy we love, we want to drink a soda to mitigate the heat, that is, the options are increased.
Then, one of the recommendations is to make your menu of weekly meals and snacks. This way, in case of an anxiety attack or when it is time to eat, you just have to go to your refrigerator, take the container on duty and eat.
Do you need special containers for your meals?
We can also help you, because at Monouso we have a large inventory of food containers that will make your life easier.
Visit our plastic packaging section and find the ideal one for your lifestyle and the diet you want to start.
There you will find containers of different sizes, ideal for serving your meals or snacks. For example, for anxiety attacks, you can have small containers with nuts or popcorn at hand.
In case you want to prepare meals, refrigerate them, and then, without any problem, take them to the conventional oven, we invite you to learn about our aluminum packaging options, ideal for that purpose.