Nougat: the Spanish dessert that conquered the world
Each country has representatives in different fields: sports, music, politics, arts, technology, science, among others.
In Spain, we have several references.
If we focus on the gastronomic field, you will surely think of paella and Serrano ham. There is no doubt about it, but what do you think of turrón?
In some cases it is considered a sweet associated with Christmas, but in others it is consumed throughout the year.
Stay with us and learn everything you need to know about turrón, one of the sweetest ambassadors of our land.
What is turrón?
Turrón is a traditional Spanish sweet made with sugar, honey and almonds.
This typical candy is presented in the form of pills and can be enjoyed with coffee or cider.
Turrón is made by mixing sugar and honey with or without egg white, and then adding toasted, peeled or shelled almonds.
A little bit of history
The origin of the nougat goes back centuries , according to some historians of the Greek era, they prepared a dough made with nuts, including almonds, joined with honey.
This dough was used by Greek sportsmen who took part in the Olympic Games to give them energy.
Another version indicates that it was the Arabs who made the first nougat during the 11th century.
In Spain, this delicious traditional sweet has its roots in Alicante in the 15th century. According to historical writings, at Christmas workers received an arroba of turrones as a form of payment.
However, there are historical references that say that Turrón existed in the city of Sexona (today Jijona) in the 16th century.
Some sources say that the creation of this typical candy originated during a competition. The initiative, proposed by the Arabs, sought a nutritious sweet that could be kept in good condition for long periods.
Other sources say that the creation of the nougat came from a craftsman from Barcelona, whose nickname was Turró, who was responsible for making a food with abundant raw materials that was indispensable in times of shortage.
Those who supported this version maintain that the name of this sweet comes from the surname of this artisan.
Another version spread by the Jijonenco scholar Fernando Galiana maintains that the word "turrón" comes from "torrat ", a mixture of dried fruit and honey which, after being taken to the fire, formed a consistent and mouldable mass.
Regardless of the history, and without wanting to argue with the groups that defend one version or another, the truth is that turrón is a clear Spanish exponent anywhere in the world.
Legend with a turron flavour
In Jijona, a legend is told about the origin of Turrón, a story that has as its protagonist a Scandinavian princess who, after marrying the King, had to leave her cold country of origin.
The princess, unable to enjoy the beauty of its landscapes, felt very sad.
The King, desperate to see his queen fall, had the idea of planting thousands of almond trees in his lands.
The almond trees flourished, providing landscapes of white tones similar to the snow of the cold lands from which they came, thus returning happiness to his queen.
From that moment on, the inhabitants of Jijona learned to harvest the fruits of the almond trees to start making the first turrón samples.
Types of turrón
There are several types of nougat with different characteristics, textures, ingredients and flavours.
This mixture of sugars and nuts has given rise to new creations that incorporate ingredients of all kinds.
According to the Royal Decree 1787/1982 that regulates the types of Nougat that are sold in Spain, we can say that there are three types of Nougat differentiated by their ingredients.
Nougat: honey and sugar paste, with or without egg white and almonds. Including both soft and hard nougat.
Various nougats: this type of nougat is made with nuts other than almonds and various ingredients.
Nougat with starch: includes flour or starch for the almond dough, sugars and honey.
Currently, there are areas in Spain where turrón has a designation of origin, such as Alicante with hard turrón and Jijona with soft turrón.
JijonaNougat
It is a soft and creamy nougat made with honey, sugar, ground almonds and egg whites.
This type of nougat comes from the province of Alicante and has a regulatory council that is responsible for protecting this product.
Burntnougat – egg yolk
The burnt egg yolk nougat is inspired by Catalan cream.
It is made with the egg yolks left over from the hard and soft nougat-making process.
Peat truffle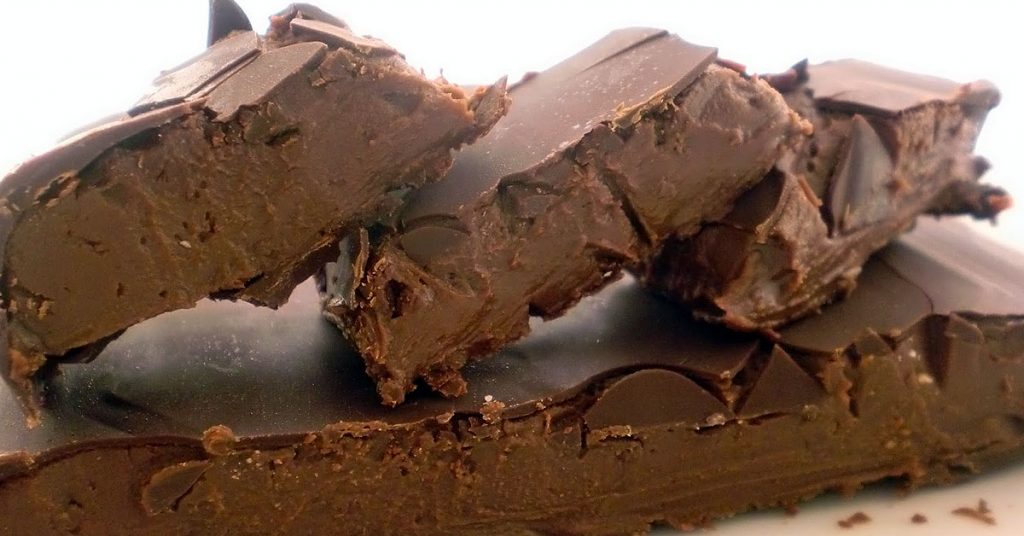 Truffle nougat is made with chocolate, along with refined flavours that provide an intense and sweet taste that diners like.
The truffle is presented as a chocolate cut into bars, giving a twist to the presentation of this delicious bite.
CoconutNougat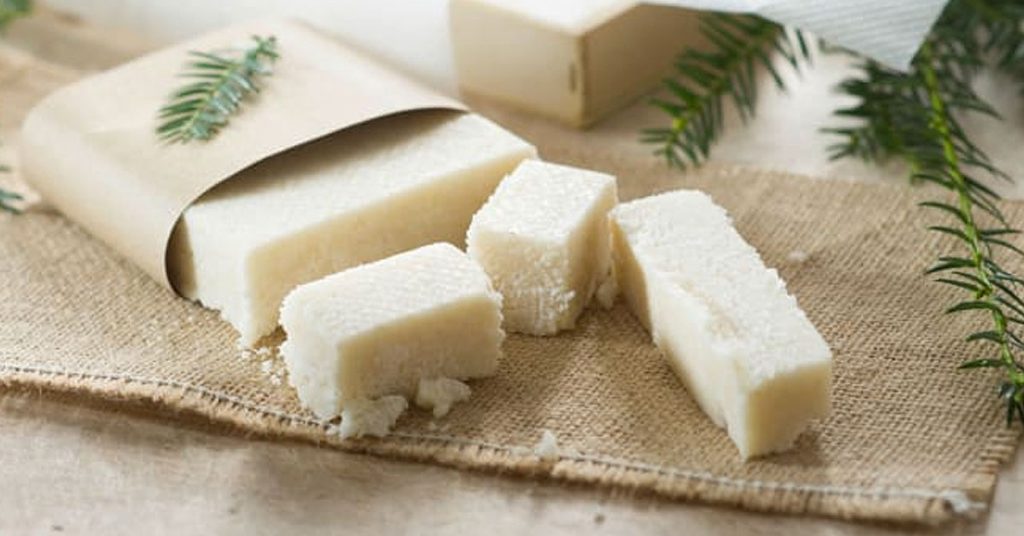 The turrón de coco is made with grated coconut. This ingredient gives it a characteristic white colour. In addition, ground almonds, sugars or honey and egg whites are added.
With many years of tradition, coconut nougat is one of the first classic sweets available to share in Christmas celebrations.
Stonenougat
Turrón a la piedra is a typical product from the outskirts of Jijona. It is made with icing sugar , toasted almonds, lemon and cinnamon .
It does not contain any colouring or preservatives, so it is not sold in bulk.
Coffeenougat
Coffee nougat is the favourite of coffee lovers.
It is characterized by its pleasant and characteristic taste, which comes from coffee. It will easily become the favourite of your guests.
Chocolate nougat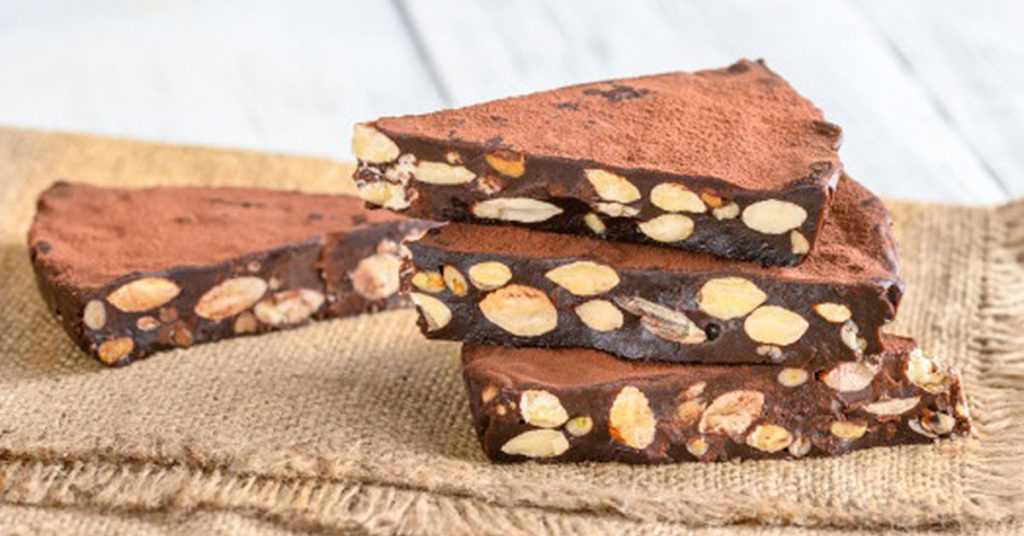 Chocolate nougat is one of most people's favourites, and can be made with different types of chocolate, such as white, black or milk.
Nougats can also be made with chocolate and nuts, giving it a special touch, with a chocolate coating.
This type of nougat is a product included in many recipes, so it is a source of new desserts.
Nougat with cream and nuts
Cream and nut nougat has a variety of ingredients, in which almonds are replaced by nuts and cream.
Its taste is very mild and it is possible to delight the palate of your guests with the mixture of its ingredients.
Imperial nougat cake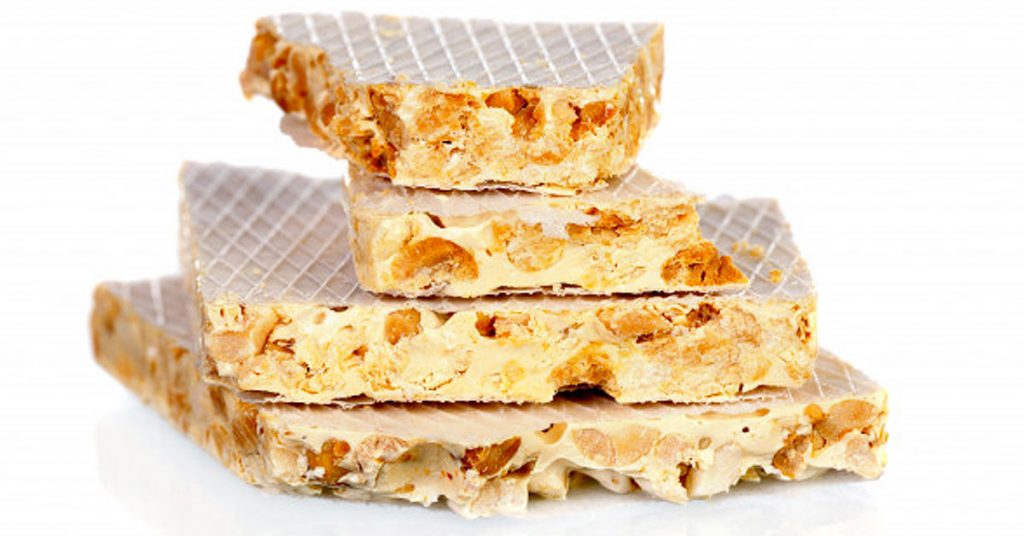 The imperial nougat cake is made with ingredients similar to the hard nougat from Alicante.
The final product has a finer texture of whole almonds, honey and biscuits on the top and bottom of the gum.
Nougat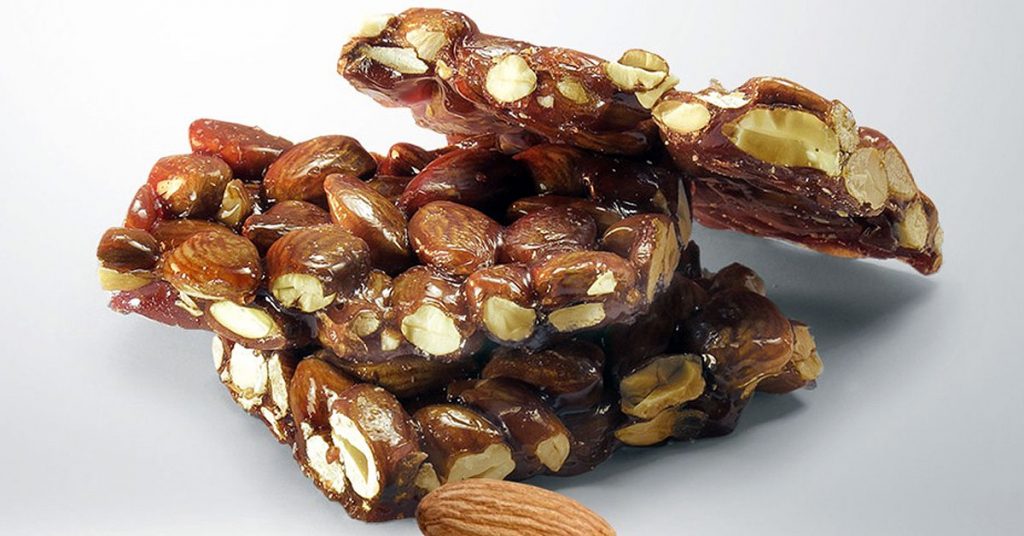 Nougat is made with almonds and caramel. The almonds bond with each other when they come into contact with the caramel.
The almonds can be replaced by nuts, hazelnuts or pine nuts, so you can enjoy different flavours and textures.
Trays and plates to serve the turrón at your table
The trays and plates to serve the turrón are very important utensils to show this appetizing traditional sweet.
These utensils are part of the table presentation, offering spaces full of attraction and distinction.
In addition, the trays and plates for serving the turrón offer the convenience of providing guests with various types of sweets in special meetings, events or catering.
These products are manufactured with materials of excellent quality and particular characteristics that define their use.
Among the trays and plates to serve turrón that we have in Monouso we have
Plastic plates
Plastic plates are a good option for serving desserts at the table in small proportions, quickly and easily, offering convenience for enjoying snacks or food.
In Monouso 's online shop you can find plastic plates in various colours, sizes and shapes.
Enhance the decoration of your table with quality products that fill with elegance and distinction the celebrations or special events.
Biodegradable plates
The biodegradable plates offer an ecological solution for the service of meals and desserts, allowing to obtain an elegant service that takes care ofthe environment.
They are high quality and resistant products, ideal for use in parties, events and catering services.
Monouso offers you a wide range of biodegradable plates, made of various materials that will save you money and time in cleaning.
Plastic tray
Plastictrays offer a convenient and hygienic option for presenting food and desserts at a celebration, event or catering. Unlike dishes, you can present whole nougats of various types on trays.
In our online shop you will find a wide range of plastic trays that offer you the convenience of serving any type of food.
Biodegradable trays
The biodegradable trays are made of natural materials, ideal for serving food and helping the environment.
You can serve an elegant meal using sustainable utensils, giving your guests a touch of distinction.
At Monouso we present a wide variety of biodegradable trays with designs, shapes and finishes that are perfect for use at any event or celebration.