Buying guide to paper carrier bags for groceries
If there is one product that bakeries and greengrocers have in common, it is bags for transporting food, whether they are paper carrier bags, cardboard or plastic bags. It could even be said that without them, catering businesses, and especially take-away businesses, would not be conceivable as such, as the food is prepared for customers to enjoy while they go for a walk, leave work or want to have a snack on their way home.
With this in mind, in our Monouso catalogue we have bags for storing all kinds of food. Here we go!
View more
Made of different materials such as cellulose, laid paper (a type of paper characterised by vertical and horizontal stripes that are produced during its manufacture and that can even be seen when held up to the light), kraft paper and greaseproof paper.
With these bags the breads will keep their temperature as if they were freshly baked. They are designed in the form of an envelope, i.e. open on one side, so that the bread is easily accessible.
On the other hand, some bag models have a vertical window that allows you to see the food at all times, and they are even grease-proof! So you will have no problem eating the bread or sandwich directly from the bag, as you won't get your hands dirty.
In different sizes and colours, their strength and lightness make them good travelling companions with which to enjoy everything from bakery products to confectionery.
View more
Sweets (among which we can mention pastries) are the weakness of a large part of the population, which is why we like to enjoy them at any time and place. For this reason, paper bags for pastries are essential, as they allow us to easily transport these delicacies and enjoy them whenever we feel like it.
These containers can be made of different materials: cellulose, kraft, laid paper or kraft paper, whose lightness makes them even easier to transport.
You can find them in different prints and sizes in which you can store all kinds of sweet products such as croissants, napolitains, muffins, etc. In addition, there are various models to choose from, from the envelope type with double opening to self-closing bags with and without window. The latter have a convenient system with which you can seal the bags and keep the food protected.
We also have grease-proof models to protect your hands from the oil and grease given off by sweet, salty, cold and hot food.
View more
Within this category, you can't miss the paper bags for churros made of cellulose. The great advantage of these containers is that they will maintain the temperature of the churros and, thanks to this, they will retain all their flavour.
In addition, you won't have to worry about getting stains on them, as the bags are made of greaseproof paper, which is ideal for keeping oil off your hands.
View more
These bags are specially designed for greengrocers, who need bags for their customers to take their groceries home. Made of laid paper, they are resistant, in different sizes and with an original design that will bring your business to life.
Are you worried that these bags have a short life span and may damage the environment when disposed of? You don't have to, as they are easily recyclable.
Paper sandwich bags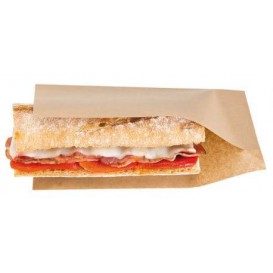 Just like bakery paper bags, sandwich bags are made from cellulose, greaseproof paper, kraft paper and laid paper.
In the catalogue we have a multitude of models and sizes available, even with the ability to keep the oil out of the paper! Opening on both sides or in the form of an envelope, these containers make it easy to transport foodstuffs. Hot dogs, baguettes, paninis, sandwiches… no hot or cold food can resist them.
View more
Made of kraft paper with a PE (polyethylene) lamination and a metal rod closure, these bags can hold anything from spices, tea or coffee to dried fruit and nuts.
Their greaseproof interior allows the quality of the food to be preserved while being resistant to moisture and air. They are often found in shops such as herbalist's shops where products are served in bulk.
In addition, these bags are characterised by a small window from which the contents can be seen, and a system of metal rods that guarantees freshness and flavour.
And now you have reached the end of our guide. We hope that we have cleared up your doubts regarding food transport bags and that you have chosen your own according to the needs of your business.