Personalized Paper Bags for your Business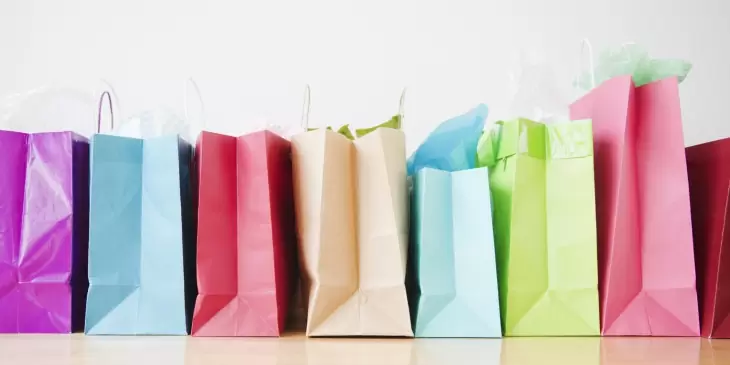 Christmas is coming, and with it the shopping. Secret Santa, Santa Claus, the Three Wise Men… people take to the streets and spend much more money on shopping and gifts than at other times of the year. We walk through the streets and see people with bags full of gifts. We don't know what each one has bought, but what we do see is where they have bought thanks to the bags they are carrying. And that's where we wanted to get to Bags are essential for businessAnd that's where we wanted to get to, and even more so at this time of the year when we all go out to the streets to shop.
There are many types of bags, depending on the size, the material or the color, but what we are really left with is with your company logo. Let's start talking about the material. There are many materials for business bags, but we, without a doubt, we prefer paper bags for many reasons
Paper bags are the best for the environment. They curb CO2 emissions by absorbing carbon dioxide emissions.
The paper industry contributes to the reforestation of forests.
These bags are recyclable, biodegradable and reusable.
A great advertising tool.
Once we are clear about the material we want, the second option will be the color. You can choose the color of your brand image, since most of us relate colors with companies. But if this is not your case, there are many ways to decide the color. As we have already mentioned, Christmas is a time when many gifts are given, and the color that is identified with Christmas is red. We can take advantage of this time to make special bags. Even if we have the same bags all year round, why not take advantage of important dates to make special bags? Your customers will love it.
If your company has a very representative color, it would be ideal to have paper bags in that color so that the color is quickly associated with your brand. If this is not the case, you must take into account your products but above all the type of customers. We give you the following recommendations.
If your products are unique for both men and women, you can choose blue or black for men or pale pink or purple for women, as these are the colors most associated with them
You can also do it according to the sensations. Green conveys hope, red passion and vitality, white a minimalist style and simplicity, orange is associated with youth, silver and black, as we have already mentioned, are associated with the male sex and elegance and pink with femininity and sophistication.
And finally, as we mentioned in the previous post, you can make special bags for special campaigns, such as, for example, the upcoming Christmas campaign.
Surely we are already clear about the color we want for our bags, right? Well, let's continue, because there is much more to have the perfect paper bags.
Size matters and that's why we have to have the perfect size paper bags for our products. It always comes in handy bags with handles It always comes in handy, as they are the most comfortable for our customers, but always knowing the size. We can't give a huge bag if what we have to store is something tiny or the other way around.
If our products are very different in size, the ideal would be to have several sizes of bags so that neither you would lose and it is much more comfortable for customers.
It is very important to think about our products as we have a lot of sizes, so that they can be Monouso we have many measures, so that they adapt perfectly to them, whether they are more elongated, square, taller or smaller.
Paper bags are not only the typical bag with two handles that we get in most establishments. There are paper bags adapted to each type of product and each type of company. Although in the previous post we focused on paper bags with handles, today we want to tell you about all the types of paper bags that Monouso has, so that you can choose the one that best suits your needs.
Paper bags with handles. These are the ones we talked about in the previous post but we tell you all about them. You can choose from many colors, and they are available in many colors.
Paper bags without handles. Also in many sizes and mostly brown kraft paper or white and brown paper.
Gift wrap envelopes. Many colors and many sizes for gift wrapping. A great idea is to have envelopes to match the handle bags.
Bakery paper bags. In their different sizes they are ideal for different foods. From paper bags with the perfect size for loaves of bread, to bags for any type of pastries. You can choose from various types of prints or plain if you prefer.
Paper bags for fruit. Ideal for any greengrocer for customers to keep all kinds of fruits and vegetables. As there are different sizes you can choose depending on the purchase of each person and also will be delighted with the print of these bags.
Paper bags for churros. Something very unpleasant when we buy a product with fat such as churros or any bakery product is that the fat overcomes the bags and we end up stained. Well, these greaseproof bags are for that.
Paper bags for hamburgers. We change sector and we go to the hamburger restaurants. Ideal wrappers to serve hamburgers, best of all, they are undoubtedly greaseproof and our customers will not stain. They exist, open, closed and with a great variety of prints and colors, choose the one that best adapts to your place.
Paper sandwich bags. The same thing happens with sandwiches. Perfect bags to serve sandwiches in your business with the perfect measures of your sandwich. Also available in printed or plain.
Greaseproof paper bags for chips. To finish the sandwich or hamburger menus, potato chips are ideal. And here you have the largest variety of bags. Among the simple paper cones, more elaborate cones if the chips have sauce, or envelopes with prints to match the sandwiches or burgers. A plus point is that you won't stain them because they are greaseproof.
Paper bags are undoubtedly the best choice we can make. We have already given you enough arguments in previous posts to opt for this type of material for your bags. Today we want to talk about the type of paper used in most of our bags and it is kraft paper, do you know what it is?
Kraft paper bags are made with wood pulp. In Spain we know it as "papel de estraza", and in the past it was used to wrap meat in butcher's shops. It is a very resistant paper that is used for a multitude of businesses, for example supermarkets or pharmacies.
Kraft paper is brown but nowadays we can find them in any color thanks to a paste that is used. In our page monouso.es you can see all the colors available in this type of paper. Remember the colors we recommend for each business and each public when you want to buy paper bags for your business.
Something you also have to know about kraft paper bags is the grammage. We can find different types ranging from 20gr. up to 100gr. Those that need less grammage are used for gift bags for example. When our business is a food business, such as a churro shop or a hamburger shop, the kraft paper bags will need a much higher grammage since they will prevent customers from staining themselves by retaining the oil from the food.
Finally, you can findkraft paper bags in many sizes andmodels, that is, you can find them with or without handles, adapted for different types of food and also in different sizes for each of them. Monouso adapts to customer needs and therefore has a wide variety of paper bags. You only have to visit their website and see which one suits you best.
Author