Plastic ice buckets: a basic guide to choosing the best option
Plastic ice buckets are the most discreet protagonists of any self-respecting meal or evening. After all, they are responsible for keeping the beverage that waters our dishes at the perfect temperature.
As is logical, each business has different needs and requires a range of designs that can meet them.
Knowing the different materials and options will allow us to choose the most suitable plastic ice bucket for our service.
Plastic ice buckets: a selection from Monouso
If there is one thing that characterises Monouso's selection of plastic ice buckets, it is their resistant material, which allows for customisation, but also for their large capacity and their ability to maintain the temperature of the drink for hours.
In our shop you will find a wide range of options and materials that will fit in with what you are looking for: different colours, shapes and aesthetics to adapt to the style of your bar or restaurant 100%.
Different materials, different performance
SMMA, polypropylene, SAN, PCTA… These are the materials from which our plastic ice buckets are made. Let's discover the advantages of each of them:
SMMA
SMMA stands for Stirene-Methyl-Meta-Acrylate), a resin that is as rigid as it is strong and durable. It stands out for being a Bisphenol A-free material, so it complies with food contact regulations. It is also scratch resistant. This material provides hardness and weather resistance, as well as clarity and rigidity. More than enough reasons to opt for elegant, durable and resistant designs that will provide a complete experience for your customers.
Polypropylene
Propylene gives our plastic ice cube trays some very interesting features: it is BPA and phthalate free. It is also highly impact-resistant and provides perfect protection for foodstuffs. Of course, it is reusable.
SAN
Rigidity, strength and gloss are the main characteristics of products made of SAN. This copolymer of styrene and acrylonitrile provides us with impact and breakage resistant ice buckets, and they remain transparent and durable even after years of repeated use and washing cycles. Don't you think it's the perfect substitute for glass?
PCTA
The PCTA is a glass polymer with the same sharpness and brightness level as glass. They are often used for products of considerable thickness, mainly because of their impact resistance. Guaranteed premium quality and, above all, comfort and safety.
How do I choose the perfect option?
The decision depends on the intended use of the plastic ice bucket. If you need to use it for outdoor service, SMMA is the ideal material. If your restaurant has a high turnover, polypropylene ice buckets may be the best companion to avoid damage from knocks. If you want to avoid any breakage or impact, go for SAN. Do you prefer a thicker and more robust ice bucket? The PCTA is the option you are looking for, without a doubt.
We have a wide range of plastic ice buckets.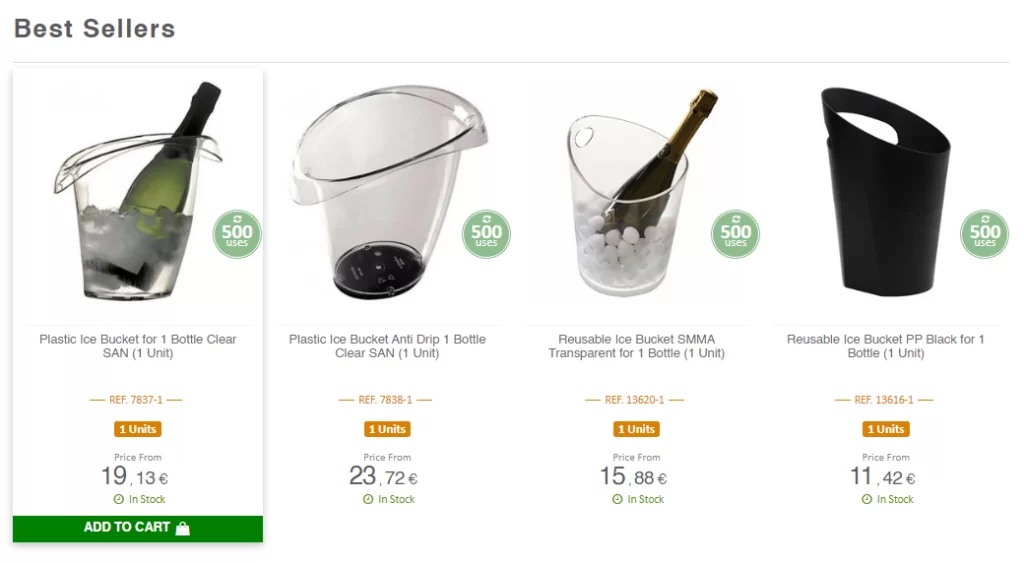 And remember that, in case you have any doubts, you can always solve them thanks to our Customer Service team, who will solve any question with a clear objective: to help you choose the option that best fits your needs. You can count on us! And, of course, in our blog you will find hundreds of useful articles for the management of your business.
FAQ
What materials are Monouso ice buckets made of?
At Monouso we mainly use 4 materials to manufacture our plastic ice buckets: SMMA, polypropylene, SAN and PCTA.
How can I choose the best ice bucket option for my business?
You will have to analyse your needs and prioritise the materials that best meet them: strength, durability, fragility, design… There are many factors to take into account.
Are all ice buckets safe for food use?
Of course, all plastic ice buckets marketed by Monouso are 100% compatible with foodstuffs – safety as a key factor!