Polycarbonate cups: the allies of beachside hospitality
Did you know that polycarbonate cups and glasses are the most suitable for maintaining maximum hygiene? That's right, this material is able to retain less bacteria than classic glass cups, and is also much more resistant to falls, impacts and scratches.
This type of container is indispensable for the beach and the summer. Why is this? Because they are not only safer than glass products, but they are also brighter and more attractive. On the other hand, and thanks to the new normality, polycarbonate glasses are gaining more popularity in the hotel and catering industry.
Are you interested in knowing more? Here at Monouso, you'll find everything you need to know about unbreakable polycarbonate glasses.
¿Qué encontrarás en este artículo?
Advantages of polycarbonate glasses
In addition to the benefits already mentioned, polycarbonate cups and glasses offer other good reasons to be included in your business, such as
Variable and stylish designs. You can have a good range of products for each drink in your store. You also have the freedom to invest a little more to give them a unique design that represents your business.
Aesthetics. These products are capable of attracting powerful attention thanks to their transparency. In fact, any drink looks brighter and more colorful inside these containers. Consequently, your liquors and beverages will look more attractive and attract a greater number of customers.
Guaranteed safety. Polycarbonate is designed to withstand thermal shock, so it can go from hot to cold without cracking, a must for beaches and pools.
Lasting investment. Thanks to its high degree of endurance you can make a single investment that will stay with you for years. In addition, you will not have to worry about broken or scratched glasses.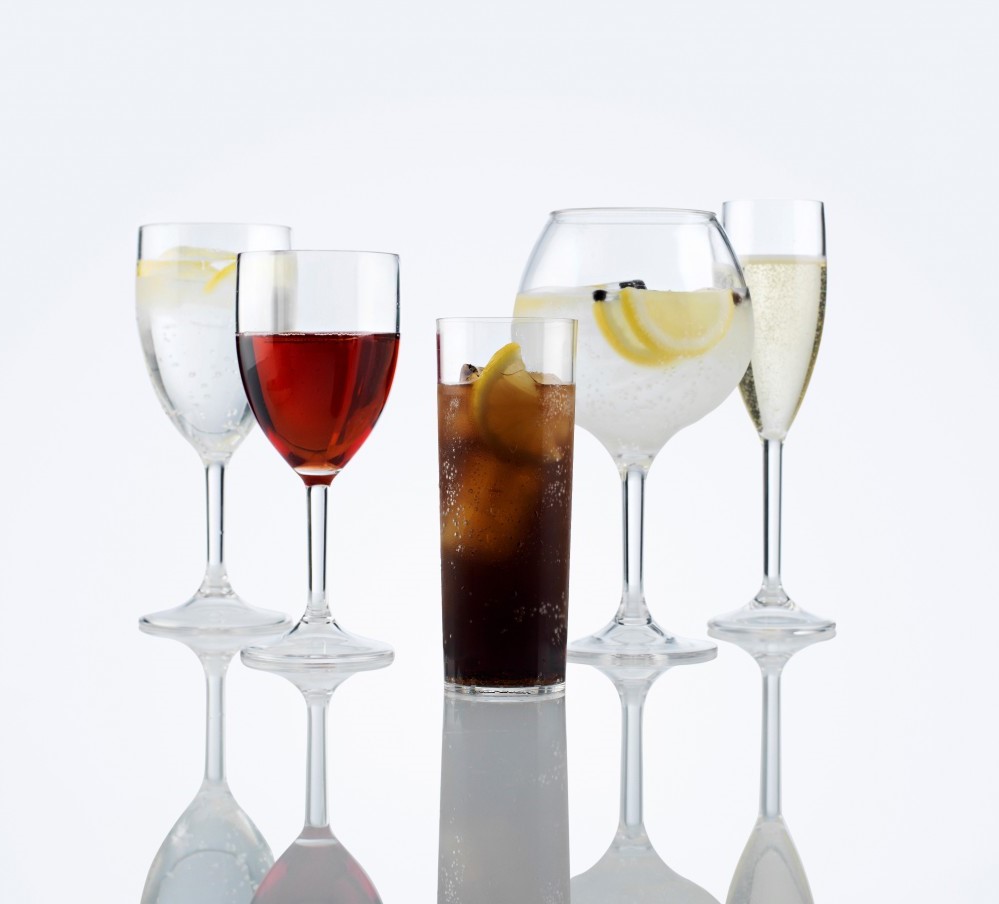 Types of glasses and polycarbonate cups
As you know, not all glasses and cups are the same, and polycarbonate containers are no exception. While long glasses are more appropriate for margaritas, goblets are ideal for other specialties.
These are the glasses that cannot be missing from your repertoire:
Long glass: this is the appropriate one for the vast majority of drinks. Here you can serve soft drinks and cocktails based on them. You can also use them for juices, margaritas, mojitos, simple cocktails, iced tea, among others.
Whiskey glass: this one is small and wider than the long models. As its name indicates, it is more recommended for whiskey and similar drinks, such as rum or vodka.
Ball glass: this container is designed for aromatic drinks such as brandy or gin. This particular shape allows them to keep the perfume of such liqueurs, as long as they are served correctly.
Wine glass: this one is quite similar to the previous model, however it is a bit longer and its circumference is smaller. Wine should never be served in another container, as it would impair its taste.
You can get these and other models in our online shop Monouso. Without a doubt, polycarbonate is the best friend of the hotel industry on beaches and in swimming pools, as well as a great ally of kitchens, bars and events in general. By acquiring them, you will give your drinks the elegance and category that every business requires. Don't run out of yours!