Potato chip bags: take away business benefits
Have you ever wondered why potato chip bags are used in restaurants?
Every single utensil or product used in a restaurant has a reason and offers advantages in its use.
Read on to find out more about potato chip bags and the advantages of using them in a take away business.
¿Qué encontrarás en este artículo?
Paper chip bags
If you are in the fast food business, you must ensure two things: fast service and portions that satisfy the hunger of your guests.
But how many fries should you serve to accompany the delicious food they serve in your restaurant?
Well, that's one of the first advantages of using paper chip bags in your business.
Just by filling one bag, you'll have a portion ready for your chips in seconds. The ideal amount to make your customers feel well served.
On the other hand, paper potato chip bags are available in different capacities. This way, you offer your customers the opportunity to decide how many potatoes they want to eat.
If the order is to go, the grease from the chips can make a mess, staining everything aroundit.
In those cases, paper potato chip bags are also your best ally. There are models that include a plastic film that does not allow grease to pass through the paper and dirty your customers' hands.
The next advantage to be highlighted from the potato chip bags is their contribution to your business image. You can even print your restaurant's logo on the bag and use it to advertise your restaurant.
To close the point, paper chip bags are versatile. Besides using them to serve your chips, you can use them for other products, such as wings, croquettes, mozzarella fingers, among others.
Types of potato chip bags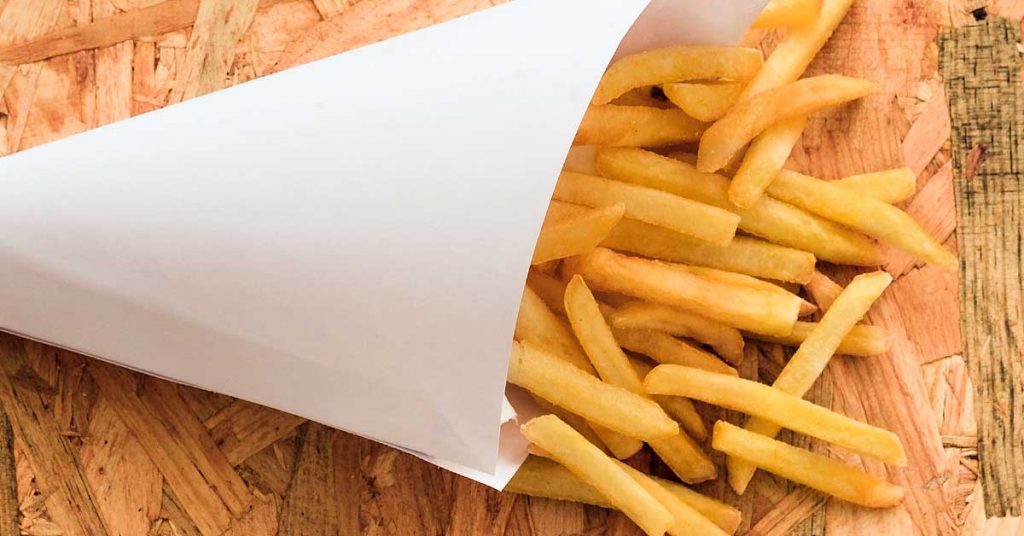 If you are looking for paper bags for French fries we invite you to visit Monouso, in our online store you will find several types of bags to pack exquisite potatoes.
In our section of paper bags, you will find the ideal models for your business.
For example, you have the paper potato bags type envelope. They are available in white colour with motifs and in kraft paper, without any printing, ideal to personalize them with the image of your restaurant.
Another option is the paper cone potato chip bag, a cone with a striking black and white print that resembles a newspaper.
This type of potato chip bag has a special coating so that – no matter what happens – the grease does not end up in the hands of your customers.
The natural brown paper cones are also ideal for serving the chips to your customers. This type of cone is ideal for serving other products, such as churros.
Finally, we recommend our kraft cones with a sauce tab. This option is perfect for serving your chips and allowing your customers to accompany it with their favorite sauce.
Customization and delivery of your order
In addition to managing your order for potato chip bags, you can request our customisation serviceon our website.
With this service, you will receive a quality product with the image of your restaurant in the shortest possible time and at the best price.
Orders from 59 ? have a 100% free shipping service. You will receive your order in the comfort of your home or business.