Salmorejo Glasses: How to choose between appetizer glasses
We are leaving behind the times of winter weather. The cold has its magic, above all because it is related to the Christmas holidays, but we must recognize that spring and summer are an explosion of heat that has no comparison with any other season.
In addition to changes in our way of dressing, the sadness that is often generated by cold and cloudy weather is removed. New colours, smells and tastes are arriving.
Among the flavours of spring and summer is the recipe for salmorejo, a kind of cream with a base of tomatoes and bread that is eaten fresh together with pieces of boiled egg and chopped ham.
Salmorejo is an appetizer, served in small appetizer glasses, ideal to eat in a few bites while waiting for the main course.
¿Qué encontrarás en este artículo?
Best glasses for salmorejo
The mini tasting glasses are the perfect vehicle to bring your delicacies to the mouths of your guests.
At Monouso, our online shop, we have a wide variety of snack cups made from various materials and with avant-garde designs, ideal for giving a touch of elegance to every appetizer.
Among the most widely sold salmonella glasses are our high black conical tasting glass 70 ml, the transparent meadow ps tasting glass 75 ml, the transparent blossom tasting glass 90 ml and the transparent curve ps tasting glass 90 ml.
And to help you make the most of your budget, they are little starter glasses that can be washed and reused on another occasion.
Easy Salmorejo Recipe
Among the cold appetizer glasses, the salmorejo has a place earned.
Its taste and creaminess do not leave anyone indifferent. In addition, the mixture of flavors with the boiled egg and the pieces of ham offer a culinary experience that is difficult to beat.
Incredible as it may seem, it's a cheap and easy recipe to make, so you can entertain your guests without having to invest a fortune.
Here's a quick and easy recipe for filling a few glasses of appetizers with the best salmorejo you've ever cooked.
Ingredients for the salmorejo glasses
1 kilo of ripe tomatoes
4 boiled eggs
100 g white bread of the day
100 g of Serrano ham in small pieces
Two peeled garlic cloves
Vinegar
Olive oil
Salt
Preparation
With a thermomix or mixer, the preparation is essentially the same.
Step 1. Wash the tomatoes and chop them into large pieces. Mash them with the mixer or thermomix. Strain the tomatoes to remove any remaining skin and seeds. Transfer it to a clean bowl.
Add 2 cloves of garlic, 150 g of olive oil, the bread in medium pieces, and a pinch of salt. With the help of the mixer, crush the whole mixture until it becomes a homogeneous cream.
Step 3. After cooking the eggs for 3 minutes in boiling water with a splash of vinegar, remove the shell and chop into squares. We also chop the Serrano ham. Reserve both ingredients separately.
Tinned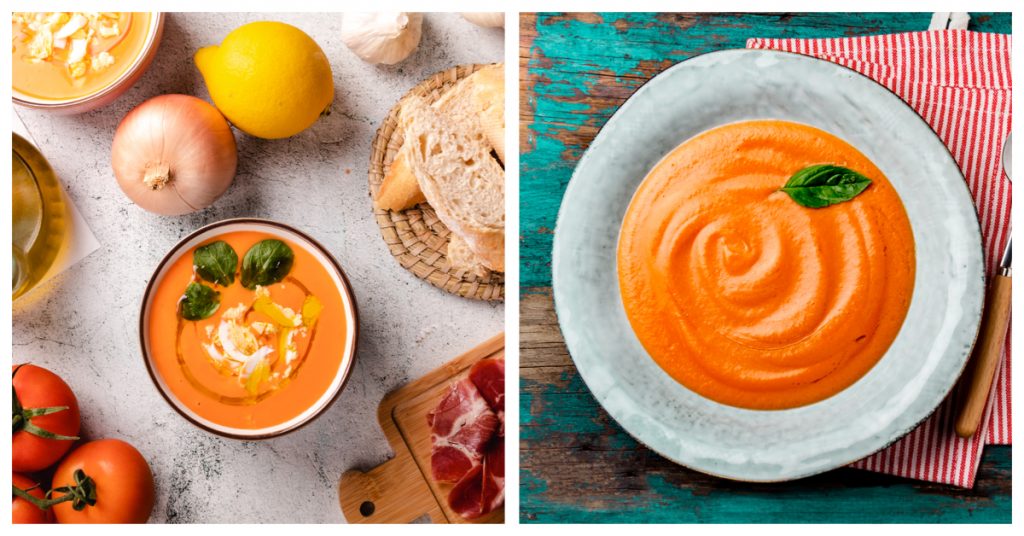 In cold appetizer glasses, serve a little bit of salmorejo, without filling the glass. We complete the glass with a little boiled egg and Serrano ham, ingredients that we had previously cut up.
We take the small glasses of starters with the salmorejo to the refrigerator so that it gets fresh before serving it. The salmorejo is eaten fresh, so it goes straight from the fridge to the table.
As you can see, a simple recipe that with only three steps will allow you to make an exquisite and perfect preparation for fresh or hot days.
Do you prefer to see how the recipe is prepared instead of reading it? No problem, here is a YouTube video with the recipe we just described for this exquisite appetizer.