How to start a profitable waffle business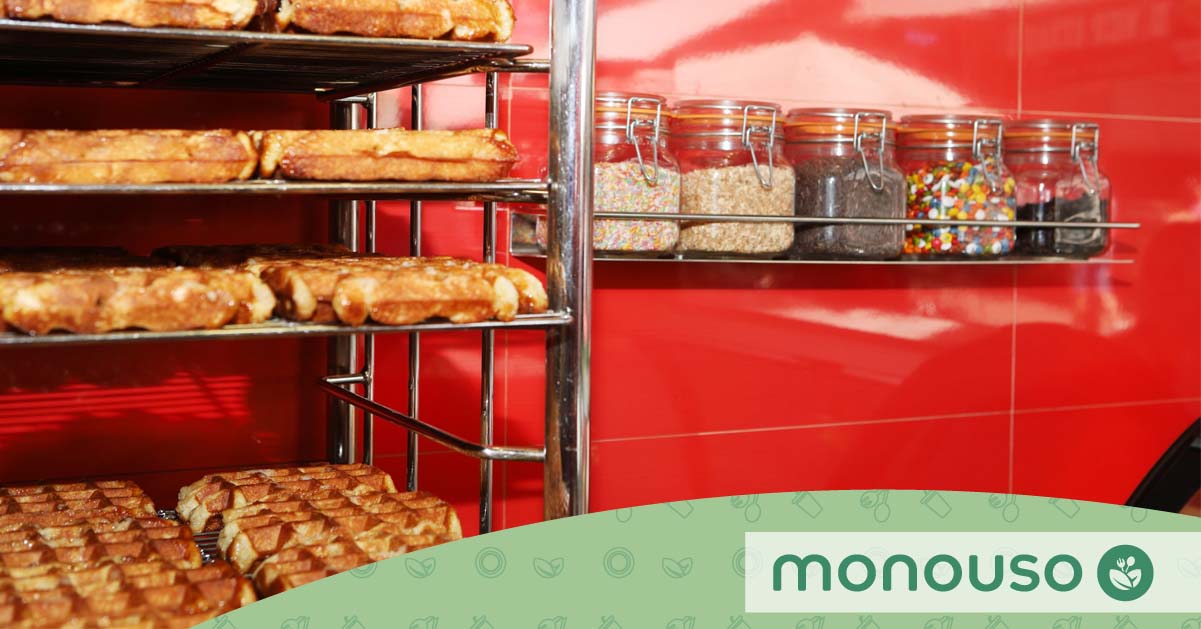 Setting up a waffle business is a good alternative for those who wish to invest in the food area. And there is no doubt that these fluffy desserts are a favorite for children and adults alike.
Therefore, if you want to learn what it takes to set up a waffle shop, you've come to the right place. Because at Monouso we will inform you about the basic steps to get started with this type of catering business. Are you interested? Then read on!
Setting up a waffle business How profitable is it?
The waffle is a delicious dessert that has been around since the Middle Ages, and has managed to endure over time. In fact, it has not only managed to be in force, but to be a favorite among the world's population. Therefore, it is normal to see these franchises everywhere, with their varied toppings of caramel, fruit, chocolate or even ice cream.
In the hospitality environment, waffle businesses have always been sustainable. However, it is advisable to accompany it with other offerings to make it even more profitable.
First of all you should know that you will not need previous experience, nor extensive training. Just surf the web for a couple of minutes and you will see many recipes, which with a little practice will be to everyone's liking.
In addition, the small franchises that we often see in places like shopping malls and movie theaters, do not need much investment. And if you manage to place it in the right place, you will see how your income will multiply in a short time.
As for professional waffle machines, you should know that there are many varieties, sizes and models. However, the good news is that they are all very affordable. This is because they are focused on maximum productivity, easy cleaning and optimum temperature.
For all of the above, we believe that you could start your venture with a modest investment and earn quite a considerable income in a short time.
5 effective steps to set up a waffle shop
If you've followed us this far, it's because you're interested in investing time and money in this hospitality business model. So, take note of the following step-by-step on how to start a profitable waffle business:
1. Plan the features of your waffle shop
First, you must define what your business model will look like in order to take action and make it a reality:
Ideally, start by planning the list of products you will offer.
If you have in mind to sell waffles to be consumed outside the premises, it is necessary to have suitable containers and disposable bags.
If, on the other hand, you want the waffles to be eaten hot on the premises, include a sufficiently comfortable space. To do this, you should acquire a couple of tables and chairs that match the corporate image of the business.
Also, you will need technological equipment such as computers, printers, and other equipment necessary for the management of your new business.
Don't forget to test your recipes and ingredients in advance. Talk to your potential customers and find out their preferences. It might even be a good idea to approach your competitors and observe the flavors with the highest turnover.
2. Waffle machine and special cooking equipment
Now, focus on acquiring irons or a waffle maker. The cost of these equipment ranges from $45 to $75, and with just a couple you'll be ready to go.
In this sense, you can choose between the traditional round waffle, the typical rectangular waffle or the herringbone model, which curiously, is everyone's favorite. Although, you can opt for multi-waffle models that allow you to change platens to offer games in shapes in the presentation of your products.
While you are starting out, simple equipment will do just fine. However, as your business grows you will be able to purchase other specialized machinery with automatic dispensers, lollipops, bubble waffle makers, among others.
Additionally, we suggest you invest in other kitchen items such as spatulas, bowls and disposable tableware.
Among other machinery you can include in your waffle business is a sufficiently large refrigerator. Ideal for incorporating other easy-to-sell foods and beverages such as soft drinks and ice cream into your offerings.
In addition, you can add a display case for toppings, to protect your products while they are not in use. Likewise, you can complement it with a natural juice corner, blenders, hot chocolate machine, etc.
3. Spread the product in your target market
If your intention is to offer waffles wholesale, you must design attractive packaging that shows the image of the product. In them you should point out the ingredients you used and the nutritional table.
An effective strategy is to provide samples to resellers and distributors. Also, we recommend you to schedule demonstrations of the waffles in supermarkets, pharmacies, movie theaters, among others. In this way, your customers will begin to identify with the product and will soon become loyal customers.
Try to get in touch with your neighbors, be present in virtual sales groups and contact other companies to establish alliances.
A waffle business doesn't need a lot of staff. But, it is very important that you consider now which employees could be part of that corporate family.
You could have all of the above, but if your staff doesn't share your business vision, you simply won't move forward. In this case the most effective thing to do is training.
Create spaces to socialize your business project, objectives, mission, vision and values. In addition, make sure that everyone is trained simultaneously in the handling and maintenance of the machines. In this way, trust will grow and they will feel part of the same team.
5. Acquire a management software for your business
A management software will help you carry out the operations of your business by simplifying and automating processes. With it, you will have an ally for applications, inventory, expenses, income, and many other administrative activities.
Having this type of application will reduce costs and make work much more efficient, saving valuable time for the company. Among the alternatives that best suit your company are XD Software, TPV 123 FastFood, Hosteltáctil and Loyverse among many others.
On the other hand, we suggest you to strengthen your business through the use of delivery applications. With them, the potential number of customers would multiply. Since given the pandemic, a large sector of the population prefers the comfort of their home to order and enjoy their food. You would certainly have an advantage over your competitors, since your customers would have access to offers and promotions.
How to make waffle batter, the best recipe to get started
Although there are 3 recipes for waffles (Belgian, Liege and waffles or American waffles), we have decided to start with this ideal homemade recipe to begin with, for a matter of cost analysis:
For 8 servings of waffles you will need:
250 grams of all-purpose flour.
25 grams of fresh yeast or 8 grams of dry yeast.
150 grams of sugar.
100 ml milk.
100 grams of butter.
3 grams of salt.
Vanilla.
2 eggs (whites separated from the yolks).
Now, all you have to do is mix the ingredients and choose the waffle maker you will use and you're done!
In this aspect, the most important thing is to understand that not all waffles are the same and their receptiveness to the public will depend on each country. Hence, the importance of doing a previous research to make your business profitable from the first moment.
Final considerations
Finally, take note of these recommendations to make your first steps in the waffle business safe:
A waffle business is not only about the batter . You must also include a great variety of toppings and toppings to please all kinds of tastes. This way, everyone will choose their favorite waffle in the same place. Creativity will be the key to combine infinite options, although everyone's favorite is almost always cream and chocolate, combined with fruits, ice cream, jams and candies.
If you are looking for profitability, the best thing to do is to combine different options in your business model. This way, you will not limit your offer to a reduced public, since you will be expanding your options. Combine your waffle business with Crepe, ice cream or churros, and your first steps will be less risky.
The profitability of this type of business will depend on many factors, although it is very clear that no previous experience is required. The most important thing is to learn how to prepare the right recipe and the rest will be much easier.
Do not limit yourself only to selling desserts. Consider all your options and always go the extra mile. Savory waffles have become a trend for lunch, snacks and dinner. They can be combined with chicken, salad, salmon, cheese, egg, ham, and endless options. The best thing is that waffle machines do not distinguish between sweet and savory waffles, so that will not be limiting.
So much for our post on how to start a profitable waffle business. You can now start the steps to make this popular catering model a reality. And don't forget that in our online store you have the right disposable supplies for your business, take a look!