Discover what Street food is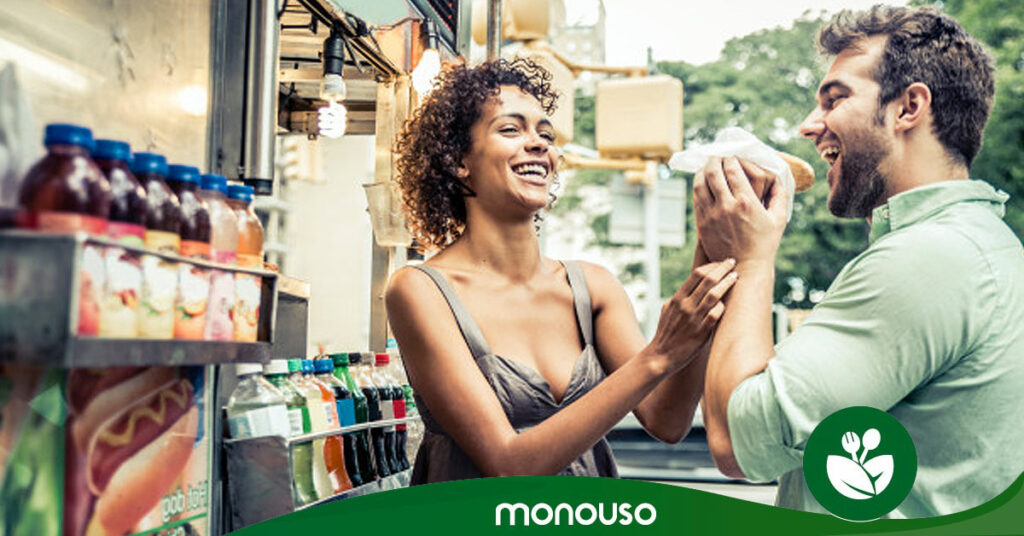 One of the new business models that have developed over the years is street food , which offers an excellent opportunity for entrepreneurs who want to start their career.
Street food is a gastronomic trend characterized by offering the public an artisanal menu that is sold on the street.
In general, this service is provided in trucks or vans with furniture adapted for food preparation.
Street food is classified as fast food, no utensils are needed to enjoy it and it is much cheaper than the menus offered in restaurants.
Next, we will know a little more about this trend that is currently in fashion due to the great variety of proposals available to satisfy the tastes of its customers.
Origin of Street food
The origin of fast food restaurants begins with the carts in which the seller made long trips through the streets to offer their products.
In ancient Greece this system was also implemented, because there were few homes that had a space for cooking food.
Over time, this trend has developed, providing customized spaces, adapted and equipped with furniture that facilitates the processing and preparation of food.
Characteristics of street food
When talking about the characteristics of street food, it is important to highlight the aspects that mark this trend, starting with the great boom of this business model, as well as the elements that distinguish it.
Among the most outstanding characteristics of this versatile proposal we have:
Freshness in the ingredients used to prepare the food.
The food is consumed outdoors in the spaces provided for this purpose.
If you don't have time because you have to go back to work, you can order the food to take away.
Its affordable cost in relation to restaurant menus.
Due to the demand for the service, the street food business is an important source of employment.
Keys to Street food
The keys to be the best Street food are based on excellent customer service, providing a quality service that includes fresh products and original recipes with a touch of creativity served at the time so that they can be consumed at street level.
Another important point has to do with the elaboration of each menu, providing a different experience when making each menu in front of the diner.
Advantages and disadvantages of street food
Much is said about street food and in short, this trend has resurfaced due to the need for a service that offers a variety of food options that can be consumed without having to endure long waiting times.
However, not everything about street food can be considered positive.
Below, we will learn a little more about the advantages and disadvantages of this prominent business model
Advantages
It offers food that can be consumed immediately at reasonable costs.
There is no need to wait for a table and tips do not count in this type of service.
Operating costs are low because lease and utility expenses are not included.
This type of business can relocate and set up its sales space in different sectors, which will allow you to attract a larger number of customers.
Another advantage of this type of business is that you have the possibility of participating in events to create new niches and increase sales.
Disadvantages
The adaptation of the van with the ideal furniture for food preparation can be very expensive.
Lack of legal regulations limits business support.
The purchase of products and ingredients must be limited to avoid shrinkage and, as a consequence, loss of money.
Loss of food due to lack of customers.
Cities with the best street food
The Street food proposal is well received and is being developed in many cities around the world. This gastronomic trend has made it possible to include a more economical format in the market.
Follow us and join us to discover the best street food proposals available in the world.
New York City
On many occasions we have seen in TV series, movies and even in life itself that the Big Apple has a wide variety of street food stalls.
And among so much gastronomic offer, it is very complicated to make a decision about the place and menu of preference.
Among the available options we can find: hot dogs, hamburgers, tacos, falafel and other snacks.
Every year the best Street food is recognized with the Vendy Awards. An award that celebrates the excellent food available on the streets of New York City.
London
In the United Kingdom, you can enjoy a selection of the best street food with a varied menu that will allow you to try a little bit of everything.
Among the ingredients of the dishes you can't miss: bread, vegetables, cheese, olives, spices, coffee and of course tea.
Another characteristic of the Street food in London is that each food stall has clothes shops and you will also find places where there is live music.
Bangkok
In Bangkok, the most outstanding tourist area is Chinatown, where you can find many gastronomic options such as noodles, fish, pad thai, spring rolls, rice, fruits, among others.
To eat the best street food in Bangkok you must make sure that the place where you choose to eat has the Shell Shuan Shim seal, which gives a distinction of quality.
Another option to eat well are the floating markets that do not go unnoticed because they are a very well known tourist place.
Sydney
This gastronomic trend is also fashionable in Sydney. Diners usually enjoy street food on weekends during festivals or market days.
The ingredients used to make the menus are sustainably grown to accompany the seafood served at the food stalls.
At these places you can also enjoy dishes with crab, prawns, lobsters, bluefin tuna and oysters.
Istanbul
In Istanbul you will find the second largest covered market in the world, where there is a wide variety of stalls specializing in sweets, nuts, spices and olives.
Sitting at a street stall and enjoying a simit, made from a round sesame seed bread stuffed with cheese, will be the first step to start your day.
Another option you can't miss is the doner kebab or grilled meat, as well as the kumpir, a potatorecipe stuffed with cheese, corn, vegetables and olives.
Mexico
In Mexico City you will not only find a great variety of flavors, but you willalso get to know the identity of the region in every bite.
Mexican street food is so important that it has been declared Intangible Heritage of Humanity.
To enjoy a Mexican Street food experience you should only try tacos al pastor, quesadillas, elotes, gorditas, tacos campechanos and succulent stuffed tortillas accompanied by the magical touch of Mexican spice.