Sugarcane – Common uses in 2019
https://www.monouso-direct.com/raph –>
After processing the raw material for the manufacture of sugar, various by-products are obtained that can be used in the manufacture of biodegradable items.
The maximum use of all the products of our Earth, allows us to diminish the use of raw material in the manufacture of other elements, improving our relation with the environment.
Let's see which are the different products that can be obtained with the correct treatment of the cane and its by-products.
Benefits of Sugarcane
Scientifically known as Saccharum officinarum, sugarcane is part of the group of poaceae plants.
It is composed of stems whose height can reach 6 meters. The maximum diameter of each stem is 5 cm.
Inside each stem there is a sweet liquid that is processed for the manufacture of the renowned sugar and other products that are more or less known around the world.
Among the benefits that we can find in the consumption of sugar cane, we have
The cane juice helps to keep the bacteria in your mouth at bay and helps your gums stay healthy.
It helps in the digestive process.
It favours the healing of wounds and reduces the stinging of rashes.
A natural remedy against constipation and promotes digestion.
Excellent source of natural energy.
Just by burning a cane stalk, you'll eliminate any bad odor.
It is an ally of the cardiovascular system and prevents heart disease.
It is an excellent antioxidant.
Quickly improve your skin health.
If you want to know more about the benefits of growing sugarcane, we invite you to watch the following TVAgro video.
Products obtained from sugar cane
Although this plant tends to be related only to the manufacture of sugar, many products can actually be obtained from the direct processing of cane or its by-products.
Let's see some of the different products that can be obtained, surely they consume more than one and you don't know where they come from.
Cachaza: Used in agriculture as a natural fertilizer. It can be used alone or with the ashes resulting from the burning of the cane.
Torula yeast: Unbeatable natural food that is frequently used in the pig, cattle and poultry farming industry.
Dextran: After various processes, dextran can be used in the manufacture of adhesives, printing of 100% cotton fabrics and brewing.
Guarapo: Also known as cane juice, it is a juice rich in calories that is consumed in various countries of the world, both by humans and in animal feed.
Biodiesel: From the final honeys of the cane, biodiesel is manufactured, a fuel that seeks to gain ground in fuels that replace the use of petroleum derivatives.
Alcohols: In addition to serving in the manufacture of solvents, fuels, perfumes, cleaners, paints, varnishes, the ethyl alcohol resulting from the cane is essential for the manufacture of rum, among other beverages.
Paper: For a few years now, the residual fibre of sugar cane has also been used in the manufacture of paper.
Sugar cane: Support for the hotel industry
When processing sugar cane, the farmers squeeze the canes to obtain the raw material to prepare the sugar.
Squeezed cane is a waste product that was not previously used.
Now, with this bagasse, new products are created, including items that support the hospitality industry: plates, glasses, bowls, trays, are among them.
Unlike plastic, which can take up to 150 years to degrade, this type of sugarcane product is 100% biodegradable.
It is estimated that in only 180 days they decompose and bind to the environment in a completely natural way.
Bio Sugar Cane Dishes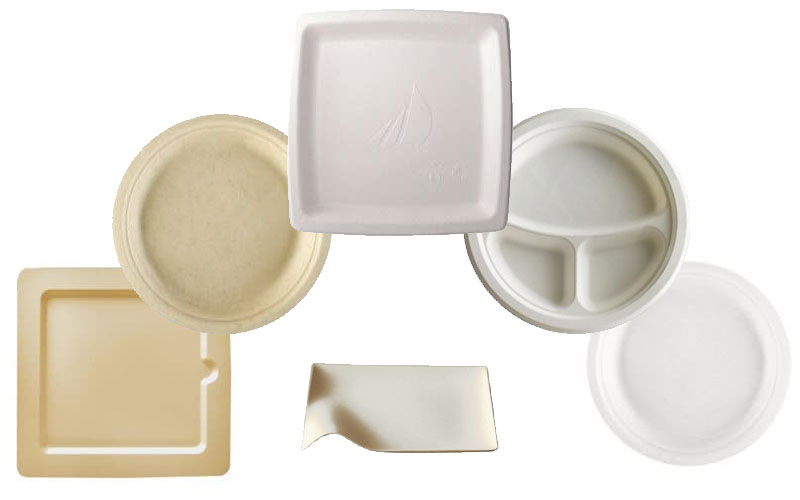 If you are one of those people who like to contribute to the environment and are looking for ways to reduce your footprint on the planet, this is an excellent option.
In the Bio Sugar Cane Dishes section of Monouso, you will find round, rectangular, square, with and without division, all made of 100% sugar cane, in different colors.
They are impressively resistant and durable, even to fatty and oily foods.
Trays
There is no complete dinner service without a good tray and the sugar cane ones are a great choice.
The strength of the sugar cane trays will support you when serving a meal or transporting plates and glasses to the guest area.
We invite you to take a walk through the Sugar Cane Trays section to discover all the possibilities we offer.
Oval trays, round trays, rectangular trays, trays with dividers, even some with lids, are some of the options you will find.
Sugar Cane Bags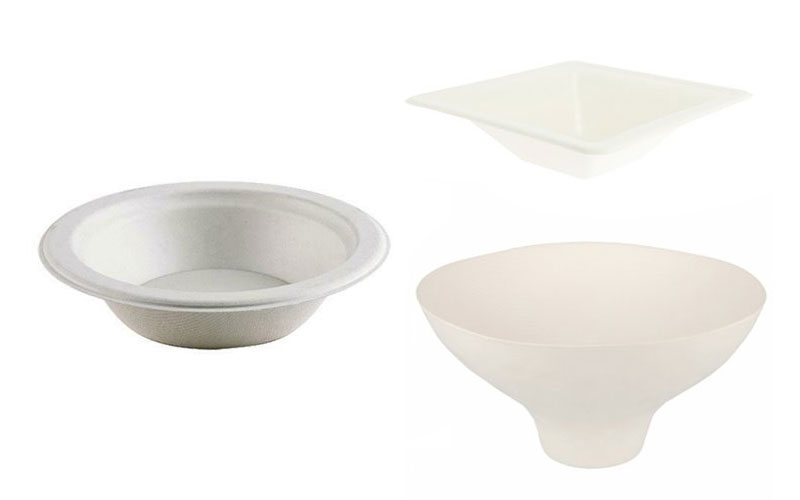 These types of sugar cane trays are really amazing.
In addition to being 100% biodegradable, they are waterproof and can be used with hot or cold foods.
As if that were not enough, you can use them in the microwave, without risks to your health or household appliances.
Enter the Sugar Cane Bag section of Monouso and discover this incredible option to serve any meal at your next celebration.
Glasses
Yes, I know, the first time I was told that there were sugar cane cups I thought the same thing: They are going to fall apart!
But no. They are super strong. They can withstand hot and cold drinks with temperatures between 0 and 100 degrees.
They can also be frozen or used in the microwave.
It's amazing how sugarcane waste can be used to generate products like sugarcane cups.
Hinge Sugar Cane Packaging
Hinged containers are an ideal choice for moving food. They are often used in restaurants and hotels.
Hinged containers made of sugar cane. They are stronger than expected, have a unique finish and are smooth to the touch.
If you wish to use 100% biodegradable Hinge Packaging in your business, we invite you to visit the complete section we have at Monouso.
BePulp Bowls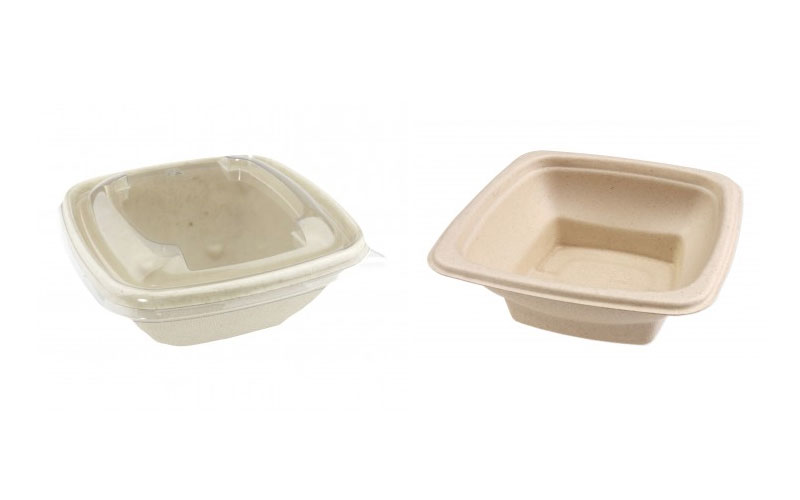 Moving salads, liquids and creams that spill easily has never been so easy and environmentally friendly.
BePulp bags made of sugar cane are equipped with a lid that will prevent your liquids from spilling.
You can find them in various forms and capacities, focused on meeting your needs.
Sugar Cane Terrines
Ideal for serving creams, broths, soups, ice cream, desserts or any other food.
The cups will let you serve your food with a beautiful and 100% biodegradable element.
Separately, you can find the perfect lids to protect your food and avoid spills.
At Monouso we have a section dedicated to Sugar Cane Terrines where you will find these beautiful containers.
BePulp Sandwich Containers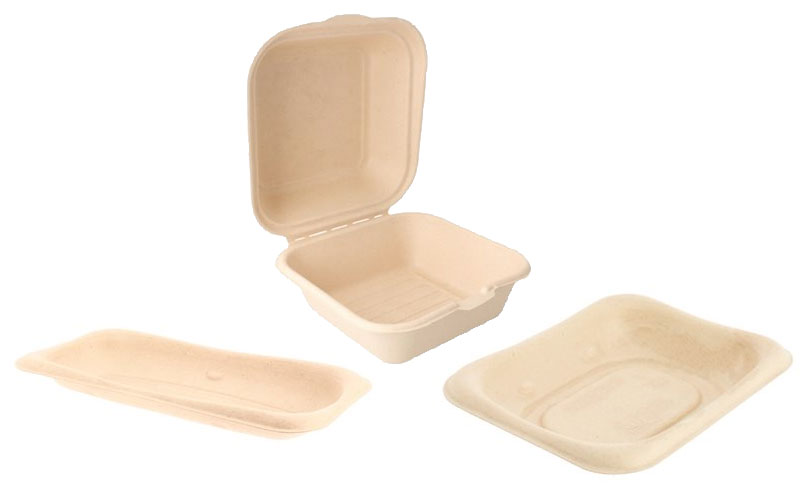 Specially designed for transporting burgers, hot dogs and sandwiches, leaving a minimal footprint on the environment.
100% biodegradable, made from the waste product of sugar production, BePolp Sandwich Packs will support the management of your restaurant, leaving a clear message of responsibility towards the environment.
BePulp Multifunctional Containers
The design of these containers, in addition to being 100% eco-friendly, allows you to transport or serve almost any food.
Its dimensions make it special for transporting multiple portions of food, with the possibility of adding a lid for greater security.
In the section BePulp Multifunctional Containers, we show you a wide variety of sizes, colors and capacities of this type of containers.
Disposable Dishes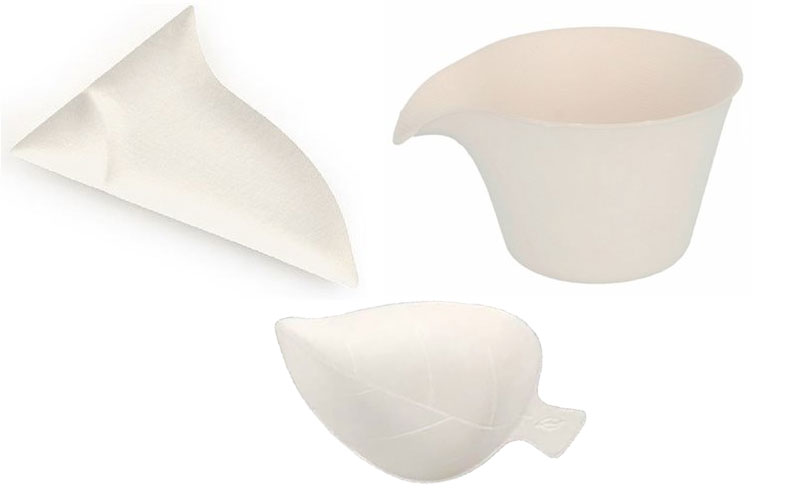 Beautiful design, functionality and kindness to our planet, disposable sugar cane tableware is the ideal element for any trip to the beach or mountain.
Monouso offers you a disposable tableware with the necessary elements so that, that food outside or inside the house, minimizes polluting waste without sacrificing the style that characterizes you.
Offer your customers the possibility of eating your food anywhere without leaving a negative mark on the environment.
Sugar Cane and Bamboo Dishes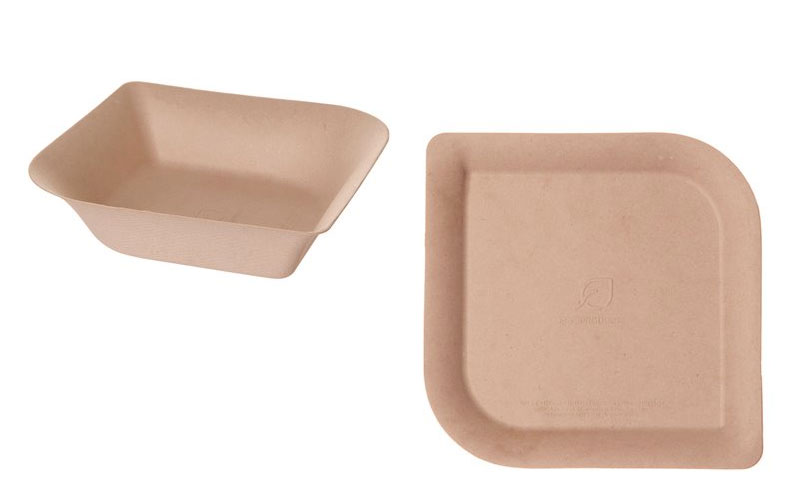 To improve its performance, sugar cane is combined with other elements.
In this case, we present you the sugar cane and bamboo plates, special for the hotel industry, restaurants and catering services.
They support hot and cold food. They can be used in the microwave without any inconvenience.
At Monouso you will find, in addition to other biodegradable dishes, the most extensive variety of Sugar Cane and Bamboo Dishes.
If you want to reduce your footprint on the planet even more, you might also be interested in ecological cutlery, an option that will not leave any of your guests indifferent.