Techniques for using a piping bag to show off in the kitchen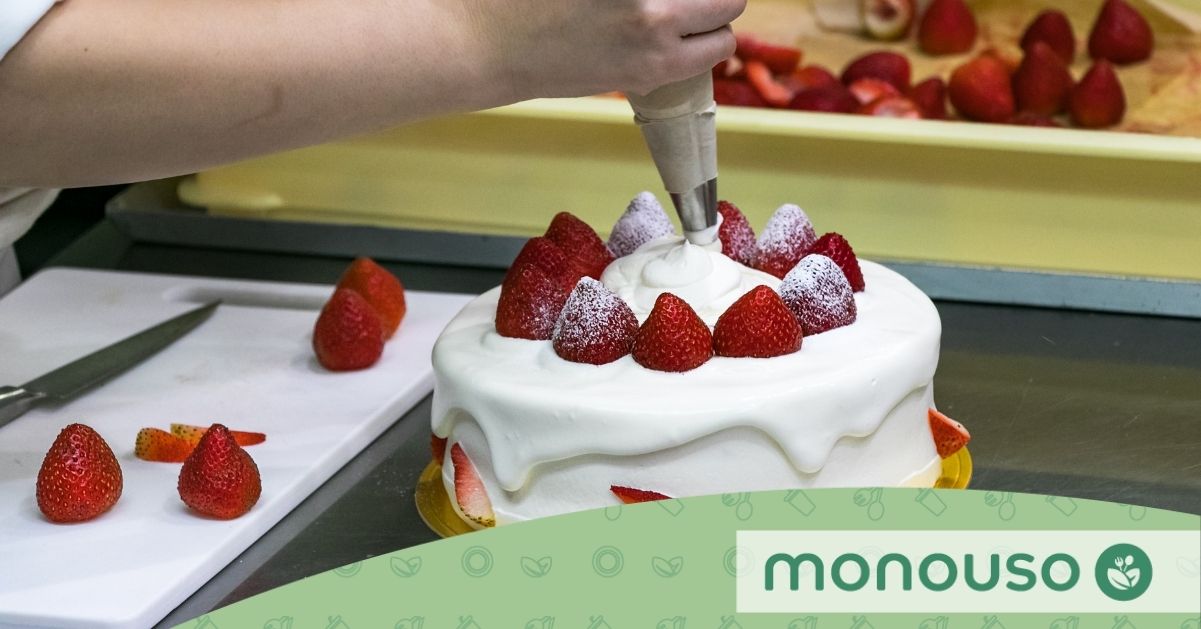 There are a large number of techniques for using a piping bag, but do you know them all?
Although it may seem like a piece of cake, the truth is that handling a piping bag like a professional requires technique and practice.
Read on and learn about each of the different types of piping bags that are made, their materials and which nozzles are necessary for each design.
You will also find instructions on how to use a piping bag for beginners.
Piping bag What is it and where does it come from?
The piping bag is a kitchen tool that is characterised by being a cone-shaped bag made of different materials.
Its design allows the filling to be introduced through the wide part and nozzles to be placed on the pointed part of the cone, so that the decoration has the shape and size desired by the confectioner or cook.
There isnot much information about the origin, but – by consensus – the creation and use of the piping bag is attributed to the chef Marie-Antoine Carême.
This French-born chef is also considered the forerunner of haute cuisine and the inventor of chef's uniforms.
What types of piping bag should you know?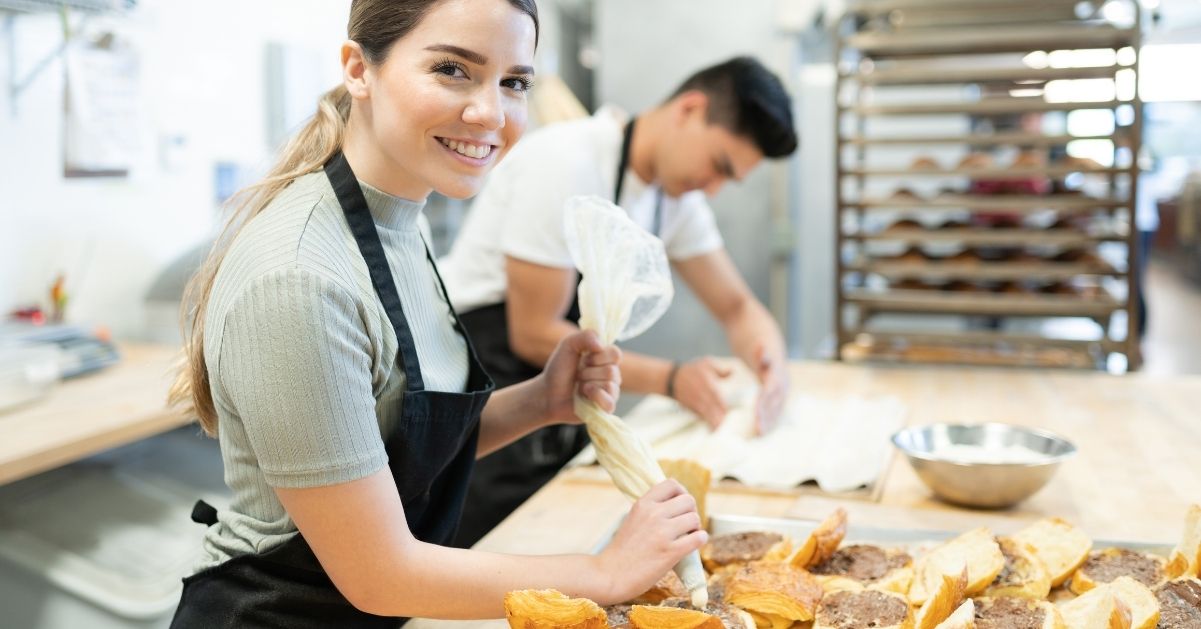 There are different types of piping bags, classified according to the material they are made of.
In addition to the material, they differ in their characteristics of use and the functions they have.
Fabric
Fabric piping bags are made of materials such as nylon, cotton or polyester.
They have the advantage that they can be used on multiple occasions, as they are washable.
In terms of use, they are ideal for making any kind of decoration in confectionery. They are also a good alternative for making churros.
Plastic
Plastic piping bags are for single use only, so it is common to buy them in packs.
These piping bags come in different sizes and are used with nozzles for decorating.
They allow different techniques to be used with the piping bag, a versatility that is possible due to their manufacturing material, allowing any mixture to be used for decorating.
Paper
Paper piping bags are made with baking or vegetable paper.
This type of piping bag is ideal for making subtle and precise decorations, for example, decorating a plate, a dessert with fine lines or small dots.
This piping bag does not require special nozzles. Simply cut off the tip of the piping bag and start decorating.
Other materials
You can also buy piping bags made of silicone.
They are a good option because they are reusable after washing and usually come with a set of nozzles.
Existing nozzles
The use of nozzles in piping bags is often indispensable. They are made of metal or polycarbonate, as they are very durable materials.
These accessories allow you to create shapes and practise techniques for using piping bags for decoration.
Plain
Smooth nozzles do not have a specific shape, so they give creative freedom to the person using them.
They are generally used to make line, dot or teardrop decorations.
Flat
Flat nozzles are easy to obtain in any size required.
This type of piping bag nozzle is used to make decorations that require zigzags.
Star
Star-shaped nozzles are used in baking to create volume in the decoration of products.
They are used to make roses, cupcake and cake decorations. They are also useful for shaping churros.
Saint Honore
To give a geometric touch to decorations, this nozzle is perfect.
It is designed to create triangular shapes on the cake or dessert to be decorated.
Nozzles with special designs
There are nozzles that have special designs to make specific decorations.
Some of these nozzles are flower-shaped, wave-shaped or any other eye-catching pastry shapes.
How to use the piping bag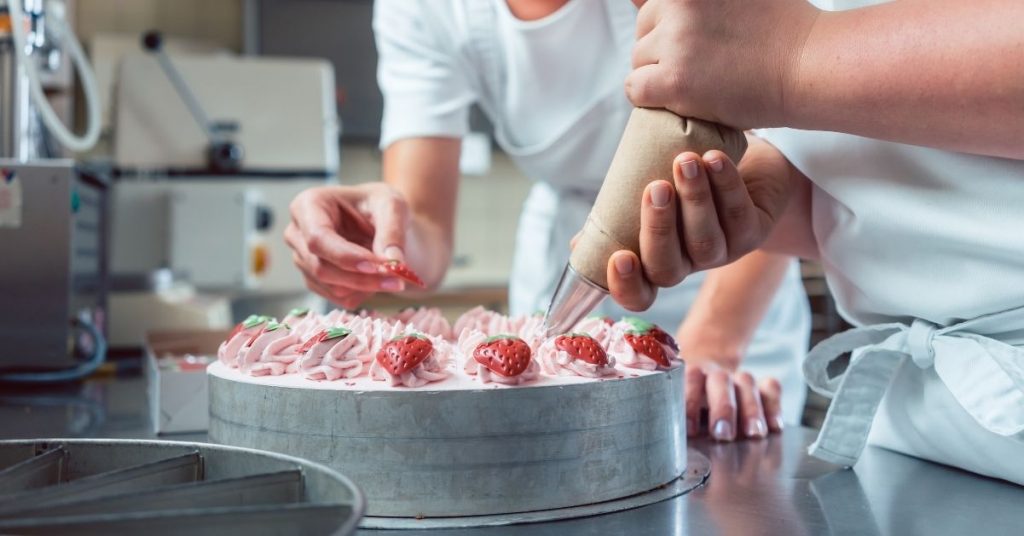 The use of a piping bag consists of simple steps, between assembly and decoration.
By attaching the nozzle, pouring the filling into the piping bag and placing it at the right angle, you can start decorating in a few minutes.
Add the contents
Take the piping bag and insert the nozzle. Then start pouring in the ingredient you will use to decorate
Fix the nozzle in the piping bag with the help of its adapter and cut the tip to allow the filling to come out.
There are models of piping bags that include the nozzles on the outside.
These work by removing the adapter and changing the nozzle, so that new designs can be made in a short time with the same piping bag.
Position it at the right angle
Depending on the piping bag technique you are going to use, it is important to position it at the right angle.
That way, it will be easy to make the design and the finish will be impressive.
Right-handed people
When making stars or petals, it is important for right-handed people to position the piping bag at a 90-degree angle, so that it is perpendicular to the work surface.
On the other hand, if they are going to decorate the edges of the product or write, the piping bag should be placed at an angle of 45 degrees.
Left-handed people
The handling of the piping bag by left-handed people is similar to that of right-handed people.
Although the piping bag is used at the same angles, left-handed people should hold it from right to left.
Piping bag for all uses and techniques
If you are looking for a quality piping bag to make amazing designs on your baked goods, you are in the right place.
Monouso, our online shop, offers you the Disposable PE plastic piping bag.
They measure 50 x 25 centimetres and despite being disposable, they are made of polyethylene, a material that can be recycled.
When you buy in our shop, you will have the option of receiving the products wherever you prefer, without having to move from your current location.