Tips for cleaning cleaning tools
Cleaning is a fundamental activity that should be done in homes, offices or any space where people are.
Many cleaning tools that are used to remove dirt from different surfaces contain more bacteria than a urinal or toilet has.
So, it is of utmost importance to clean the cleaning tools at least once a month so that no one's health is affected, and to avoid bad odors and easy deterioration.
Any cleaning tool can be washed no matter what size or shape it is, but it must be done properly.
If the dirt is not completely removed, the next time you clean, particles will remain in any of the areas.
Come with us and discover the best way to clean each of the cleaning tools to extend their life.
How do you prevent cleaning utensils from deteriorating quickly?
Cleaning routines should be carried out at least once a month to remove dirt and bacteria.
For this work, several tools are needed that have a certain form of use, a method of washing and storage in the respective cleaning room.
Even though they are objects with a determined useful life, you can use them for longer if you handle them correctly.
Choose the right tools according to the cleaning you are going to do
The usefulness of cleaning tools depends on their correct use. If they are misused or used for other jobs, you will not get the best results.
To prevent them from wearing out faster, you should use the cleaning tools for the function for which they were created.
If you use them in other cleaning activities, you can deteriorate the surfaces you are cleaning and cause damage to the tools by forcing them to clean a different type of dirt.
Separating clean and dirty cleaning tools
In case you have already used some cleaning utensils and need to wash them, do not put them in the same place where the clean instruments are.
If they come into contact with the clean items, you must wash them immediately or the result of the cleaning will not be favourable.
To make it easy, place the dirty tools near the place where you wash them and the clean ones inside the cleaning room.
Dries the tools after washing them
Many times when you finish washing the cleaning tools they are placed in the cleaning room without drying and they are not used again until it is time to clean up, but this is a serious mistake.
If they are left wet, microorganisms and bacteria are allowed to grow and feed on small water wells on surfaces or their moisture.
To make sure they are dry, spread out items such as cloths to dry with the help of air, or place the mops in places where the sun will dry them.
Washing and disinfection of the cleaning material
The washing of cleaning tools should have an appropriate space, away from the areas that have already been cleaned.
To wash the tools that were responsible for removing dirt such as dust or soil, you need a mixture of water and detergent to remove any residue that remains.
For instruments that were used to clean oil or grease, an alkaline detergent should be used, which completely removes the residues because they are composed of potassium hydroxide or sodium hydroxide.
And for those tools that are used to clean areas at high risk of contamination, they are disinfected with sodium hypochlorite.
Seven tips for cleaning your cleaning tools and making them as good as new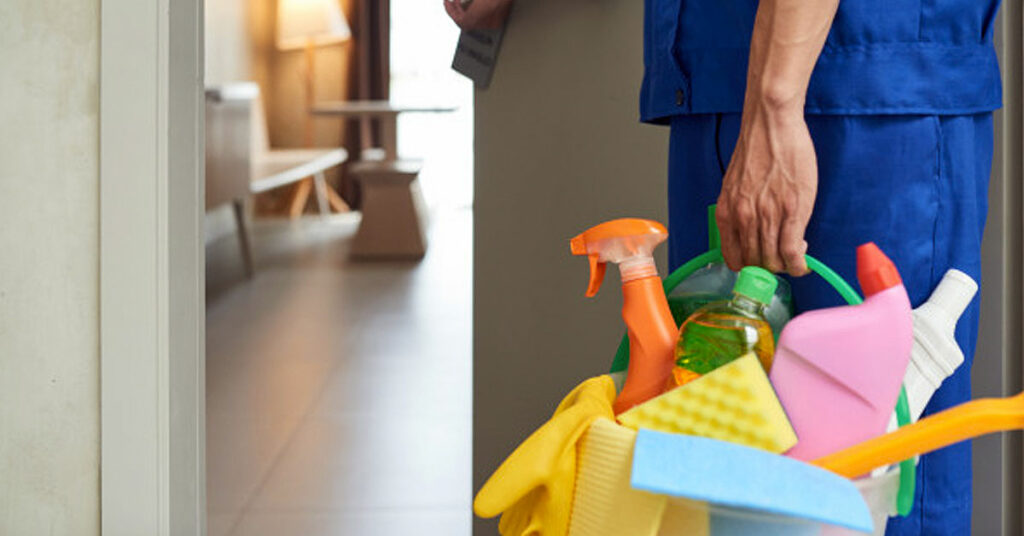 Having different cleaning tools makes it easy to clean all areas of the house.
When you finish cleaning, you should wash and disinfect each of the tools you used, so you don't have to do it before starting the next cleaning day.
If you wash the tools frequently or at the end of the job, they are clean faster because you do not have to scrub them because of the dirt that has adhered to them.
Follow these tips to help you take care of your cleaning tools and make your home look like new every time you clean it.
Fregona
To clean it is ideal to soak it in a bucket of warm water to remove all impurities. When taking it out, rub it with a little detergent and take it out with cold water.
If you have pets at home and you use a mop to clean their needs, you should have one for the pets and one for all areas of the house.
Also, change the water in the bucket every time you use the mop to remove detergent residue and not rub the dirt that has been cleaned.
Brushes
Brushes are passed over furniture, clothes or curtains with the aim of removing lint and hair.
When cleaning it, it is ideal to pass a small brush between the bristles to remove hair, dust and lint and to soak it.
Water with baking soda, bleach or ammonia is used to soak the brushes and these ingredients are removed well from the brush with the help of plenty of cold water.
Don't dry them with a towel or cloth, because they can leave lint between the bristles. Place it outdoors and make sure it dries completely so that it does not become moldy.
Duster
When cleaning cleaning tools such as duster, you should take into account the material it was made from. Before cleaning any duster, dust should be removed by shaking it in an open space.
In the case of synthetic dusters, the best option is to vacuum them until no dust particles or cobwebs remain.
Those made of feathers are ideal for washing with detergent and removing any dust left inside.
Wash with plenty of soap until no detergent is left and hang in a space where it dries in the air.
Vacuum
Unplug the vacuum cleaner before starting to clean. Wipe the surface, fixtures, and hoses with soap and water, then remove with a damp cloth.
Change the garbage bag and repeat this procedure according to the number of times you use the vacuum cleaner or when it tells you that it has no space.
Wash the air filter with soap and water to remove the dust particles that have been sucked out the number of times you have used the vacuum.
Change the air filter every six months or a year for better results and try to make it a high-performance or HEPA filter to capture more dust particles than with a normal filter.
Broom
As with cleaning tools such as dusters, the first step in cleaning a broom is to shake off the dust and impurities that concentrate between its bristles with a small edge or brush in an open space.
Wash the broom with a mixture of water and detergent and remove it with plenty of water until you see that no foam comes out.
To prevent the bristles of the broom from bending under its weight, hang it outdoors to dry quickly and put it in place inside the cleaning room.
Washing machine
Every week after you finish washing your clothes, sheets, duvets and cloths you should start cleaning the outside and inside of your washing machine.
To clean the exterior, use a cloth with a mixture of water and detergent, rub well and remove with a damp cloth.
As for the interior, rub a damp cloth to remove any dust and lint left after each wash.
If you feel that your washing machine is not washing as it should, do a thorough cleaning with a short washing cycle.
Program the washer to fill with warm water to put in half a cup of bleach and some detergent. Let all the products stand for about 15 minutes.
To finish the cleaning, drain the mixture and clean the walls of the washing machine with plenty of water to remove any impurities that have been left in place.
Wipes and sponges
Wipes and sponges used inside the home should be single-use to prevent the bacteria you remove when cleaning the table from ending up on the sponge used to wash the dishes.
They should be cleaned every week by soaking them in water with ammonia, vinegar, bleach, baking soda, or lemon.
The soaking of the cloths and sponges should last a minimum of one day to eliminate the bacteria that have accumulated during their time of use.
It is ideal to replace the cloths and sponges every three months, but this will depend on the use and cleaning routine you apply to them.