Types of plastic food packaging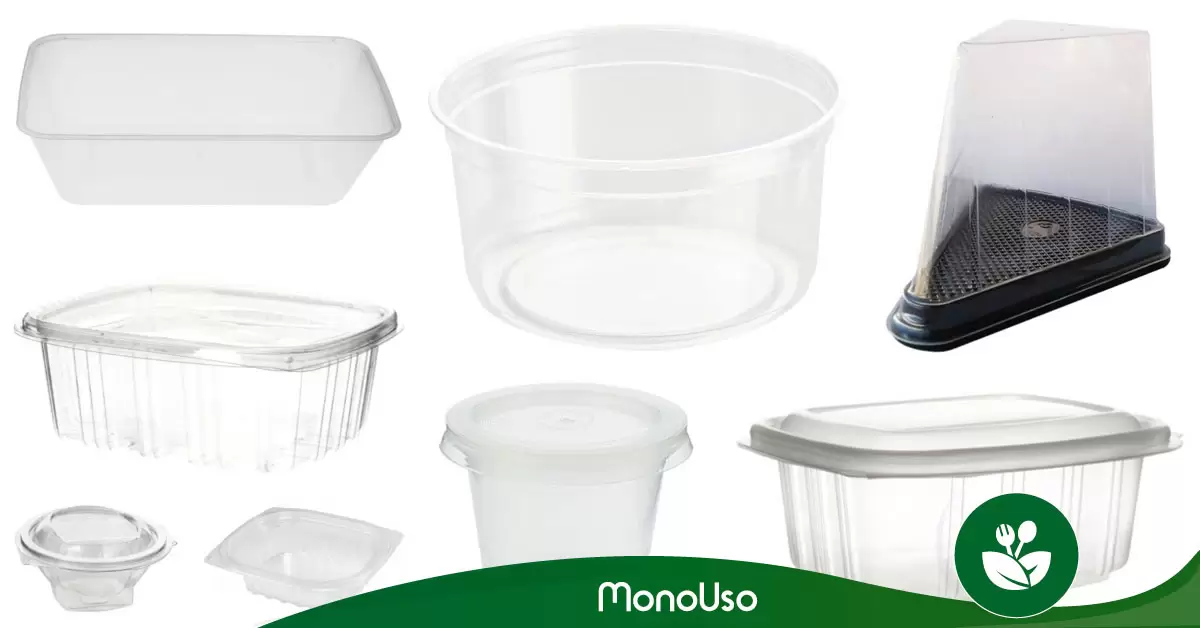 Is there anything more useful than plastic food packaging?
Let's put it in context.
The Christmas season is approaching and with it the great banquets among family and friends. These comforting celebrations have several things in common: tapas, canes and great dishes. Sounds great, doesn't it?
In addition to these signs, there is another reality that identifies them: leftover food.
When everything is finished, we realize that the preparations we made were for a larger number of guests than those who frequently attend. It is part of the custom and good thing about parties. Now you have several dishes to continue sharing and celebrating.
Now we must store food, in the most suitable way, to avoid it being damaged.
What is our recommendation? Use plastic food containers. There are different sizes, materials and uses, but you can find them all in one place: Mono.
In total, we have 21 types of plastic food packaging, ideal for satisfying your needs.
Below, to help you select the option that best meets your requirements, we present the following guide to plastic food packaging.
Advantages of using plastic food packaging
The use of packaging for food, both in the catering and hotel industry and at home, represents great advantages.
This is one of the most important advantages of using this type of packaging in our daily lives.
1. Avoids the loss of pieces of traditional dinnerware from home or restaurant.
2. Decrease of work at the moment of washing the containers.
3. It saves money by safeguarding food that can be eaten at any time while preserving its quality.
4. They avoid the need to use crockery outdoors.
5. They optimise the use of space in refrigerators, coolers, refrigeration shelves or cupboards.
6. As they are very economical products, they don't hurt your budget.
Plastic food container options
Let's discover the best plastic food containers that you can find at Monouso, their main characteristics and recommendations.
Micro PP Hinge Pack
The first option on this extensive list is the Micro PP Hinge Pack, one of the most widely used presentations for transporting and preserving supplies.
These plastic food containers stand out for their resistance, rigidity and clean finish, often transparent.
They have a hermetically sealed lid, a mechanism to protect their contents and avoid any type of contamination.
In addition, due to the material used to manufacture them, they are suitable for microwaves.
They are the perfect plastic food containers to take your meals from the table to the fridge and from the fridge to the microwave for consumption.
In our store, you can find it in capacities from 250 ml to 2000 ml.
Micro PP Round Container
This type of plastic food packaging is made of polypropylene.
Therefore, they are light, flexible and resistant, making them almost unbreakable.
They are ideal for transporting food, even in restaurants with delivery services.
Another advantage of the Micro PP Round Container is its ability to withstand low temperatures down to -40˚ C and high temperatures up to 120˚ C.
In our online store you can buy them without or with a lid, according to your needs.
Prices vary according to the number of containers and their capacity.
It is a material in high demand. Before they run out, go to our store and discover any of the available presentations.
Micro PP Rectangular Container
When we talk about leftover dishes, we are not talking about one or two. There could be more of them.
Identifying them is often a cumbersome process of opening and closing containers.
To avoid that, at Monouso we offer you the Micro PP Rectangular Container.
A flexible and very resistant container, with a degree of transparency that allows for easy identification of its contents.
Plastic food containers of this type are resistant to temperatures between -40˚ and 120˚ C. They can be used in microwaves.
We offer the possibility of purchasing a jar and lid combo or each item separately.
Premium Micro PP packaging
Premium product with a beautiful black color. Allow your dishes to travel in containers that stand out for their class and style.
These elegant plastic food containers are microwaveable and do not transfer any taste to your delicious dishes.
Among the options available, those with internal divisions stand out, to prevent some foods from being mixed up during storage.
Disposable tableware of this type is resistant, safe and flexible.
At Monouso, you will find economic offers for Premium Micro PP Containers, both in their undivided presentations and those with up to three compartments.
Gastronorm PP trays
Made of polypropylene, Gastronorm PP trays are ideal for taking food to your table and also for storing it.
These functional containers are heat-sealable, so your food will be 100% protected until you want it.
They can contain raw or cooked food. They can also be used in the microwave oven without your food degrading.
They include the term Gastronorm in their name because they comply with the EN631 standard, standards that allow them to fit on carts, shelves, sinks, among other storage places.
They are available in packages of 50 to 1050 units, in a wide range of sizes and capacities.
Also in Monouso, you can find the special film reel to seal these plastic food packages.
This last product is available in two presentations of one or two 400-meter reels.
Heat-sealable Micro PP Container
Designed to contain prepared foods, especially chickens, pasta, rice, salads or buffet meals.
Due to its capacity to be thermosealed, the food will be kept in optimum condition until it is consumed.
In case the content gets cold, nothing happens. The Micro PP Thermosealable Container is suitable for use in microwaves.
Providing you with the support you need to maximize your budget, Monouso offers you various purchasing options.
The available packages have a minimum of 50 units and a maximum of 1200.
Prices, as usual, vary according to the number of units and the capacity of the container.
In the same section of the online shop, you will find three options for purchasing heat-sealing film: 1, 2 and 6 reels.
Hot Hinge Container OPS
Polystyrene containers, such as OPS Hot Hinge Container, have a resistance between -40˚ and 120˚ C temperature.
Due to the material used for their manufacture, these types of plastic food containers are suitable for containing preparations at high temperatures up to 80˚ C.
In addition, they offer good resistance to temperatures as low as -40˚ C.
This level of strength makes them ideal for containing pre-cooked foods and transporting liquids.
Another feature to highlight is their hermetically sealed lid. No more spills during any transfer.
Monouso offers you a wide range of OPS Hot Hinge Packaging.
Available with capacities between 250 and 2000 ml, in packages from 50 to 1080 units.
StayLock Hot Pack OPS
If we wanted to describe this packaging in three words they would be: resistance, transparency and reliability.
Due to its manufacture in Oriented Polystyrene, these plastic food containers are ideal for the transport of your best meals.
With two snaps that close the lid, you will get the security you need for your provisions.
They are usually used to store hot foods, such as pasta, even foods like muffins and sandwiches.
They can withstand temperatures of -22˚ C, making them a suitable container for frozen foods.
The purchase options are quite wide, so we invite you to get to know it by going directly to the category of StayLock Hot Pack OPS, at Monouso.
ClearPac Hot Pack OPS
ClearPac Hot OPS containers offer a beautiful way to store or transport food.
Its closure is hermetic, giving the opportunity to avoid accidental spills or contamination of the content.
Available in black, white or transparent, it is one of those products that every restaurant needs.
Their revolutionary click closure, which has a tab for easy opening, is complemented by their options for containers with up to three divisions.
Ideal for moving and storing sauces, creams or bulk food, they can be purchased at unbeatable prices in the Spanish market.
ClearSeal Hot Pack OPS
Due to their manufacture in Crystal Polystyrene, these plastic food containers are totally transparent.
Their softness to the touch does not confuse you, they are very resistant to continuous use and reliable.
They are designed with a click closure, which offers more security to the transfer and freshness to the storage.
Almost all of them are square, but the triangular presentation (special for desserts) and the rectangular one, specific for sandwiches, stand out from the lot.
The costs are the best on the market, always thinking of helping to improve the use of your budget.
Visit the ClearSeal Hot Pack OPS section and get ready to find the container you need.
Cold Hinge PET Container
With optimum temperature resistance between -40 ˚ and 70˚ C, a PET Cold Hinge Container is ideal for storing food, especially cold.
They have a hinged lid with an airtight seal that protects the contents like no other.
Although not recommended for use in microwaves, it can be used perfectly well for freezing food.
The composition of these plastic food packaging products puts them in the category of resistant and durable containers.
They are regularly used to carry fresh meat and fish, fruit, vegetables and even nuts.
At Monouso we present you with a variety of this type of plastic food packaging, in different sizes to meet your needs with just what you are looking for.
Container with inviolable cold lid PET
When we need to transport liquid preparations, such as soups, creams or sauces, an inviolable container is necessary.
Equipped with an airtight and impenetrable closure, the PET Cold Top Container is one of the safest on the market.
With a capacity of up to one litre, these plastic food containers are ideal for freezing food.
Although they resist temperatures between -40˚ and 70˚C, they are not suitable for use in the microwave.
The finish is completely transparent, making it easy to identify the contents when storing.
With options in mind to help you maximize your budget, these packages are sold in packages of between 50 and 500 units at the best prices on the market.
DeliLite Cold Container rPET
In addition to storing your food, sometimes we need to optimize our storage spaces, so organization is a priority.
For this, the DeliLite Cold rPET packaging is ideal, as it is manufactured in such a way that they can be stacked together.
Equipped with anti-drip caps, these plastic food containers maintain the freshness of their contents for longer.
They are capable of storing between 217 and 700 ml. As for the quantities, they come in packages of 50 to 500 units.
DeliGourmet Cold Pack rPET
When we deliver food to go, at home or in a restaurant, it is best to do so in a very economical container.
With this in mind, Monouso presents the DeliGourmet Cold rPET Container, a hygienic, transparent and very resistant container.
Due to their versatility of use and impeccable presentation, they are among the favourites of the big names in the restaurant and hotel industry.
In addition, on our website, we have the hermetic closing lid that prevents spills or loss of product.
PressDress packaging SOLO Cold PET
How do we store or move food with sauce?
Don't worry, at Monouso we have a solution so that your food does not degrade at any time and remains intact until you decide to eat it.
The PressDress SOLO Frio PET container is ideal for moving food and its sauces without the need to be mixed.
For example, you can take a salad to the park with its dressing on the side, putting them together only at lunchtime.
Due to their composition, as well as being resistant, these plastic food containers are transparent with a high quality finish.
PET Plastic Containers
These packages, considered as premium in the sector, are beautiful, resistant and very safe.
The distinctive elegance of PET Plastic Containers makes them ideal for take away, bringing your elegance to any space.
They are a very resistant container, thanks to its manufacture with Polyethylene Terephthalate.
They are available with and without a lid. Some have up to five compartments inside.
Another advantage is that there are no notches on the top and bottom of the container, which allows them to be attached to other similar containers and improve the use of available space.
Cold Salad Bowls PET
Salads are among the most delicate foods to store.
The oxidation of its ingredients and the application of dressings well before consumption, can be fatal to your salad.
To avoid losing money on spoiled food, we recommend using PET Cold Salad Bowls.
A very impact resistant container with a high level of transparency and suitable for containing food.
It has a hermetically sealed lid that will keep the freshness of your dishes for much longer and prevent external contamination.
No more eating wilted and tasteless salads, use these plastic food containers.
Premium Cold Square PET Container
Another favourite of the hospitality and take-away sector.
The Premium Cold Square PET package is designed to have food to go.
It has the ideal hardness to make it a very safe and dent and shock resistant portable container.
When its lid, with a special closure, is put on, the contents will stay inside the container without any hitches.
You can find them in an elegant glossy black or transparent. You have options with or without internal compartments.
Thinking even more in your comfort, there are models in which you can insert a fork in the lid, offering a plus when eating out.
Plastic Baking Container
There are preparations that require special packaging. In baking, this is a reality.
Moving a whole cake or just a slice without damaging the appearance of the dessert can be a delicate and arduous task.
There is nothing better than having a disposable container suitable for this work.
Plastic cake packaging is available in triangular, circular and rectangular shapes, with different capacities, the Plastic Cake Packaging is the solution.
You will be able to see how it will reach the hands of the diner, that dessert with all the details and additions that you had arranged for it to have.
They are manufactured in different types of plastic (PET, PS and OPS) taking care of every detail and offering maximum transparency and durability.
You can order packages from 5 to 250 units.
Sandwich Pack
Continuing with the special packaging for certain types of food, it's time to tell you about the Sandwich Pack.
A durable, very light and highly resistant container, due to its manufacture in PET plastic.
It is shaped like a sandwich cut in half, making it ideal for transporting food to a day at the beach or in the mountains, as well as for going to enjoy the football match of your favourite team.
Another outstanding feature is the absolute transparency, allowing the product to be observed without any problem and to verify its freshness.
We have available packages between 125 and 500 units, at a price that will not let you think once before buying it.
Sauce Packages
We close our guide of plastic food containers with a special container.
Although its name indicates that it is for sauces, in reality they are containers with diverse functions.
If you are cooking away from home, you could take your dressings, ingredients, small pieces of vegetables and even fruit in these containers.
They come in different capacities, opening up the range of food options to be moved.
To make them resistant, in harmony with the type of content for which they were designed, this container is made of polypropylene.
Its price is unbeatable and you can order in packages from 100 to 5000 units of packaging for sauces.
Orders in Monouso
For your convenience, we create packages with specific quantities of each product.
You can make the combination you want in order to reach the amount of products you need.
Once your order is confirmed, between 24 and 48 hours, you will receive all your products at the comfort of the address you indicated during the purchase process.
We have the support and security of the best shipping companies in Spain, which guarantees that you will get a 100% functional product in the stipulated time.
In addition, for orders over 59 ?, shipping is a courtesy of the house. Yes, free shipping.
During the whole purchase process, you can consult or ask for advice from our sales executives, who are able to clear up all your doubts.
What are you waiting for? Go through our category of plastic food containers and get that container you need so much.
FAQ
What are the advantages of using plastic food packaging?
You will avoid losing pieces of traditional tableware.
You will stop cleaning all the plates, glasses, cutlery…
You will save money.
You will be able to have an alternative tableware for outdoor spaces.
You will optimize the use of space in multiple places.
What variety of plastic food containers can we offer at Monouso?
All types of containers, both for hot and cold food, plastic containers, sandwich or salad containers, sauces…
Author