Usually among the uses of aluminum foil is to wrap your food to keep it fresh. After all, it is a very effective insulator to preserve moisture, heat and protect them from contamination. It is also a very cost-effective material, as it can be easily reused.
Its use goes beyond the kitchen, making it an indispensable element for cleaning and indispensable for cleaning and insulation insulation. Continue with us and you will know more uses of aluminum fo il than you can imagine and that will surprise you will surprise you.
Where does aluminum foil come from?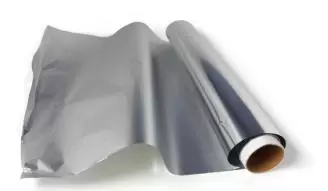 Aluminum is a common element on earth and is extracted from bauxite through an electrolytic reduction process. This process is produced by passing two layers of aluminum through rollers, one for pressing and the other for polishing, which do not cause toxicity.
In addition, the foil is produced in a variety of thicknesses ranging from 0.006mm to 0.2mm with a glossy and a matte side. It is a resistant, hygienic and durable material, very useful for household management.
In short, it is basically made of aluminum, but it achieves a balance thanks to iron and silicone.
What is aluminum foil used for?
Among the uses of aluminum foil, it was traditionally used to preserve food, protect the stove burners and stove walls.
However, it is a product that has great versatility in different aspects of life. If you don't know what uses you can give to this material… take a look at the following alternatives:
Shine up your silver jewelry, silverware and silverware
Take a large bowl and line it with aluminum foil. Add hot water, a tablespoon of baking soda and let your silver objects sit in this mixture for a while. Then wipe with a dry cotton cloth.
Aesthetic uses
When you use aluminum foil to apply the dye to your hair, you get a more natural distribution of the strands. You will be able to wrap each strand and achieve a perfect finish.
If you wear glasses, cover the frames with aluminum foil to protect them from the chemical while you do the makeover.
Avoid rust stains
It is common to use steel wool sponges steel sponges for cleaning in the kitchen, but after use they leave rust residue on the surface they are on that contains them. Place a piece of aluminum foil on it and you will avoid this annoying problem that annoying problem.
Remove static electricity from your clothes
Place a ball of aluminum foil in the dryer before starting the cycle. When you take the clothes out you'll see that it doesn't have that nasty electrical charge that makes your hair stand on end hairs stand on end.
Sharpen your scissors
Take several small pieces of aluminum foil and fold them together. Then make several cuts with your scissors and you'll get them shiny.
Stove and pot cleaning
Make a ball of aluminum foil and cover it with a good dishwashing detergent dishwashing detergent. Rub your pots and pans vigorously and you'll see how shiny they'll be. On the stove apply the same procedure and then dry with a soft cloth.
Wrap your food
Aluminum foil is one of the most commonly used materials for wrapping food. Especially when we want to keep them warm.
But, in addition, it is also very useful when we want to separate them so that they are not in contact with others. For example, when wrapping portions of meat, poultry or fish.
To protect your containers when cooking in the oven.
do you know of other uses for aluminum foil? Tell us about them in the comments section!
It's also interesting to remember that foil can help us. Find out how here.
Frequently asked questions
What is aluminium foil used for?
Aluminium foil has many uses: from wrapping food, sharpening scissors or protecting containers to, for example, preventing rust stains.